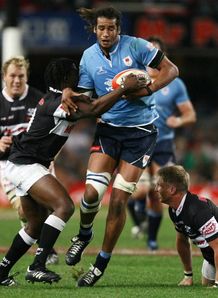 As we noted earlier today, Tommy Seymour has received a call-in to the Scotland's squad for the upcoming fall internationals. While Seymour is still technically U.S.-eligible until he is capped for Scotland, at this point the chances of him appearing in a U.S. uniform seem miniscule. His inclusion in this camp likely means he will be in consideration for Scotland 'A' next February when they take on other European 'A' sides, capping him in the Scottish system.
Take the jump to read more on Seymour and other situations involving U.S.-eligible players.
Tommy Seymour
: Even if he is never capped for Scotland, the odds of Seymour appearing for the U.S. were small. Choosing to play for the U.S. would mean that he counts as a foreign player on Glasgow's roster, making it difficult for the team to find a contract for him since both the Scottish teams are partially backed by the Scottish Rugby Union. Only if he was out of contract, or seemingly on the outs at Glasgow, would it make sense for him to choose the Eagles.
That possibility seemed like it could become a reality yesterday when Glasgow announced the signing of Sean Maitland. Seymour has yo-yoed out of the Warriors lineup all year and Maitland's introduction into the side only pushes Seymour further out of the equation. However, his call-up to Scotland changes that.
Callum Black
: The Ulster prop is in a similar situation to Seymour. Currently, Black counts as an Irish player on Ulster's roster, and if he were to switch to the Eagles it may cost him his contract. In Ireland, the four provincial teams can only field a foreign player in a position if the other teams are not. Unfortunately for Black, there are other foreign props currently playing with other teams. Also, since the four provincial teams receive support from the Ireland Rugby Union, they tend to only bring in big name foreign players. It would be difficult for them to allow Black to remain on if he isn't eligible for Ireland.
Still, Black has never cemented a place in the starting lineup for Ulster or even had much of a chance at an Ireland call-up. It's not inconceivable that his time might be up with the team at the end of the year in favor of a younger player. If that is the case, then he might not have as much to lose by playing for the Eagles.
Hanno Dirksen
: Dirksen's case is pretty well-known so we won't get into it much here. The thing to keep in mind with Dirksen is where he fits in with the Welsh squad. Wales are pretty deep along the backline right now so there is a question of whether Dirksen can break though. However, his increasingly better form seems to give the impression he's not far off.
Dave Ryan
: The current Zebre prop was one of two players called in by Mike Tolkin last summer only to not show up to camp. Early this month we learned that Ryan's contract with Zebre is conditioned on him staying on course to become Italy-eligible. He played with Lazio last year so he only needs two more years. However, he has only played sparingly for a horrible Zebre team this year and it seems questionable that Italy need the help of an Irish-born prop that was previously playing in the Super 10. As it stands, the only way we'll see Ryan in a U.S. shirt in the next little while is if he is released from his contract with Zebre. Even then, after abandoning the U.S. last summer, would he be welcomed back?
James Hilterbrand
: The other player to not show up to Eagles camp last summer was hooker James Hilterbrand. The Australian-born player had been with Manly in the Shute Shield for the last several years and just recently signed on to Western Force's extended playing squad. That doesn't mean that he will play for Western Force in Super Rugby, but it makes it more likely. Due to the timing of the Super Rugby season, Hilterbrand would likely turn down a U.S. call-up even if he got one. It will be interesting to note how much time he receives in Perth this year.
Marcel Brache
: The Western Province center has had quite a run in the Currie Cup this year, playing in all eleven of his team's matches, starting ten, and picking up three tries. Additionally, he played one half of a match for the Stormers during Super Rugby. Brache is in an interesting position. On the one hand he has excelled for Western Province in the Vodacom and Currie Cups, but on the other has hardly seen much Super Rugby action due to Springbok's Juan de Jongh and Jean de Villiers presence on the roster. If you think about it further, not getting much time with Stormers in Super Rugby puts him behind the starting centers of the other four South African teams in the competition. At age 25, Brache is also not the youngest prospect in the South African system either. Remember, South Africa did win the Junior World Championship. From this angle it seems that Brache doesn't have much to lose if he puts on an Eagles shirt. However, if he were to do that he would most likely have to say good-bye to his Super Rugby career because teams only allow two foreigners on each team. The question for Brache is whether or not he wants to try and play sparingly for the Stormers, or whether he wants to play internationally with the Eagles.
Fudge Mabeta
: Like Brache, Mabeta is U.S.-born, but grew up in South Africa. Mabeta, who is a lock, has been with the Bulls since 2006, but has mostly seen time with their Currie Cup and Vodacom Cup teams. He made appearances in Super Rugby prior to the 2012 season and seemed to be on the verge of more this year before suffering a serious injury to his knee. Whether or not he can return to full fitness will be seen in the Vodacom Cup where he is expected to play for the Blue Bulls once again. Again, like Brache, the question is whether or not Mabeta wants to give up a chance at Super Rugby for a chance with the Eagles. The knee injury may dictate that for him, but at the same time he also doesn't seem to have the same strength of connections with the U.S. as Brache has.
An important factor to remember for all of these players is that counting as a U.S. player can change their status around the world. With federations increasingly looking at limiting the number of foreign-eligible players in their leagues, it could be harder for these players to land a contract. However, one thing that would be going in their favor is the Kolpak ruling which allows any player from a country that has an Association Agreement with the EU to count as an EU player on a roster. This essentially helps players from less affluent countries to work in Europe while making it more difficult for players with only U.S. citizenship to play in Europe. This is why you've seen Paul Emerick take out an Italian passport and Samu Manoa use his Tongan passport. This is also why players like Mate Moeakiola and Andre Liufau, who both have a Tongan passport, have had an easier time playing in France.
Will all of these players appear of the Eagles? Most likely not, but if the U.S. is able to get one or two, it could make for a better team, which is something we all want.