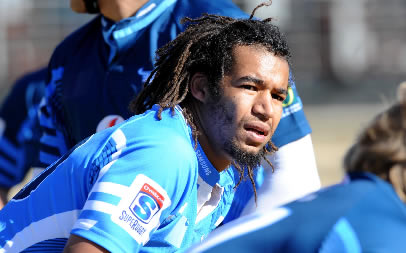 www.superxv.com
U.S.-eligible players Marcel Brache and Fudge Mabeta have been left off the Stormers and Bulls respective Super Rugby rosters. For Mabeta, who was involved in a serious car accident over a year ago that took him out of the 2012 Super Rugby season, the move is not unexpected. Having not played for the club in over a year there were doubts to his fitness and he and the team likely needed to move on. Futher, Mabeta's only two appearances in Super Rugby came in the 09-10 season. He has however, been active with the Bulls in the Vodacom Cup (31 appearances in five seasons) and the Currie Cup (27 appearances in three seasons). At only 25 years old Mabeta still has a lot of rugby left in him and could play for another team in the Vodacom Cup.
The decision to drop Brache from the Stormers squad is a bit more surprising. He appears to have been caught in a numbers game as the Stormers brought in a couple of younger centers and with Brache having only one Super Rugby appearance to his name and being older than the other players, it seems he was on the outside looking in. Brache's only appearance for the Stormers came last season. He has been an active part of the Western Province Vodacom and Currie Cup teams over the past few seasons. Last fall he scored three tries in 11 matches for Western Province as they won the competition. Prior to joining Western Province Brache played for the University of Cape Town alongside Eagles J.J. Gagiano (UCT is the current home of Derek Asbun).
Both players could land with Vodacom Cup teams for the upcoming season, which starts in March and ends in May. Another option, if a U.S. team is willing to reach out and Brache and Mabeta are willing, is to play in the U.S. during the Elite Cup season. Both are at critical ages in their careers where they are considered too old to be an investment by Super Rugby teams but still are young enough to have top class rugby in them. That means they could be ready to work toward a U.S. call-up. The U.S. is need of depth at both lock and center and both players would fit in well. Playing domestically in the U.S. for a season would help them become adjusted to the U.S. system and go give U.S. selectors and opportunity to view them up close.