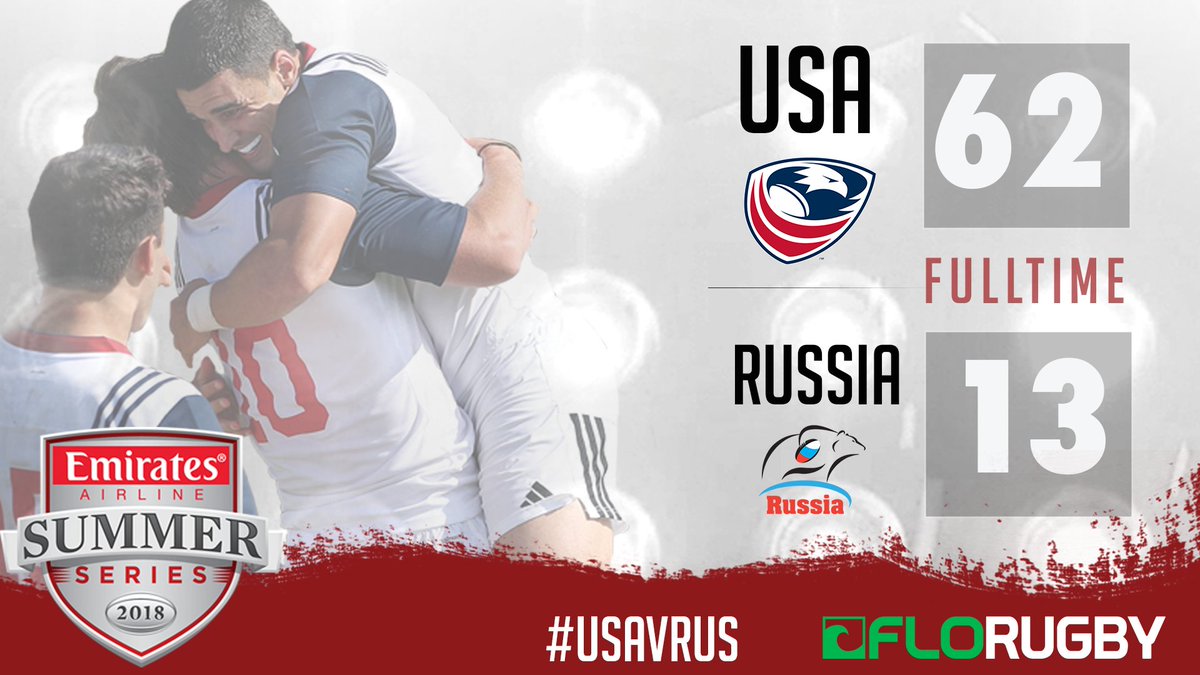 The U.S. kicked off their Summer Series in the right way with an impressive 62-13 win over Russia at Dick's Sporting Goods Park in Denver. It certainly didn't look like a blowout win early as Russia scored just a couple of minutes into the match but the Eagles settled down and looked like a team with all fully professional players. Now the team will focus on their biggest test of the summer as they face Scotland in Houston next week. Scotland played Canada today.
As mentioned it wasn't a great start for the Eagles but a bright start for Russia. Mikhail Babaev found a gap in the defense to score and put Russia up 7-0 with just three minutes played. Still, the U.S. would settle in and soon found themselves on the front foot. About ten minutes later they had their first points as Joe Taufete'e crashed over. The conversion was off but the U.S. had momentum.
That momentum was temporarily halted when Yuri Kushnarev hit a penalty following an infraction by Samu Manoa. Still, it proved only to be temporary. Then John Quill benefitted from pressure put on by Eric Fry the Eagles were away on the defining stretch of the match.
Take the jump to read more.
Only three minutes after Quill had scored it was Paul Lasike's turn to show athleticism and stretch over for five points. This time, like the previous try, the conversion was good and the Eagles would lead 19-10. Russia would add another penalty but that would be it as the Eagles held them scoreless for the last 60 minutes. The U.S. added a penalty of their own.
In the last five minutes of the first half Taufete'e would score again along with Marcel Brache to put the U.S. up 34-13. On the Taufete'e try Shaun Davies came up with the ball when Russia kicked it away. He took off like a winger for a moment before the ball was cycled across the pitch where Taufete'e powered over. Brache's try was a great individual effort as he beat several defenders to race in.
Only a minute into the second half Brache would score again. This time it came off a fortunate bounce following a grubber from MacGinty. The Eagles had a two on one and with Cam Dolan occupying the only Russian back Brache was their to pounce.
The match then settled down as the heat and altitude began to have an impact on both sides. Despite substitutions on each side it didn't really pick up again until the 65th minute when both teams had good chances. Russia actually had several opportunities in the match but looked a step off. Like U.S. teams in the past they looked like they were certain what to do in certain areas of the game and their connections were off. The fact that the U.S. didn't look that way is a great step forward.
A final spurt of scoring came at the end when Nate Augspurger would benefit from a run from Dylan Audsley, Cam Dolan would power over, and Blaine Scully scored thanks to a filthy dummy and offload from Nick Civetta.
It wasn't a perfect game from the Eagles but it was a solid match. They were able to overcome their early hiccups and have a powerful game on both sides of the ball. Most importantly they looked like a team with confidence and ready to score a groundbreaking win next week against Scotland.
U.S.
Tries:
Taufete'e (2), Quill, Lasike, Brache (2), Augsburger, Dolan, Scully
Conversions:
MacGinty (4), Magie (3)
Penalties:
MacGinty
Russia
Tries:
Babaev
Conversions:
Kushnarev
Penalties:
Kushnarev (2)