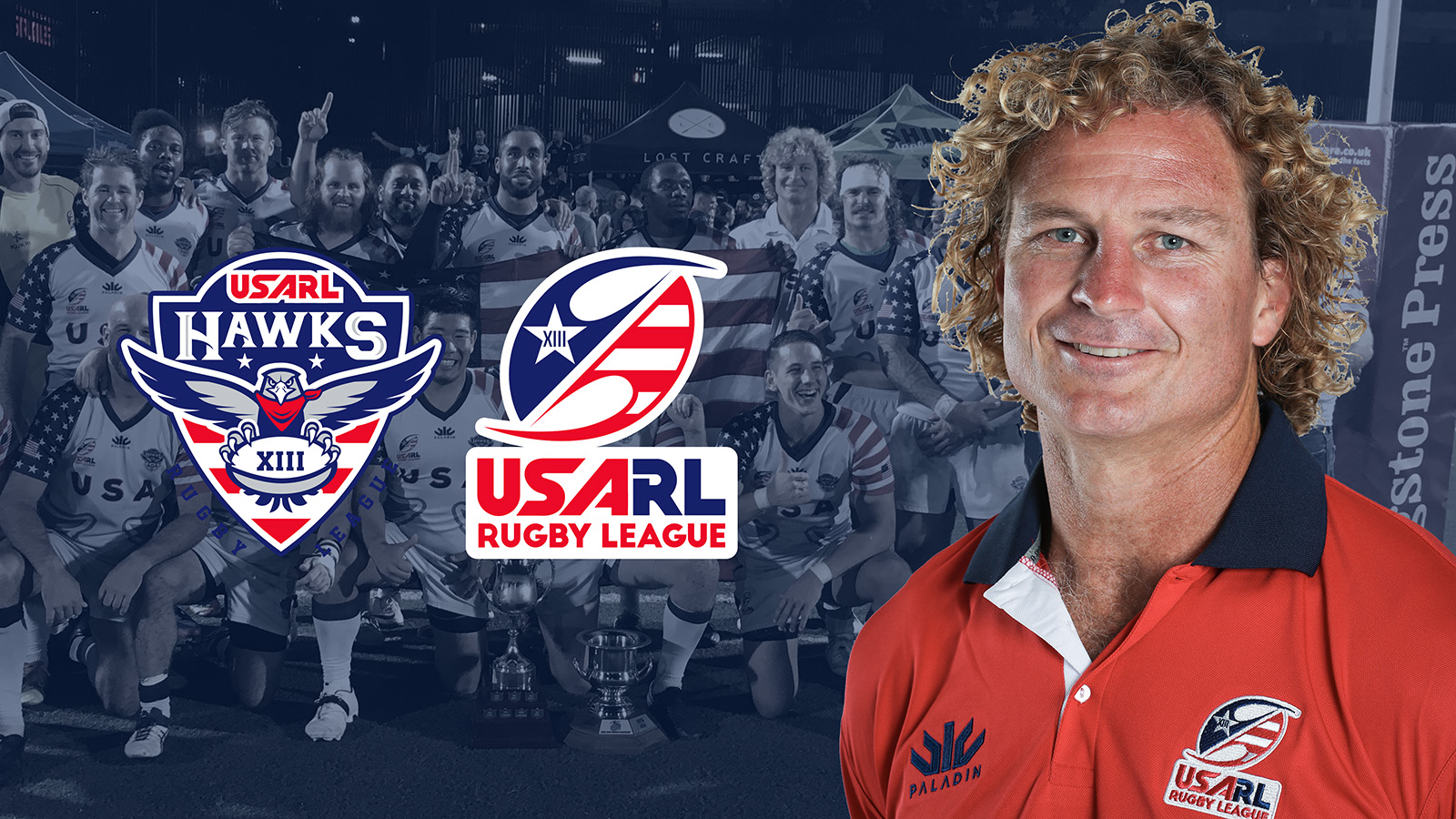 Press Release
The US Association of Rugby League Inc. (USARL) has announced the appointment of Sean Rutgerson as the new head coach of the national team the USA Hawks for 2018.
Rutgerson has been tasked by the national governing body to recruit the Hawks' team management, coaching staff and medical staff, along with helping to develop the representative program calendar in preparation for the Rugby League World Cup Qualifiers 2018/19.
"I'm really happy and excited to take over and am looking forward to a big year for the USARL," said Rutgerson. "First thing on my list is to get my staff on board and organized."
The appointment follows a decision by former head coach Brian McDermott to not renew his arrangement with USA, which expired after the 2017 Rugby League World Cup.
Rutgerson was a domestic-based assistant coach for the Hawks during McDermott's two-year term, and as such, worked closely with the Leeds Rhinos mentor in developing strategies and game plans.
Take the jump to read more.
In line with that, Rutgerson designed a training guide for players to help them get rugby league ready. The guide was posted on Facebook so that players could access it regardless of where in the US they were located.

"As far as strategies, we will not be doing too much different from what Mac put in place, but I will be adding some ideas as we go," he added. "I definitely will be sticking with the Facebook page. There will be a few changes to it and am currently working on those. There will be some standards that will need to be met."

Rutgerson, who also coaches the Jacksonville Axemen in the USARL competition, plans to bring on board his assistant coach Brent Richardson to start putting together a national train-on squad.

USARL Inc chairman and director of coaching Peter Illfield says the board decided on Rutgerson for the position because of his rugby league pedigree.

"Sean was an accomplished NRL player at Canberra Raiders and English Super League player at Salford City Reds," said Illfield. "He's an accredited Level 2 NRL coach and sports trainer, Level 2 ASCA strength and conditioning coach and has a diploma in personal training. "He had six years as assistant coach with NRL club Wests Tigers' NSW Cup team. He's coached at Jacksonville Axemen (2009, 2016, 2017) and again for 2018.
"Sean was also assistant coach to Brian McDermott for USA Hawks RLWC2017 Qualifiers campaign in 2015, going on to RLWC2017 as strength and conditioning coach for USA."

Rutgerson is in the process for he and his wife to live in the USA long-term.

Should he achieve that status and have continued success with the USARL Hawks, Illfield feels a three-year extension at the end of 2018 would be of further value to the Hawks in providing consistency and competitiveness as head coach.

"Immediate expectation for Sean is to recruit his management and support staff for international fixtures. "Long-term expectations are to develop a suitable player selection process inclusive of domestic and heritage players, and development of an elite player program to raise the skills and fitness worthy of USARL representation."