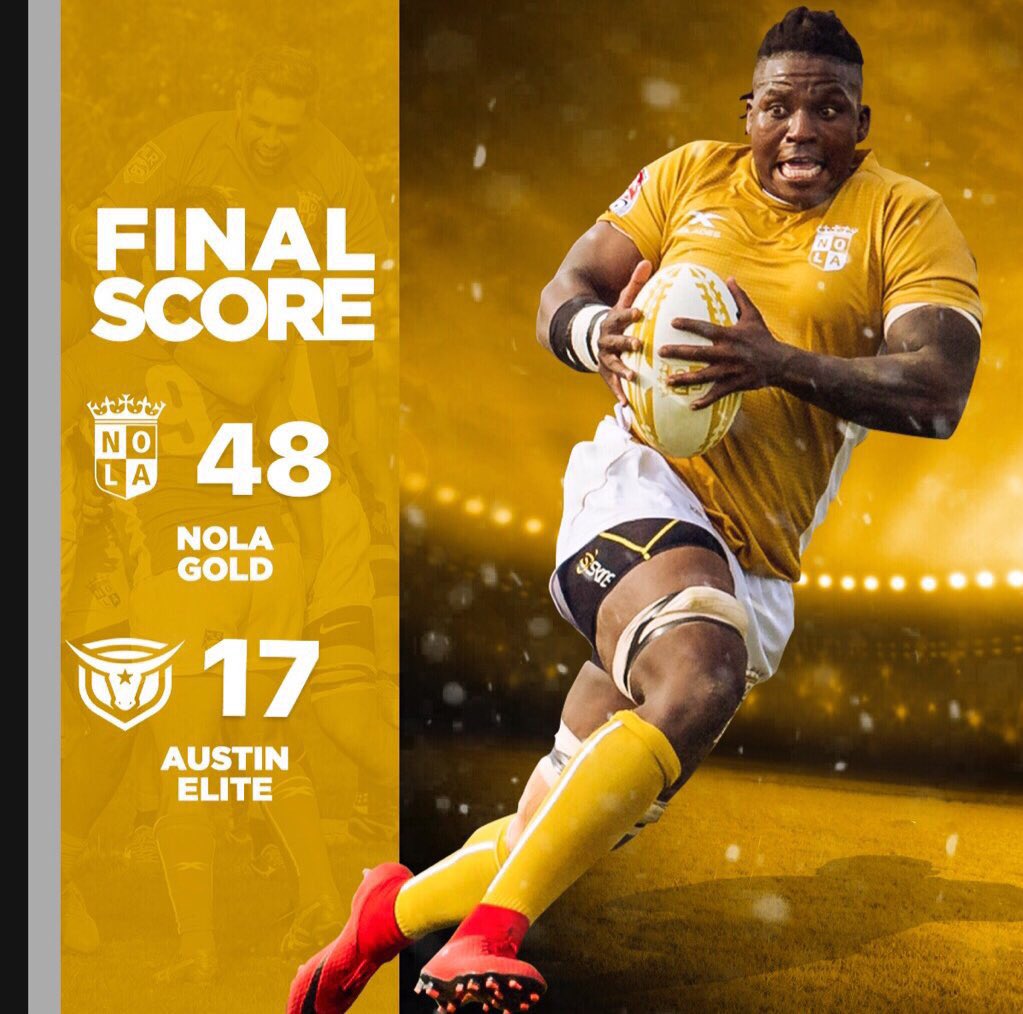 The NOLA Gold have picked up their first victory over a fellow Major League Rugby side with a 48-17 win over the Austin Elite. NOLA have played more games than the Elite and that showed through. However, it has to be a little concerning for Austin fans so far that they haven't been able to see a lot of success against San Diego or NOLA. At halftime it was 31-12 in favor of NOLA.
NOLA ran out to a 28-0 lead before Austin finally were able to get on the board with a try. But by that point the came was well in hand for NOLA. Before the half the Gold would get another penalty while Austin got a converted and unconverted try. In the second half NOLA would stretch their lead to 48-12 before Austin scored a final try.
NOLA Gold
Forwards:
Derek Van Klein, Eric Howard, Cam Falcon, Matt Wirken, John Sullivan, Vince Jobs, Matt Hughson, Sebastian Kalm
Take the jump to read more.
Backs:
Holden Yungert, Taylor Howden, Ratu Rinakama, JP Loff, Tim Maupin, Bobby Johan, Michael Baska
Bench:
Ben Tarr, Hubert Buydens, Myles McQuone, Nikola Bursic, John Stapleton, Zack Stryffeler, Melvin DeSouza, Amro Gouda
Austin
Forwards:
Tim Fitzgerald, Chris Schade, Mason Pedersen, Ben Mitchell, Kyle Breitenbach, Pita Naruma, Hanco Germishuys, Deon Minnaar
Backs:
Knute O'Donnell, Timothee Guillimin, Sani Taylor, Andrew Suniula, Sine Fangaiuiha, Reece Czarnecki, Zinzan Elan-Puttick
Bench:
Siaosi Finau, David LeMasters, Dylan Goulding. Robert Drummond, Michael Reid, Allan Hanson, Alex Faison-Donahoe, Pat Sullivan, Joedee Reyes, Vetekina Malafu, Zac Mizell