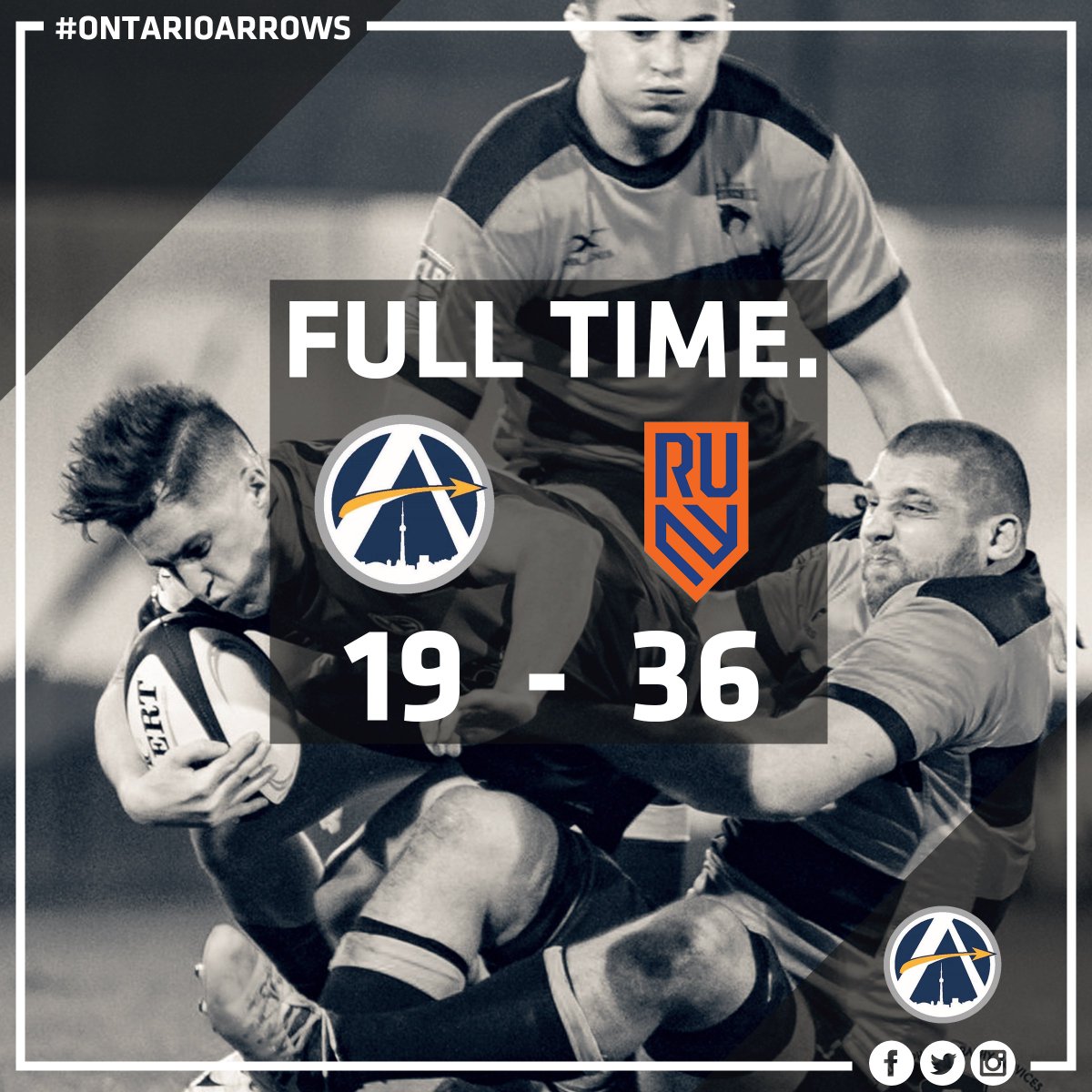 Press Release
It was a tale of two halves in the Ontario Arrows' defeat to Rugby United New York in New Rochelle, NY, on Mar. 17, 2018. Despite a strong second-half performance from the visiting Arrows, the young Ontarian side wasn't able to overcome a 26-point halftime deficit, dropping the match 36-19 at Iona College's Mazzela Field.
RUNY prop Anthony Parry opened the scoring for the host side just five minutes into the match, the first of four first-half tries for New York. The second half began much like the opening frame, with No. 8 Ross Deacon powering over three minutes after the restart.
Showing strong resolve, the Arrows responded with three consecutive tries in a 17-minute spell of play, with lock Josh Van Horne, centre Shawn Windsor, and substitute No. 8 Andrew Wilson all crossing over to bring the match to a two-score game with 10 minutes to play.
Despite a strong push from the visiting Arrows, New York did well to quell Ontario's comeback efforts, with a late Jack Fitzpatrick penalty goal sealing the victory for the hosts.
Take the jump to read more.
"There are many lessons to take from our first meeting with Rugby United New York," said Arrows head coach Chris Silverthorn, following the match. "The start wasn't what we wanted, but we showed a lot of character to dig deep and make a game of it. We had a lot of young players in our squad, and they'll take a lot from this match, and they'll learn from these experiences. We'll have plenty to work on before heading to Utah in a few weeks."
The Arrows will resume their six-match spring season on Apr. 6, when Ontario travels to Sandy, UT, for a Friday night fixture against Major League Rugby side Utah Warriors.
Ontario Arrows Score Report
Tries: J. Van Horne (52), S. Windsor (65), A. Wilson (69)
Conversions: S. Windsor 2 (53, 70)
Rugby United New York Score Report
Tries: A. Parry (5), S. Kelly (26), M. Walsh (29), C. Wallace-Sims (39), R. Deacon (43)
Conversions: H. Bennett 2 (6, 27), J. Fitzpatrick 2 (40, 44)
Penalties: J. Fitzpatrick (78)