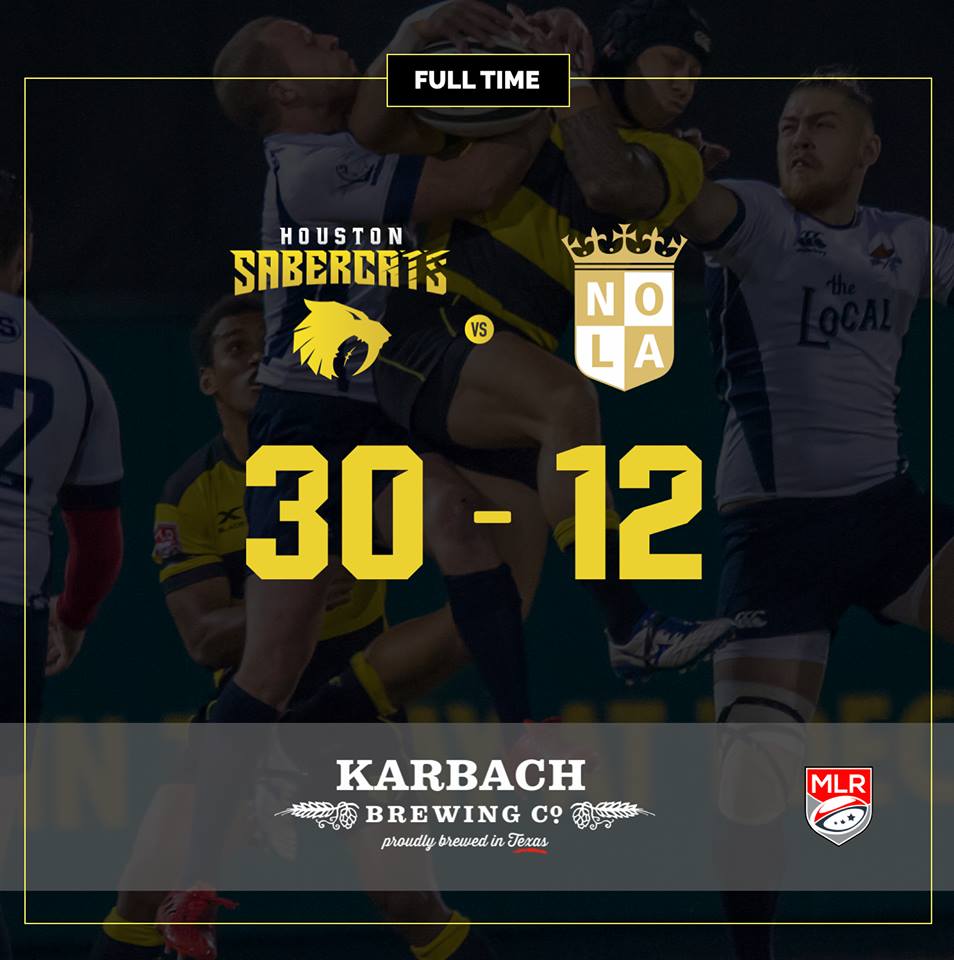 In the first official match between two Major League Rugby sides the Houston SaberCats defeated the NOLA Gold 30-12. It was just one in a string of pre-season matches for both teams. The SaberCats have improved their pre-season record to 6-2. They have yet to lose to an American side. Their wins are over NOLA, Seattle Saracens, James Bay, Capital Selects, NYAC, and the Chicago Lions and their losses came to the Vancouver Ravens and the Uruguayan National Team. The NOLA Gold also beat the Capital Selects in their only previous pre-season match.
Despite dominating early the SaberCats weren't able to convert a few penalty attempts. Eventually the SaberCats were able to break the deadlock with tries from Osea Kolinsau and Malacchi Esdale and a penalty from Sam Windsor. The first points for the Gold came five minutes from the half with Vince Jobo scoring. At halftime it was 15-7 at the break.
Take the jump to read more.
The second half was similar to the first with Houston out attacking and NOLA trying to keep up. Esdale and Windsor had a try a piece in the half with Windsor adding another penalty. Eric Howard scored for the Gold.
If the match is an indicator of what is to come the SaberCats look strong for the season. They are deeper than the Gold at the moment although that could change. Additionally, the number of pre-season matches the SaberCats have under their belts seem to help as well.
Houston SaberCats
Forwards:
Adam Macklin, Lindsey Stevens, Paul Mullen, Robert Meeson, Justin Allen, Kyle Sumsion (C), Cecil Garber, Matt Trouville
Backs:
Connor Murphy, Sam Windsor, Josua Vici, Conor Mills, Malacchi Esdale, Alex Elkins, Osea Kolinisau
Bench:
Diego Maquieira, Kenneth Hepburn, Jake Turnbull, Charlie Hewitt, Chris Parker, Chris Coyle, Chris Slater, Zach Pangelinan, Dan Paul, Chauntez Jackson
NOLA Gold
Forwards:
Hubert Buydens, Eric Howard, Ben Tarr, Myles McQuone, John Sullivan, Vince Jobo, Matt Hughston, Sebastian Kalm
Backs:
Holden Yungert, Taylor Howden, Jojo Tikoisuva, Zack Stryffeler, Tesimoni Tongauiha, Ratu Rinakama, JP Eloff

Bench:
Derrek van Klein, Cam Falcon, Matt Wirken, William Waguespack, Bobby Johns, Michael Baska, Melvin DeSouza, Alec Janotka, John Stapleton, Todd Dupre