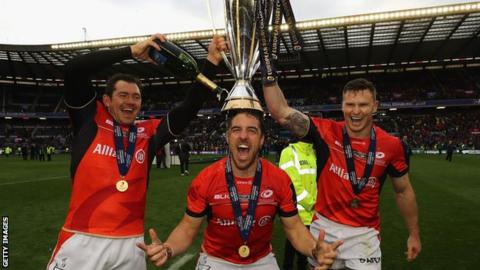 The news that Chris Wyles would retire at the end of the year set off a wave of tributes for the legend. Here are a few of the tweet from former teammates that have poured in.
One of the all-time greats... A true legend of the game. Fortunate to have shared the field with

@ChrisWyles

and even luckier to call him a friend. All the best in the future to this man. No doubt there will be many more great things to come.

https://t.co/MgkhZusGK7

— Blaine Scully (@BlaineScully1) January 24, 2018
— David Hodges (@davidtoddhodges) January 24, 2018
Take the jump to read more.
The great

@ChrisWyles

has called for his last

@WolfpackLager

brining an amazing career to an end. One of the best blokes and most professional on and off the field he will be a huge loss for Saracens. All the best Wylsey.

https://t.co/BMlkyXLXGy

— Dan Power (@DPower4) January 24, 2018
— Kelly Brown (@kellydrbrown) January 24, 2018
Lord

@ChrisWyles

everyone! One of the USA greats, taking a bow this year. You gotta look up to see him - top man.

— Nate Augspurger (@Nthanielchannel) January 24, 2018
— Classic Eagles Rugby (@ClassicEagles) January 24, 2018
— Saracens Rugby Club (@Saracens) January 24, 2018
— American Rugby Pod (@AmericaRugbyPod) January 24, 2018
One hell of an effort for our

@ChrisWyles

, Congratulations on a remarkable career for club & country. Set an amazingly high standard as a pro and an Eagle in both XV's and as an Olympian!! Thank you Chris and family.

https://t.co/uV5QRuQYjC

— Dan Lyle (@DanLyle8) January 24, 2018
— Justin M Fitzpatrick (@jmfitzpatrick1) January 24, 2018
I've never seen wylsey have a bad game... should have gotten more accolades that he did.... always highly rated by team mates and opponents which are always the best judges...

— Tim Usasz (@timusasz) January 24, 2018
The gift that kept on giving...

— Tim Usasz (@timusasz) January 24, 2018