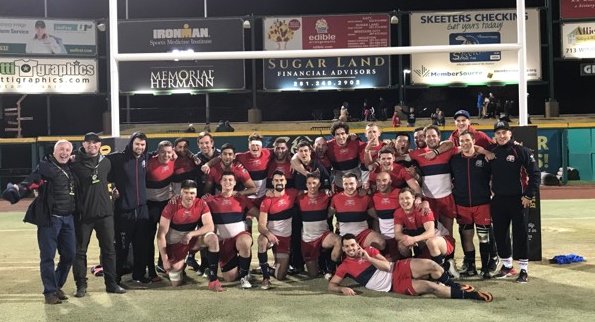 Week two wasn't nearly as successful for the Houston SaberCats as week one. Just one week after beating the Seattle Saracens comfortably the SaberCats lost to the UBCOB (Vancouver) Ravens 26-23. It's hard to make too much of the result. The Ravens have been playing together since the early fall and in the case of some players for years. They are also near the top of the BC Premier League standings, a competition considered the toughest amateur competition in North America. At the same time, the SaberCats have only had limited time together. Still, it does sound out some warning bells. One of the concerns for MLR heading into the season was the depth of the teams and this result won't calm those concerns. Again though, it's still early for the SaberCats and this was their pre-season. Next week they'll face a similarly tough test against Uruguay.
Early on the SaberCats looked like they were going to roll once again. Both Zach Pangelinan and Josua Vici had unconverted tries. Justin Allen then had a covered try to push the lead to 17-0 roughly midway through the first half. The match changed when Houston had Pagp Haiti sent to the bin. With the advantage the Ravens got back in it with a Jon Phelan try and an Adam McQueen penalty.
Take the jump to read more.
Houston didn't help their cause when Jamie Never was shown yellow right as Haini was returning from the bin. Despite that, the SaberCats opened the second half with a Pangelinan penalty before the Ravens scored via Aaron MacLelland. McQueen then hit another penalty to tie it up at 20-20. From there it was down to the kickers with Pangelinan and McQueen each hitting one. With just a few minutes left McQueen hit another penalty to give the Ravens the win.
SaberCats
Forwards:
Dever, Stevens, Macklin, Allen, Hewitt, Sumsion (C), Garber, Haini
Backs:
Murphy, Windsor, Vici, Mills, Kolinisau, Reyes, Pangelinan
Bench:
Riley, Florez, Hepburn, Meeson, Parker, Slater, Farmer, Paul
Ravens
Forwards:
Delmonico, Ahn, Gotsopoulos, Phelan, Clarke, Waggot, Etheve, Moran
Backs:
King, Gill, Ferguson, McQueen, Quirke, Turner, McLelland
Bench:
Belvedere, Suez, Clironomos, O'Donoghue, Henrikson, Grant, McGrath, Thompson