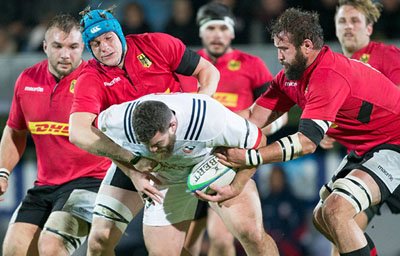 Our player grades are in for the Eagles match against Germany.
Mike Te'o, 80 minutes (6):
It wasn't the loudest game from Te'o and he didn't have a lot of opportunities to show his skills from the fullback position. A couple of times he had less than stellar kicks but his running was strong.
Blaine Scully, 72 minutes (7):
He was once again one of the Eagles best players on the day. It's hard as backs to gain rhythm when you haven't really played together much but he was able to marshall his players well and get them on the same page.
Marcel Brache, 80 minutes (7):
We though this was his best game in an Eagles shirt. He was able to make good meters on every carry and his defense was strong. Even though the level of the opponents wasn't as strong as what the Eagles are going to face regularly you like to see players like Brache take full advantage.
Bryce Campbell, 80 minutes (5.5):
Another solid game from Campbell. It's maybe not his most spectacular game but he was solid enough.
Take the jump to read more.
Ryan Matyas, 61 minutes (7.5):
We thought that Matyas played well on both ends of the floor. He was able to read the game well and he was dangerous every time he touched the ball. He was well rewarded with his try.
AJ MacGinty, 80 minutes (7.5):
What more can you say about MacGinty. When the Eagles needed a player to take it to another level it was MacGinty that took them there. His awareness of the game is so strong and it eventually wore Germany down.
Shaun Davies, 65 minutes (6.5):
Despite being responsible for the first try of the game with some carelessness he was excellent. The ball got out quickly which is what the Eagles need.
Andrew Durutalo, 65 minutes (7):
At the breakdown Durutalo was a monster once again. He earned the Eagles the first shot at points on the night and was overall what the Eagles needed.
Tony Lamborn, 80 minutes (6.5):
He continues to do the dirty work. Different coach but the same start. Lamborn is one of the first names on the team sheet.
Ben Landry, 80 minutes (7):
This was his first chance to get the start at flanker for the full team. No complaints. Either at lock or at flanker he provided a good spark.
Nick Civetta, 80 minutes (7):
It's hard to imagine Civetta not starting from this point forward. He is particularly strong in set pieces.
Greg Peterson, 40 minutes (6):
He hasn't played a lot for Glasgow this season which showed some in his fitness even though he's been playing for Marr. Still, plenty of positive signs.
Dino Waldren, 60 minutes (7.5):
We thought that this was the match Waldren needed in an Eagles jersey. He was strong in the scrum helping out the Eagles there. He was also very strong in the open field. That may not be enough to fend off challengers for the starting spot but it was a strong effort.
Joe Taufete'e, 57 minutes (7):
Like the rest of the front-row players Taufete'e had a strong game. He dominated the German side and was good at the breakdown.
Ollie Kilifi, 72 minutes (5.5):
A decent day for Kilifi in his return to the Eagles. Fitness is always an issue and there are still one or two moments he'd probably like back during a game but was still good.
Substitutes
John Quill, 40 minutes (7):
When Quill came on he made a positive impact which is exactly what you want from a sub.
Peter Malcolm, 23 minutes (7):
Another solid match from Malcolm.
Paddy Ryan, 20 minutes (5):
Ryan has added a few pounds since the summer. At this point it's not clear if that's a good thing.
Will Magie, 19 minutes (6.5):
When he came in he slotted to flyhalf and continued right where MacGinty left off. More performances like this and he could start somewhere on the pitch.
Nate Augspurger, 15 minutes (6):
A bit of an unfamiliar position for Augspurger to come off the bench and it was hard to make an impact.
Cam Dolan, 15 minutes (6):
Dolan was in the same boat as Augspurger having come on when the Eagles were well in control.
JP Eloff, 8 minutes (6):
Not a lot of time to make an impact for Eloff.
Huluholo Moungaloa, 8 minutes (6):
Also not a lot of time to make an impact.