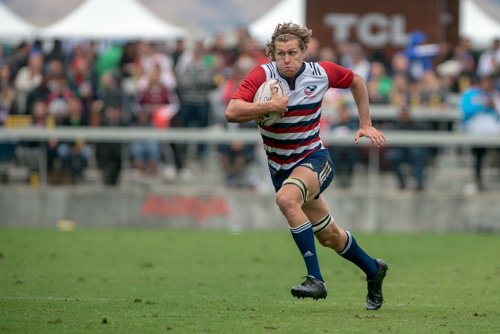 Photo: Connie Hatfield
It was a little bit surprising that the U.S. had to take on Chile for the top spot in the pool. Prior to the tournament it was expected that the U.S.-New Zealand match would be the pool decider but thanks to Chile's awesome day, including their win over the All Blacks, it set up a winner take on in their final pool play match. In the end it turned out to be a clinical match for the Eagles winning 29-21.
The big difference in the match was the play at the breakdown. Ben Pinkelman was a monster in this area winning multiple turnovers that led to multiple tries. The first try came as Kevon Williams was able to finally find space on the outside. From there the Eagles seemed to play more loosely with Ryan Matyas finishing off a great team play started by Pinkelman. Maka Unufe had another try to give the U.S. a 17-0 lead at halftime.
However, Chile's miracle day wasn't going down without a fight. They scored just seconds into the half and then won the restart which turned into a try. Just like that it was down to 17-14. For all the possession that the U.S. enjoyed in the second half they found themselves not touching the ball until two minutes had gone in the second half.
Take the jump to read more.
Come Maka Unufe to the rescue. A great bit of individual running and attitude restored some order to the Eagles as his try put them back up 22-14. Soon after a diving try from Chris Mattina secured the win with less than a minute to play.
With the win the Eagles will face Fiji in the quarterfinals on day two. That match starts at 3:26 p.m. et/12:26 p.m. pt.