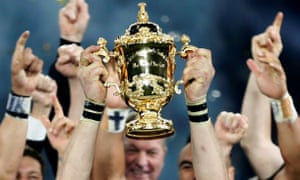 South Africa got a big boost to their hopes of hosting the 2023 World Cup. The Rugby World Cup Limited Board, which rates candidates based on specific set of criteria gave their recommendation to the World Rugby Council that South Africa host the tournament over Ireland and France. South Africa scored higher on nearly every criteria than the two European nations and early top marks overall. Second was France followed by Ireland. The Irish bid has been a favourite of those within the UK and those hoping the tournament goes somewhere new. South Africa will now have hosted twice if the World Rugby Council approves the bid with the first being the famous World Cup in 1995.
Of the ten World Cups by 2023 South Africa, New Zealand, Australia and England will all have hosted twice with Japan, France, and Wales each hosting once. New Zealand, Australia, and England all had to share at least one of their tournaments.
Take the jump to read more.
Winning the bid doesn't guarantee the tournament for South Africa but it is extremely likely. The World Rugby Council will vote on November 15th in London to see who is awarded the tournament. There are a total of 39 votes up for grabs.