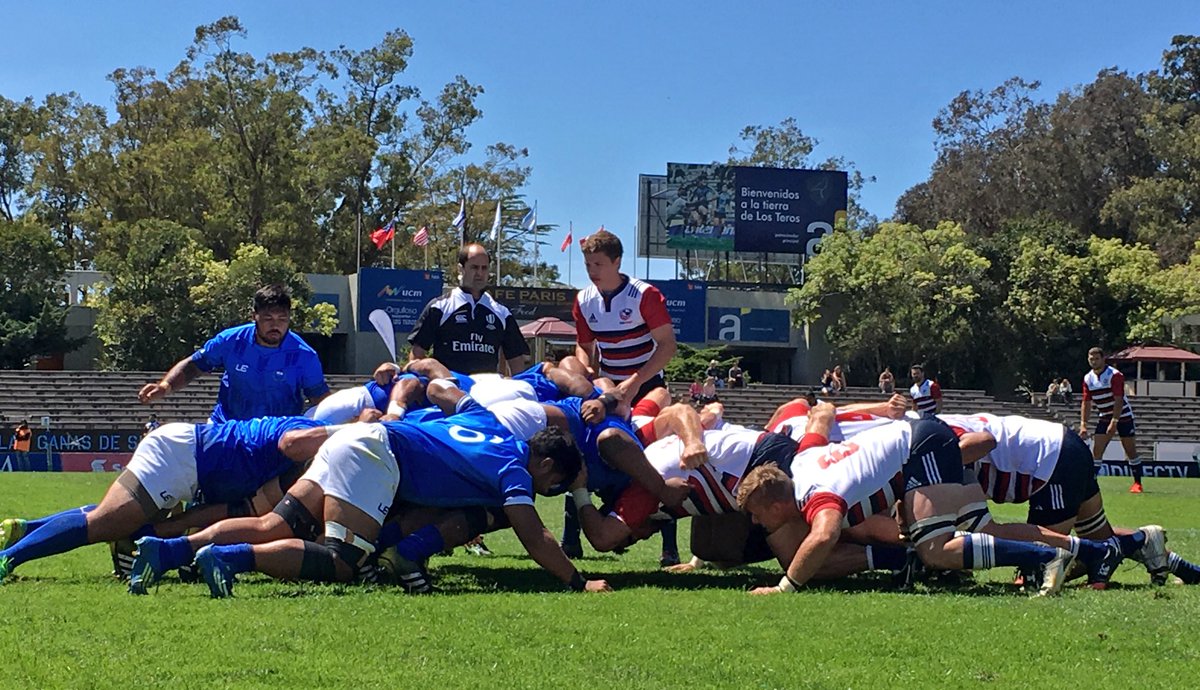 A red card to Hanco Germishuys just two minutes into the second took what was a close match between the U.S. and Samoa into a 48-26 blowout in favor of Samoa. It definitely was an dream start to the Americas Pacific Challenge for the Selects despite some positive play, especially in the first half. The team will now have to rebound before they play Uruguay on Wednesday.
It actually wasn't a bad start to the match for the Selects. They had the most of the territory and repeatedly threatened to score. Only they didn't. Just like other U.S. teams the Selects failed to finish numerous chances, including a very makable penalty attempt from Ben Cima, leaving the score at 0-0.
Despite the good start from the Selects Samoa were able to play simple and it eventually paid dividends. They repeatedly tried to go and pick with their forwards looking for a gap. It didn't work for the first part of the match leading to just a penalty. However, just two minutes after Aukuso Fruean kicked the penalty Samoa were finally able to find a gap in the defense to race in for the try from La'aloi Leilua to lead 10-0.
Take the jump to read more.
The Selects did have more chances but as you would expect for a team that hasn't been together long the handling and communication wasn't there leading to numerous knock-ons. Repeatedly given chances Samoa scored a second try to boost their advantage to 17-0.
Still, credit to the Selects for fighting back and ending the half well. With only a couple of minutes left in the half they were able to put Samoa under pressure earning several turnovers. It has to be said that in the first half outside of the two tries the U.S. defense was good overall. That defense directly led to the forwards being able to go to work and Peter Malcolm scoring the first Selects try of the match. Not long after the U.S. once again used their defense to create offense as they got a turnover and found Tim Maupin who slipped through under the posts. At the half it was 17-14 and anyone's game.
Unfortunately any momentum the Selects had to start the second half was quickly erased. After the kick Germishuys spilled the ball and the Samoan prop was there to take advantage and score a try just 45 seconds in. It got even worse just a minute later. The U.S. had a good attacking opportunity in good field position but the ref blew his whistle to stop play. After discussing with his assistant he showed a red card to Germishuys for punching a Samoan player in the face. Even if it wasn't the world's hardest punch it was still a boneheaded play by Germishuys. Despite all of the physical tools and rugby skills he has he still has moments of madness that doom his side and this red card was no different.
After the red card it was game over. The score was only 24-14 but in the space of the next ten minutes Samoa would score three times to ballon their advantage to 41-14. They would later add another try to push it to 48-14.
Down by such a big score the Selects coaching staff were looking for the team to rebound. After all, this is a development tournament and being able to not put your head down is a good sign of fundamental players. Substitutes in particular seemed to have an impact for the Selects as they soon began to show signs of life despite being down a man.
First was was a series of good passes from players like Bryce Campbell and Zach Pangelinan that found Mitch Wilson out on the wing for the score. Not long later Campbell himself crashed over to make it more respectable at 48-26.
The attacks kept coming. Maupin had another run and the backs began to find space. Substitutes like Holden Yungert and others helped push the team over. Players like Brendan Daly found new energy. It led to more chances but in the end they weren't able to put another try on the board.
There will be plenty of lessons to learn from this match. Number one is that if you give a good team like Samoa an inch they will make you pay. Second is that one dump mental mistake can cost your team big time, as Germishuys learned. The third lesson is that the Selects can do a lot of things well when they back themselves and get out and run. At this point every player on the team has played rugby for a long time, ever since they were a youth. They have the instincts and they just need to trust them. They'll get a chance to do jut that next Wednesday against Uruguay.