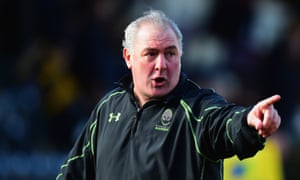 The Eagles long search for a new head coach is over as U.S.A. Rugby has named Gary Gold to the position. Gold takes over from John Mitchell who left the job back in July after guiding the U.S. to World Cup qualification. Gold brings plenty of experience to the job and is currently Director of Rugby to the Worcester Warriors. The native of South Africa has coaching experience in his home country as well as in England. Gold will be with the team through the World Cup but won't be joining up with the team until the end of the Premiership season.
In a U.S.A. Rugby press release Gold mentioned that he will be moving stateside, something Mitchell never did. "I'm very thankful for the opportunity to move to Colorado and contribute toward growing and developing the game of rugby in America. There's a lot of hard work to be done with some tremendous potential. Hard work, combined with the upside potential is what excites me about this position."
Take the jump to read more.
"It has been made clearly obvious to me from numerous individuals within the organization that this position isn't just about continuing the development of the Men's National Team, although that is obviously a key focal point. Equally important is the attention toward the development of coaches, being an ambassador for growth of the game in America and contributing toward the strong grassroots initiatives the union is putting forth. Everyone must understand that all of these aspects lead us toward the continued development and achievements of the Men's National team."
The hiring committee included Alex Magleby, Chris Wyles, and Dave Hodges.
U.S.A. Rugby CEO Dan Payne commented, "We are very fortunate to have recruited an individual with Gary's experience, commitment and values. Myself and our hiring panel were more than just impressed with his rugby history. We saw a sincerity and skill set in Gary that fits perfectly with how we want this position to contribute toward the growth of rugby in America. Developing players, coaches and contributing toward grassroots growth were all areas that enthused Gary when we described the expectations of this role. We're very happy with the result. Furthermore, I have to thank Worcester Warriors for their partnership and commitment in working together through this process. The agreed approach allows for a seamless transition with the Warriors, and the ability to merge Gary's identity into the Men's program."
It's unlikely Gold will be in charge of the team headed to South America for the Americas Pacific Challenge given that coaching staff is already in place. However, having a coach picked before that tournament will allow Gold to observe the team and make selections.