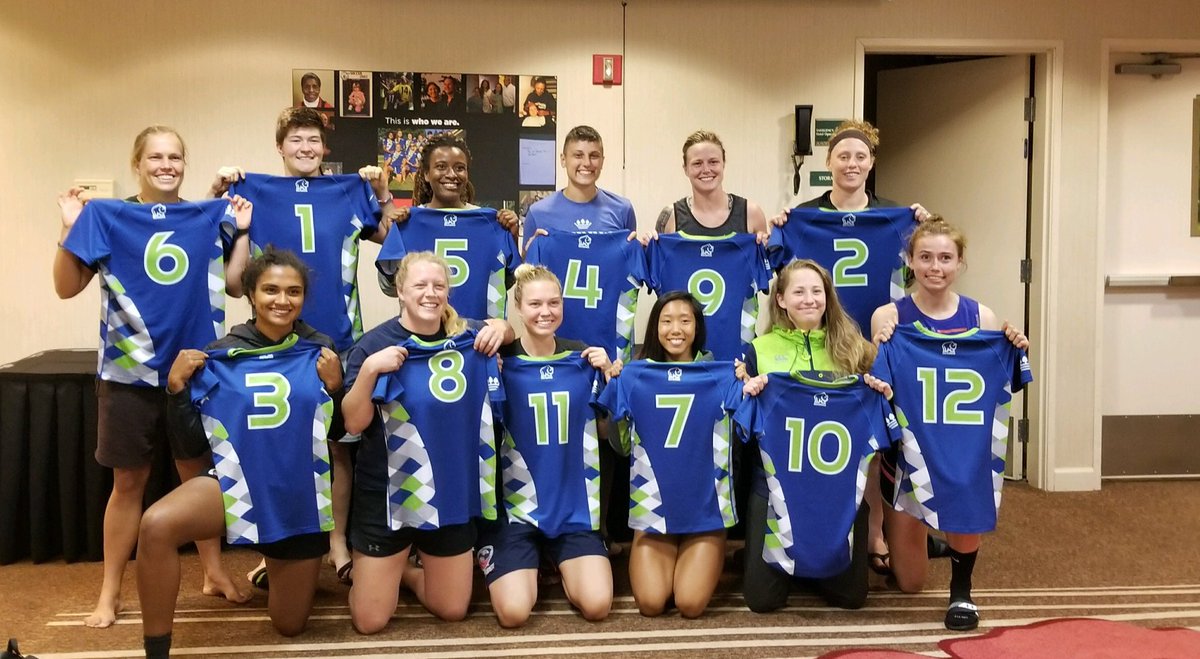 Day one of the Club 7s Nationals is in the book and by and large things played out as expected. Several teams, including eventual pool winners Utah, WAC, and Denver, all booked their spots in the quarterfinals after two rounds, as did Bulldog. However, the rest of the four spots were booked in the last round of the day. In Pool B, Old Blue lost to WAC in their first match of the day but then went on to beat both Dallas and Metropolis in convincing fashion to move on. In Pool C it came down to to a surprise win by Charlotte over Schuylkill River to give Belmont Shore second place in the pool. Schuylkill River had looked set to claim the spot after beating Belmont Shore 17-12 in the second round but then Charlotte played well to win their only match of the day.
Pool D arguably had some of the most parity. Chicago, Life West, and Santa Monica all won two matches. It came down to point differential where Life West bested Santa Monica by one point. The Lions had the best point differential. Pool A was straightforward with WAC and Bulldog taking spots after two rounds.
Tomorrow's Cup quarterfinals will see some very exciting match-ups, including WAC against Bulldog, Utah against Old Blue, and Denver against Life West.
Take the jump to read more.
In the women's tournament all of the favorites advanced. The best team to miss out came in Pool A, which was the pool of death, as the Glendale Merlins were the team squeezed out with Life West and Scion advancing. Each of the three teams had two wins and one loss but Life West and Scion had much better point differential than the Merlins to advance.
In Pool B, New York was dominant all day as were the Chicago Lions. Pool C went to the San Diego Surfers who topped the APRTC to win the pool. They played each other in their last match of the day to determine the pool. In Pool D, Atavus and NOVA ruled.
Tomorrow's quarterfinals will see several very good teams go home early. We particularly have our eye on Atavus vs. the ARPTC.
Men
Round 1
Utah 17-7 Austin Huns
Chicago Lions 24-0 Optimus
Bulldog 32-5 Beltway Elite 7s
Life West 17-21 Santa Monica
Old Blue 17-29 WAC
Denver 27-12 Schuylkill River
Metropolis 5-26 Dallas
Belmont Shore 24-5 Charlotte
Round 2
Chicago Lions 15-10 Santa Monica
Utah 29-5 Beltway Elite
Life West 26-12 Optimus
Bulldog 26-7 Austin
Denver 41-7 Charlotte
Old Blue 34-5 Dallas
Belmont Shore 12-17 Schulkill River
Metropolis 19-40 WAC
Round 3
Utah 42-17 Bulldog
Beltway Elite 7-29 Austin
Chicago Lions 17-19 Life West
Santa Monica 24-12 Optimus
Old Blue 47-5 Metropolis
Dallas 14-31 WAC
Denver 28-7 Belmont Shore
Charlotte 21-14 Schuylkill River
Cup Quarterfinals
Utah vs. Old Blue
Chicago vs. Belmont Shore
WAC vs. Bulldog
Denver vs. Life West
Bowl Quarterfinals
Austin vs. Metropolis
Dallas vs. Beltway Elite
Schuylkill River vs. Optimus
Santa Monica vs. Charlotte
Women
Round 1
Scion 38-0 Tempe
Atavus 31-15 Minneapolis
Life West 36-10 Glendale
NOVA 22-7 Orlando
New York 33-0 Austin
ARTPC 42-5 Beantown
Philadelphia 7-36 Chicago Lions
San Diego 24-0 Atlanta
Round 2
Atavus 31-0 Orlando
Scion 5-10 Glendale
NOVA 19-12 Minneapolis
Life West 34-0 Tempe
ARPTC 35-5 Atlanta
New York 26-10 Chicago Lions
San Diego 19-10 Beantown
Philadelphia 14-33 Austin
Round 3
Scion 21-10 Life West
Glendale 38-5 Tempe
Atavus 21-17 NOVA
Orlando 10-21 Minneapolis
New York 32-7 Philadelphia
Chicago Lions 24-5 Austin
ARPTC 12-17 San Diego
Atlanta 17-12 Beantown
Cup Quarterfinals
Atavus vs. ARPTC
Life West vs. Chicago
San Diego vs. NOVA
New York vs. Scion
Bowl Quarterfinal
Glendale vs. Philadelphia
Austin vs. Tempe
Minneapolis vs. Beantown
Atlanta vs. Philadelphia