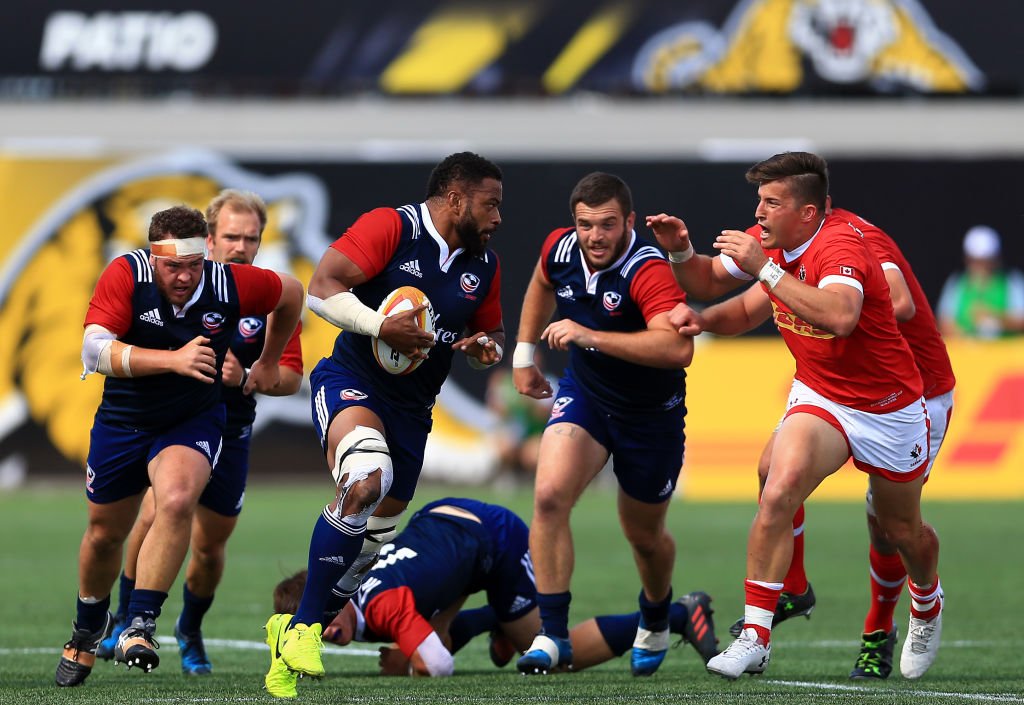 It would be an understatement to say that today's match against Canada represents a big moment for the Eagles. They have never qualified as Americas 1 and it's been a target with years. With just two years remaining before the World Cup being able to set out planning, fundraising, etc., for 2019 is so, so important. The last thing that the Eagles want is uncertainty of a potential series against Uruguay where they would have to negotiate with the clubs of top players to get their release despite it being an international release window. The last thing they want is to even potentially fall to Uruguay. The last thing they want is uncertainty under a new coach. A win today takes out a lot of uncertainty for a team needing certainty, even if it means a potentially more difficult pool at the World Cup.
As last week showed even though Canada have not beaten the Eagles since this stage of World Cup qualifying four years ago they are not walkovers. The U.S. and Canada show so many similarities that they can often neutralize each other. Sure, the match last week likely would have been different if the U.S. weren't missing most of their first choice forward core and Blaine Scully but you have to play the cards you are dealt. In the end emerging from Hamilton with a draw is not bad. Ideally they would have liked to come away with a win but the last two times they've been at this stage they went into the second leg knowing they needed to score. This time they can focus on playing at home and taking care of business.
Take the jump to read more.
Neither team played their best match last week but with Canada now having to go on the road and the Eagles getting the likes of Joe Taufete'e and Tony Lamborn back should tilt the edge toward the Eagles. At the same time head coach John Mitchell has elected to made a lot of changes in his line-up this summer. Every week it seems that the Eagles are making a lot of switching in their roster. Some of that was planned to save players for World Cup qualifying but at the same time it's messed with chemistry. Hopefully for the team with now four weeks in camp they can be on the same page even if the roster changes it up.
The match starts at 6:00 p.m. et/3:00 p.m. pt and can be seen on The Rugby Channel.
The Team
As mentioned, Mitchell has changed his line-up once again. Most of the changes are from players returning to health. In the forwards Chris Baumann is healthy enough to go and will start at prop. Joe Taufete'e is also healthy and a good option off the bench. Nate Brakeley was a healthy scratch last week in place of Ben Landry but they are swapped this week. In the backs Ryan Matyas is back while Madison Hughes will see his first action of the summer.
Where the Eagles could make a big impact is off the bench. They have a lot of depth they can bring on during the second half to provide energy. The likes of David Tameilau, John Quill, Andrew Durutalo, and Shaun Davies can really make things happen.
Forwards:
Tony Purpura, James Hilterbrand, Chris Baumann, Nate Brakeley, Nick Civetta, Todd Clever, Tony Lamborn, Cam Dolan
Backs:
Nate Augspurger, AJ MacGinty, Ryan Matyas, Marcel Brache, Bryce Campbell, Mike Te'o, Madison Hughes
Bench:
Joe Taufete'e, Ben Tarr, Dino Waldren, David Tameilau, John Quill, Andrew Durutalo, Shaun Davies, Will Magie
The Opponents
Canada coach Mark Anscombe has only made one change to his team from last week. Phil Mack's brother is getting married and he's not available so Gord McRorie comes in to start. Canada have some very dangerous weapons as the Eagles found out last week but knowing what's coming should be a big help.
Forwards:
Djustice Sears-Duru, Ray Barkwill, Jake Ilnicki, Brett Beukeboom, Evan Olmstead, Admir Cejvanovic, Matt Heaton, Tyler Ardron
Backs:
Gord McRorie, Shane O'Leary, Taylor Paris, Connor Braid, DTH van der Merwe, Andrew Coe, Ciaran Hearn
Bench:
Benoit Piffero, Anthony Luca, Matt Tierney, Kyle Baillie, Aaron Carpenter, Andrew Ferguson, Nick Blevins, Dam Moor
Keys to the Match
Contain van der Merwe:
DTH van der Merwe was outstanding last weekend and carved the Eagles up early. They need to limit his impact to make things happen not only for himself but also for his teammates.
Penalties:
Canada are going to want to chip away at the scoreboard early and often. If the Eagles allow that to happen they are going to feel additional pressure to score tries and white line fever has bitten them before. Instead, it needs to be the workrate of the U.S. that causes penalties early for AJ MacGinty to boot.
Follow Clever:
This is Todd Clever's last match for the Eagles and it comes in his hometown of all places. He is going to be fired up and ready to play. If the rest of the team can adopt his passion and energy it should be a good day.
Read Derek:
Derek Sagehorn has a
great breakdown of last week's match
that you should check out.
The Takeaway
There are opportunities for the Eagles if they lose this match but they are going to lose a lot of momentum and opportunities. We laid all of that out above but it's worth repeating. In the end what pool the Eagles are in doesn't really matter, they will all be tough. What matters is that the Eagles sew things up early so that they can give their new head coach no uncertainty about the World Cup. The new coach can have two years of planning and U.S.A. Rugby can have two years of fundraising to help build their squad. With all of that on the line we think the Eagles do it. It will be close but they pull it out.