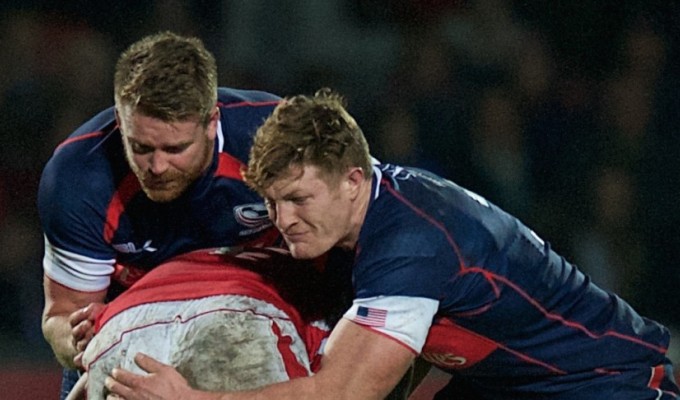 By Ryan Trost
Earning a test cap is a special moment for any player, but this Saturday's USA v Ireland encounter at Red Bull Arena will have added significance for three of the USA Eagles. Irish expats AJ Macginty, John Quill and Paddy Ryan will be facing off against their home country for the first time in each of their unique rugby careers.
Quill was on the 22 man roster the last time Ireland crossed the pond to play the U.S. (2013), but he didn't see the field in what was a tightly contested 15-12 Irish victory. Being named the starting Blindside Flanker this time - along with AJ MacGinty, who gets the nod at Fly, guarantees he will finally see that opportunity come to fruition.
"I mean, I know a lot of the guys I'm playing against. I played with them or against them when I was at home. So that's a fun aspect," said Quill. "Yeah, there's a little something to prove and not really to anyone other than myself… these ones are a little more special."
Take the jump to read more.
As should always be expected with top flight focus, they emotions are of course tempered somewhat though. "There's no real, hang-ups about if I had a chance there and all that," Quill continued. "That's kind of, long-gone for me, but still a great opportunity to prove myself a little bit to people at home I guess. There'll be bragging rights, definitely when I get home there will be some banter being thrown around, about it."

MacGinty is likewise taking the home country opposition in stride, "It's obviously an honor to play for America and be involved in this side. So, any time you get to play a test match you'll always be pretty passionate and they're ranked in the top 3. It's a huge game for us, so I don't think there's anything else extra to prove. You always want to prove your best and prove you deserve to be in the jersey, so that's just really our focus."

While Quill and MacGinty came over at relatively young ages, Tighthead specialist Paddy Ryan had been a committed part of the Irish club scene and pathway until just recently. He admitted more freely that the emotions would be running high at kickoff. "Definitely they will. It's a special moment obviously, coming onto your home country and you're playing for America. I've got a lot of family here, so it's a big occasion for me, a lot of friends will be watching back home as well."

Having never been in a USA camp before and only arriving days ago, it may seem surprising that he was included on the 23 man roster. The USAR staff had been after the man for a few years though, so it's fair to say they know what they're getting with his scrummaging acumen. "I couldn't believe they asked, to be honest, because I'd turned them down before," he said. "With things going slow back in Ireland I figured, why not take my chance here."

In contrast to Ryan's longer journey in the Irish system, MacGinty and Quill took their bites at the lure of the USA much earlier. Though, interestingly, both only after having decided to get away from rugby, back in 2011-12.

"I left Ireland when I was just 21 after University. I was still playing competitive rugby, but (at) u-19 I was very small so I didn't get picked up, and so it was I decided to get away from Ireland and do my degree. I was going to get away and travel," said MacGinty.

Quill's line to the Eagles was also indirect. "When I finished my 3 years in the Academy, there was a lot of good Back Rows: Peter O'Mahoney, Tommy O'Donnell… these guys that I would have been competing against at very high standard and they had gotten the nod," he began.

"I'd just finished college... So, me and my girlfriend at the time decided to head to Boston. For me it was trying to get away from rugby, which is the funny thing."

With educational dreams in his pocket, MacGinty first enjoyed his Travel visa in New York City, where he caught on with Mike Tolkin and NYAC. His Rugby appetite whetted again, the decision was made to pursue his education at Dan Payne's rugby powerhouse, Life University.

"I think going down there was one of the best things that could happen for me. It helped me focus on the rugby and get into a professional environment without being a Professional," said MacGinty.

Tolkin, the former USA Rugby head coach, was also an integral component in landing John Quill for the Red, White and Blue. "When I came over I had a chance to speak with (him) and one thing led to another. It's been a pretty crazy journey since," Quill continued, "I'm now having the opportunity to come back up against some of these guys, it's fun."

With all three of the expats having come up in the Irish Academies, there is a lot of familiarity with the opposition this weekend, a benefit this Eagles squad has over many of its predecessors. Quill and Ryan graduated Munster Academy along with six of the Irish players named for Saturday. Two of whom they also shared time with at Dolphin Rugby Club, in London.

MacGinty actually coached Garry Ringrose at Leinster Academy before graduating. "He's a fantastic player, so it will be very exciting to play against him and to see him in the Ireland jersey," MacGinty said.

It is still a large ask, facing World Rugby's third ranked team, but the U.S. will have their chances on Saturday. The staff and players feel they have prepared in the right manner and that they have a solid grasp of Ireland's mindset coming in.

"They're a very disciplined, very structured team, so our game is to try and take em out of that structure with our defense and then on the other side of the ball, playing head's up rugby a little bit," said Quill.

With regard to the Irish scrum, Ryan added, "We know Ireland are going to try and dominate their own set piece area. They'll be direct and in our face a bit. They'll aim to make it a three on two, but we've got some horses. On the back of strength, we'll stay with them."

Quill continued, "We have the players now and the system that is kind of, more running rugby and it will be more exciting. We're hoping to really let that shine through in this one." - Quill

When asked about the big picture, MacGinty stated, "The plan is to be the number 1 seed and there cannot be a better game to lead into that."

"The week was hard," he continued. "We've been going through trainings with a high intensity, so we've just got to really keep pushing that forward and put in some good performances. Gel together as best we can and we're prepared for that kind of a game."