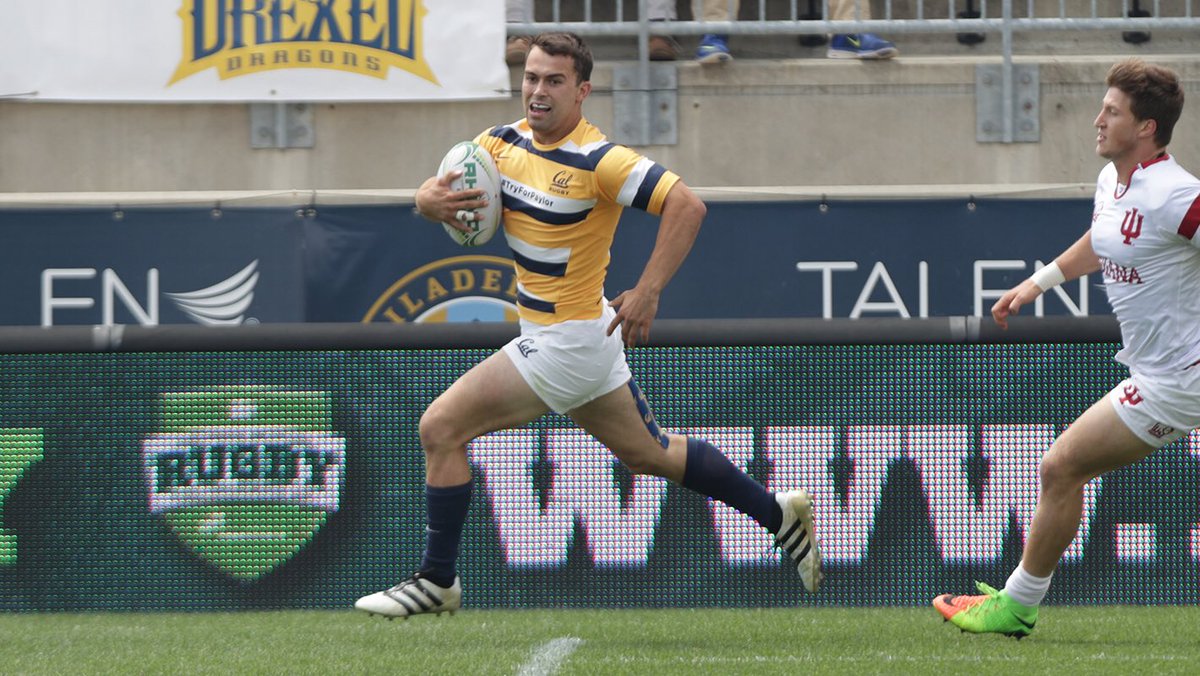 One of the biggest questions heading into the weekend was whether anyone was going to be Cal. That answer is no as the Golden Bears won their fifth straight CRC. This one was a 19-0 win over Life. Cal simply have no contemporaries in the college 7s field at the moment. They are deep from top to bottom and with they continue to add players like Sam Cusano it makes them very difficult to stop.
The final only exemplified what Cal did all weekend. They were able to take Life out of what they wanted to do and in turn capitalized on multiple mistakes. All of that said, neither team seemed like they wanted it throughout much of the first half. The desire was there and each team made an initial great move only to have it snuffed out by their opponents defense or a silly error.
The break finally came just a minute or so before the half when Duncan Van Schalkwyk was shown a yellow for a shoulder charge. With the man advantage Cal used their forwards and were rewarded when Connor Sweet scored. At the half Cal led 7-0.
Take the jump to read more.
The second half was even more dominant for the Golden Bears. Sam Cusano was able to break through along the sideline to race in for the try. The conversion was off but the league was extended to 12-0. Any chance Life had to make it after the try was snuffed out by a strong Cal defense. Cusano scored his second with about two and a half minutes to go to seal the match.
If you'd like to donate to injured Cal player
Robert Paylor's recovery you can do so here
.
Lindenwood got off to a strong start aided by a silly yellow card from Life's Van Schalkwyk in their semi-final against Life. The referee made no doubt that he wasn't going to tolerate backchat. With the man advantage Lorenzo Thomas simply powered over to put Lindenwood up 7-0. Life soon struck back when Cody Melphy soccer kicked the ball on a scramble. That leveled it up at 7-7. Unfortunately for Life the restart didn't go ten and the ball was sent out to Thomas who ran through for his second try. 14-7 to Lindenwood. The half ended when Val Schalkwyk showed some great moves to score in the corner. 14-12.
Life started the second half with a turnover win. With possession the ball eventually went to Cody Melphy who threw a great dummy for the try. Van Schalkwyk added the extras and Life led 19-14. A yellow card to Mike Baska with three minutes to go gave Life the room they needed for a final try via Zander Van Schalkwyk.
In the other semi-final Cal and Indiana were even early before Cal pulled away. Drew Gaffney scored first for Cal before Alex Dorrier tied it at 7-7. Cal then added one more try from Russell Webb to make it 12-7 at halftime. Just like he ended the half Webb got the second off to a bright start with a great solo effort down the sideline. He got the Indiana player to over-commit before finishing it off. After that Cal poured it on with Sam Cusano and Will Fuller scoring. Tyler Sousley got a lot try for Indiana to make it 29-14.
In the quarterfinal stage Cal had to survive a scare against Kutztown while Life had to edge St. Mary's 7-5. Lindenwood beat Arkansas State 12-0 and Indiana beat UCLA 24-12.
The Bowl went to South Carolina while Wisconsin won the Plate. In the Plate final Wisconsin ran out to a 12-0 lead before Dartmouth came back in it and scored a try after the hooter to tie the match. Unfortunately the conversion was off giving Wisconsin the win.
Cup Final
Cal 19-0 Life
Cup Semi-finals
Cal 29-14 Indiana
Life 24-14 Lindenwood
Cup Quarterfinals
Lindenwood 12-0 Arkansas State
Life 7-5 St. Mary's
Indiana 24-12 UCLA
Cal 19-10 Kutztown
Plate Final
Wisconsin 12-10 Dartmouth
Plate Semi-finals
Dartmouth 26-21 AIC
Wisconsin 15-5 St. Joe's
Plate Quarterfinals
AIC 17-14 Arizona
Dartmouth 10-5 Boston College
Wisconsin 19-14 Army
St. Joe's 21-14 Penn State
Bowl Final
South Carolina 24-19 Clemson
Bowl Semi-finals
South Carolina 21-0 Virginia Tech
Clemson 17-12 Navy
Bowl Quarterfinals
Clemson 14-12 Temple
Navy 26-0 Notre Dame
South Carolina 19-7 Delaware
Virginia Tech 20-5 Tennessee