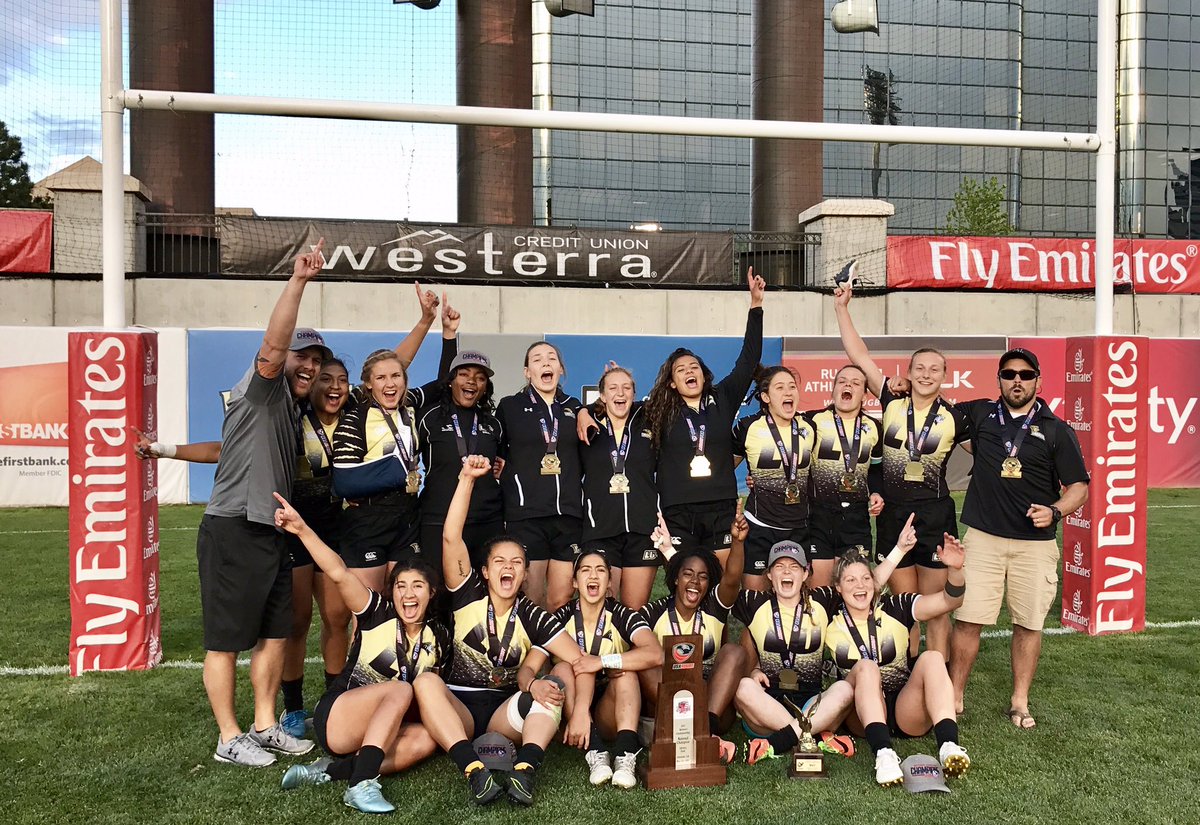 Lindenwood have capped off an excellent season with the College 7s National Championship. The Lions were extremely impressive over the weekend where they were rarely challenged. They gave up 10 total points in pool play while scoring 110. In the knockout rounds that simply continued as they beat some very good teams. In the end it came down to them and rivals Life with the Lions winning 31-12. To reach the final Lindenwood blanked Michigan 17-0 in the quarterfinals and then beat a very good Central Washington team 21-0 in the semi-finals.
Life's path to the finals almost didn't happen as they met UC-Davis in the quarterfinals. The Aggies had only qualified for the quarterfinals as one of the top third place teams but they put a scare into the Running Eagles with Life only winning 19-17. Life then beat Dartmouth 33-10 in the semi-finals.
To make the semi-finals Central Washington beat Army 17-12 and Dartmouth beat Penn State 20-14. Army would go on to win the Plate by beating Penn State 21-17. Davenport won the Shield.
Pool Play
Pool A
Lindenwood 43-5 Montana State
Dartmouth 19-14 UC-Davis
Lindenwood 36-5 UC-Davis
Dartmouth 36-12 Montana State
Lindenwood 31-0 Dartmouth
UC-Davis 36-5 Montana State
Pool B
CWU 31-7 Texas A&M
Life 41-0 Michigan
Life 45-5 Texas A&M
CWU 21-12 Michigan
Life 24-17 CWU
Michigan 35-0 Texas A&M
Pool C
Penn State 41-5 Davenport
Army 19-12 Princeton
Penn State 49-7 Princeton
Army 38-0 Davenport
Penn State 19-17 Army
Princeton 17-14 Davenport
Shield
Princeton 20-7 Texas A&M
Davenport 24-12 Montana State
Davenport 27-0 Princeton (final)
Quarterfinals
Lindenwood 17-0 Michigan
CWU 17-12 Army
Life 19-17 UC-Davis
Dartmouth 20-14 Penn State
Plate
Penn State 27-17 UC-Davis
Army 31-7 Michigan
Army 21-17 Penn State (final)
Cup Semi-finals
Lindenwood 21-0 CWU
Life 33-10 Dartmouth
3rd/4th
CWU 31-0 Dartmouth
Final
Lindenwood 31-12