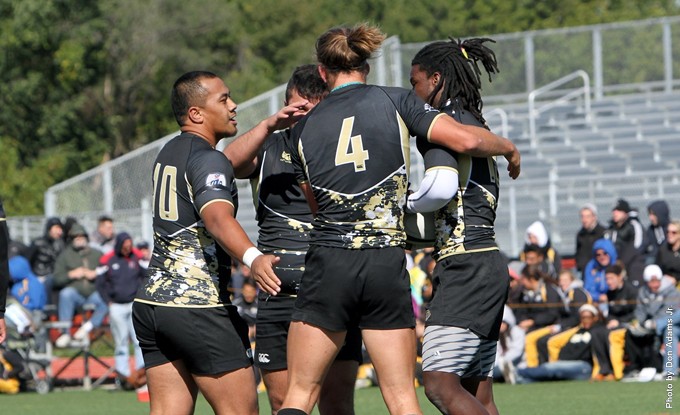 There were no real surprises on day one at the College 7s Nationals with several teams booking their spots in the quarterfinals with one pool play round to go.
Pool A
St. Mary's 2-0-0
Bowling Green 2-0-0
Fordham 0-2-0
James Madison 0-2-0
DI-A champions St. Mary's are through to the quarterfinals after two dominating displays. First up was a 25-0 win over Fordham. Tommy Wallace had a brace in the match. New they downed James Madison 43-0. Bowling Green similarly had a good day with a 12-5 win over James Madison and 26-7 over Fordham. St. Mary's and James Madison will square off for the top spot in the pool today.
Pool B
Lindenwood 2-0-0
Grand Canyon 1-0-1
Stanford, 0-1-1
Wyoming 0-2-0
Take the jump to read more.
Like St. Mary's, Lindenwood are heavy favorites to make the final at the end of the tournament. They did nothing to do away with that impression with a 30-0 win over Stanford and a 31-0 win over Wyoming. There was a bit of a surprise in the group as Grand Canyon and Stanford drew 22-22. That could shake things up on day two as Grand Canyon and Lindenwood play each other. Also in the pool, Grand Canyon beat Wyoming 27-0.
Pool C
Arkansas 2-0-0
Ohio State 1-1-0
Florida Intl 1-1-0
Santa Clara 0-2-0
We pegged this as a pretty open pool and it turned out to be that. In the end it was Arkansas that grabbed the initiative with two wins. Both were narrow with a 12-7 win over Santa Clara and a 17-12 win over Florida International. It was the Floridians that pulled off the biggest upset of the day beating Ohio State 19-14 on a last minute try from Julian Alvarez. Ohio State beat Santa Clara 24-17 to keep pace. The road is easier for Florida International to advance as they play Santa Clara while Ohio State has to play Arkansas.
Pool D
Davenport 2-0-0
Utah 2-0-0
Texas A&M 0-2-0
Kansas State 0-2-0
Pool D played out pretty much as expected with Utah and Davenport dominating. They will square off for top spot in the pool today. Utah beat Kansas State 34-7 and Texas A&M 19-14. Davenport beat the same teams 24-17 and 21-14 respectively.