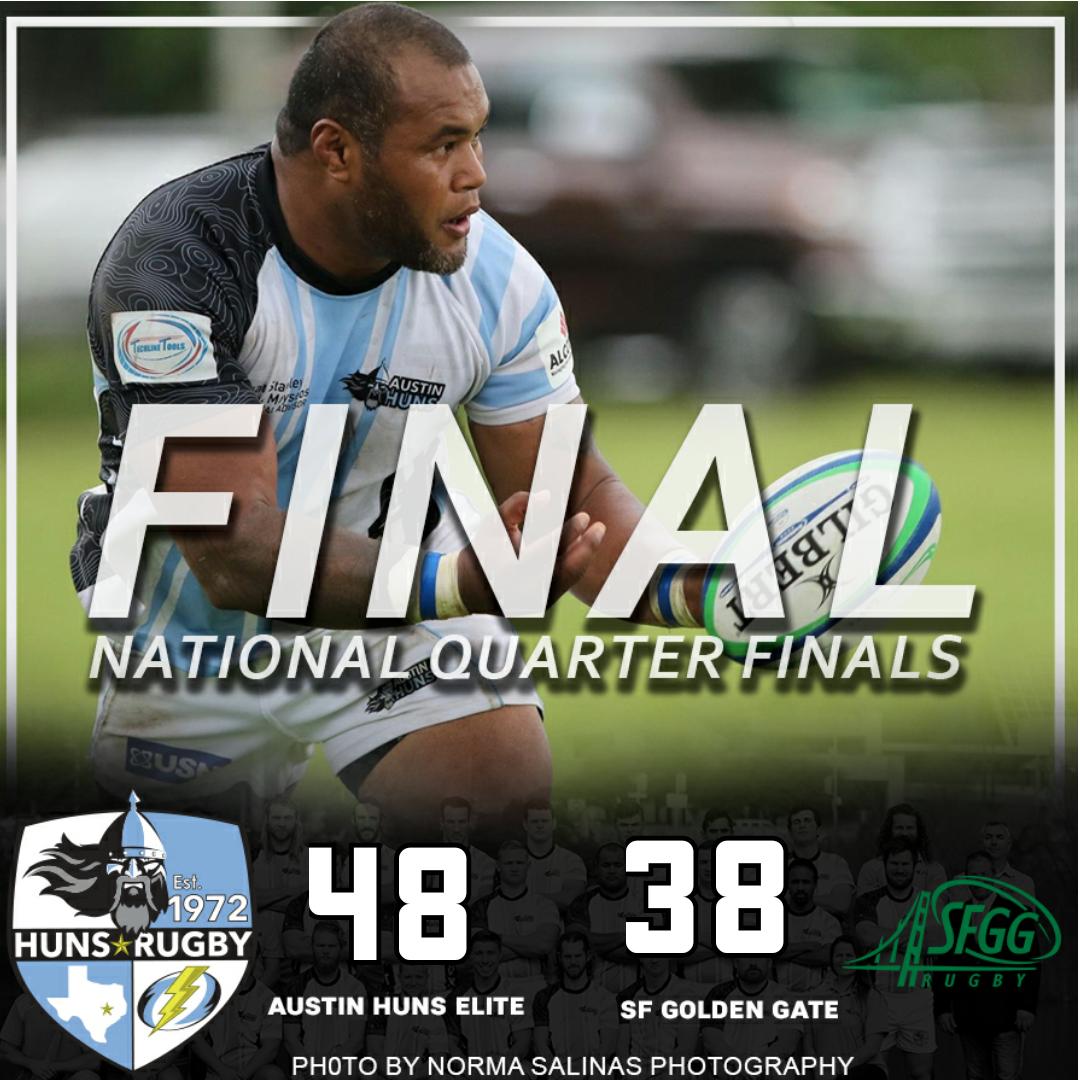 As expected there were some very good battles in the first round of the men's DI club playoffs. With some of the top teams in the country fielding their best sides in year's this playoffs are stacked from top to bottom and it showed on day one.
Austin Huns 48-38 SFGG
Going into the weekend most folks had their eye on was the big match between SFGG and the Austin Huns. Both teams are laden with talent that played in PRO Rugby last year with the Huns especially bringing in several big name domestic players. In the end it was the play of those domestic players that put them over the top and into tomorrow's West final.
The Huns wasted little time scoring with a try from Peter Malcolm in the first minute. SFGG would respond with a converted try but a penalty from Timothee Guillimin restored Austin's advantage at 8-7. SFGG would get another converted try while Austin would respond with one of their own to push SFGG's lead to 16-15. Each team would trade scores to make it 21-21 at halftime.
Take the jump to read more.
In the second half is when Austin began to pull away. Despite an early try from SFGG the Huns rattled off three tries from Martin Knoetze, Guillimin, and Mason Pedersen to take a 37-28 lead. Each team would trade scores with SFGG making a furious comeback but it would fall short.
Belmont Shore 39-17 Life West
Austin's opponent on Sunday will be Belmont Shore who beat Life West 39-17. Belmont Shore showed their dominance early in the match with tries Max Paronelli, Matthew Masoe, and Sam Lilley to lead 21-0 after 30 minutes played. Life West would score from Setefano Latu to get on the board in the first half but a try from Greg Daniel and a penalty from Kameron Moeller would give Belmont Shore a 29-7 advantage at halftime. In the second half it was more even with Peter Sio and Keni Nasoqeqe scoring tries for Belmont Shore and Life West picking up a couple of their own. \
Life West and SFGG will face off in the consolation match.
NYAC 32-14 Mystic River
In their fourth meeting of the year NYAC maintained their advantage over Mystic River with a 32-14 win to advance to the East final. Like with all of their matches it was intense and close for most of the match but it was NYAC that found a way to put up the points while playing excellent defense. In the end it was a pretty straightforward win for NYAC as they ran out to a 25 point lead thanks to the play of veterans like Seamus Kelly who was active all game. Mystic River finally did score Chris Frazier. They scored soon after in the second half to cut the deficit to 11 but a final try for NYAC put the match away.
Chicago Lions 32-24 Rocky Gorge
Arguably the best match of the day was the encounter between the Chicago Lions and Rocky Gorge. It was the closes in terms of scoreline throughout the day and offered up some great rugby. The Lions went ahead on a penalty from JP Eloff and a try after Rocky Gorge had a man sent to the bin. That put the Lions up 10-0. But Rocky Gorge did their best to match that with a penalty from Ben Cima and a converted try of their own to make it 10-10 at halftime.
Rocky Gorge went ahead 17-10 early in the second half as they stole a scrum and powered over but they were done in when they received their second yellow card of the match. With the man advantage the Lions scored a try and a penalty to lead 27-17 with about 10 minutes left. They then added an insurance try with five minutes left which meant that even though Rocky Gorge scored late it wouldn't be enough.
The Lions and NYAC will faceoff for a trip to Glendale tomorrow while Mystic River and Rocky Gorge meet in the consolation match.