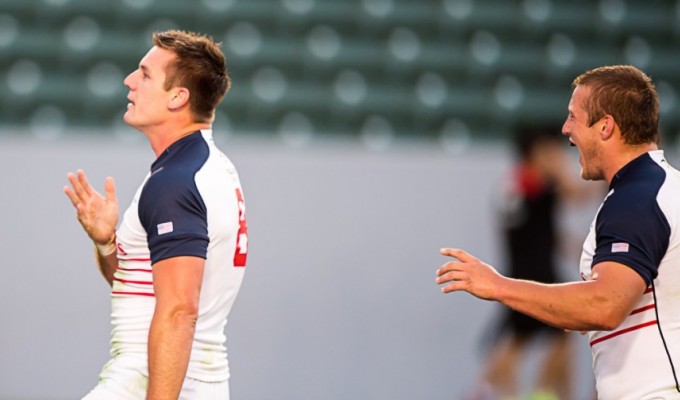 The Eagles are going for their fifth straight win in forever. Literally forever. The U.S. has never won five matches in a row and if they can pull it off against Argentina it will go down as a marquee win for the program. The match against Argentina (technically the Argentina XV) does not count as an official test but for all intents and purposes it is a huge match because it will decide who goes home with the ARC title. Fans had to have had the hope that the Eagles could run the test table during the ARC but not as many would have predicted that they would have put in as many dominating performances as they did. In particular their second half against Chile and the match against Canada stand out as high points.
The task of beating Argentina is going to be call. The team have been the class of the ARC since it's inception. They only time they had trouble was last year when the Eagles brought in their overseas stars like Blaine Scully and came away with a draw in Houston. This year it's very different. The U.S. still has a few of their stars, like Cam Dolan, but at the same time have more of an experimental team while Argentina have drafted in one of their Super Rugby players. All in all the Eagles won't be expected to win but if they are competitive and continue to show signs of growth fans should be happy.
Take the jump to read more.
The match starts at 3:10 p.m. et/12:10 p.m. pt and can be viewed on The Rugby Channel. It will be shown on delay later on ESPN2.
The Team
Head coach John Mitchell has only made a few changes to his starting line-up. Tony Purpura, who has played well during the ARC, takes back his starting spot from Ben Tarr and will join up with Chris Baumann as the props. The only other change in the forwards has John Quill coming in for the injured Todd Clever. That gives the U.S. a back-row of Quill, Tony Lamborn, and Cam Dolan, a very strong group. Most of the changes occurred in the backs. Will Magie will start at fly-half while Ben Cima stays in the starting line-up but moves to fullback. Mike Te'o will slide in at wing.
The move to fullback for Cima could be a big one for the Eagles. Te'o has been excellent with ball in hand but has struggled in the kicking game. With Argentina expected to kick a lot having Cima back there to field could help the Eagles maintain or even win field position. Without a doubt it will be a big test for Cima but if he can pass it than Mitchell is going to have another weapon in his arsenal.
Forwards:
Tony Purpura, James Hilterbrand, Chris Baumann, Matt Jensen, Siaosi Mahoni, John Quill, Tony Lamborn, Cam Dolan
Backs:
Shaun Davies, Will Magie, Nate Augspurger (C), JP Eloff, Bryce Campbell, Mike Te'o, Ben Cima
Bench:
Peter Malcolm, Ben Tarr, Ollie Kilifi, Hanco Germishuys, David Tameilau, Calvin Whiting, Ryan Matyas, Spike Davis
The Opponents
U.S. fans should understand that if a player makes it to this level for Argentina they have already proven themselves a very good player. Thanks to a deeper structure, especially at the junior level, there is little experimentation for the Argentines and any player on this roster will have hopes of not only one day representing the Pumas but also playing in Super Rugby for the Jaguares. In fact, fullback Gabriel Ascárate has been called into the match from the Jaguares. At every position Argentina are deep. That doesn't mean they aren't beatable but you don't look at their roster and immediately sense a weakness.
Forwards: Francisco Ferronato, Gaspar Baldunciel, Santiago Medrano, Pedro Ortega, Ignacio Larrague, Francisco Gorrissen, Lautaro Bavaro (C), Tomás de la Vega
Backs: Sebastián Cancelliere, Domingo Miotti, Julián Domínguez, Bruno Devoto, Santiago Álvarez, Germán Schulz, Gabriel Ascárate
Bench: Marcelo Brandi, Franco Brarda, Eduardo Bello, Franco Molina, Santiago Montagner, Lautaro Bazán, Juan Cruz González, Franco Cuaranta
Keys to the Match
Scrum: More than ever we need to talk about the scrum even though we talk about it every time. The U.S. can either find themselves in a close match if they scrum well or they are going to be thoroughly beaten with at least one yellow card and a possible penalty try. The U.S. scrum has been back and forth at the ARC but will face their biggest test yet. Both Baumann and Purupura have been good so far and if they can keep that up the Eagles will have a chance.
Take the points: The Eagles have been finding ways to score tries recently but it has come against lesser opposition. The expectation is still there that they are going to score but they also need to take the opportunity to pick up points when presented. Whether it's Shaun Davies, Ben Cima, or Will Magie taking the kicks they need to be accurate and continue to click over the scoreboard.
Penalties: Argentina will have no problem taking the points on offer if given the chance. They will probably go for the corner early if they sense a weakness but will not hesisitate to bury the Eagles one kick at a time. Of any match the U.S. need to stay on the good side of the official. If they let penalties rack up they are going to be in big trouble.
Step Up: The ARC is about player development. Players like Peter Malcolm and Will Magie have stepped up as players that can contribute to the Eagles moving forward. That said, they and the rest of the roster are going to face their most difficult opponent yet and they need to find another way to up their game.
The Takeaway
This is going to be a tough game for the Eagles. It's one they can win but they need to put in their best effort yet. Staying away from penalties are a must. If they can play smart and dig in defensively then they have a good chance at the upset. In the end it's about improvement and putting in a good showing against Argentina with a group of mainly developmental players will be a good boost to morale heading into the summer.