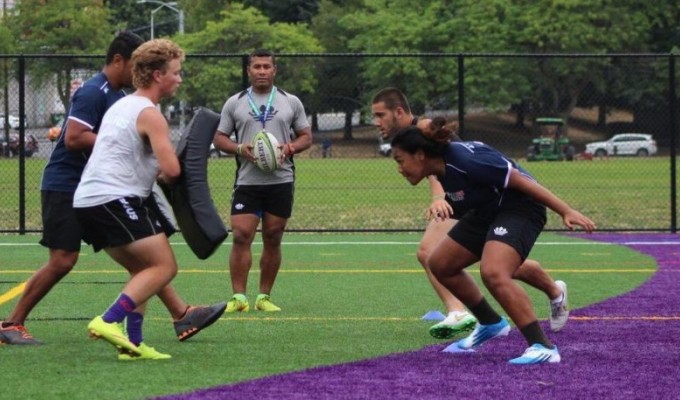 One of the most competitive brackets at the LVI every year are the Boy's and Girl's High School elite divisions. That promises to be the same this year. There won't be any High School All-Americans in either bracket this year but there are several teams that will feature All-American talent.
Boy's High School Elite
Pool A:
BCYE, DMV United, EIRA 2, Atavus
Two of the teams that will feature All-Americans will be the EIRA 2 and Atavus. Salty Thompson's crew has been a good conduit for the All-Americans this year and we expect the EIRA to be very competitive. The same goes for Atavus. Many of the players on the team will have come the tracking process Atavus has invested in over the last few years. Both will have to get past what is traditionally a tough BC Youth Elite team. The DMV United are more of an unknown but could have some gems.
Take the jump to read more.
Pool B:
NZ Taniwha, Upright Rugby, Utah Cannibals, Play Rugby USA
This is another pool with tough teams. NZ Taniwha are expected to compete for the overall title but so will the Utah Cannibals and Play Rugby USA. The Cannibals continue to impress tournament after tournament and they are our dark horse to win the entire tournament. Upright Rugby from Toronto has also developed into a fine team.
Pool C:
Atlantis, Utah Academy, Cobra Rugby, State of Mexico
For us this pool will come down to Atlantis and Utah. Atlantis have been somewhat overlooked the last few years as other programs have grabbed headlines. However, Atlantis look to be one of the top teams this year. The Utah Academy is like the Cannibals in that they can bring in some of the best players in the country.
Pool D:
EIRA 1, Danville Oaks, South Panthers, Washington Loggers
The EIRA are expected to do very well here. A lot of players could come out of this team to move on to bigger and better things. The South Panthers and the Washington Loggers have been known to put on some good teams in recent years. We're not sure they can challenge for the top spot but they could make some noise.
Girl's High School Elite
Pool A:
Atavus, Sydney City, Cobra Rugby, Utah Cannibals
Atavus will feature a ton of great players, including capped Eagle Lily Durbin. We think that they are the team to beat in the entire tournament. Atavus has invested a lot in women's rugby and it's paying off. Utah has seen a big rise in participation in the women's game and the Cannibals will be good. Sydney City and Cobra Rugby are two wildcards.
Pool B:
BCEY, Atlantis, Play Rugby USA, Glendale Raptors
Three domestic U.S. teams plus what should be a tough team from British Columbia. We think that BCYE has the edge in this pool.
Pool C:
Tahi Kaka, Utah Academy, South Bay, South Panthers
Pool C is another wide open pool. The Utah Academy is going to be good but who makes the quarterfinal is up in the air.