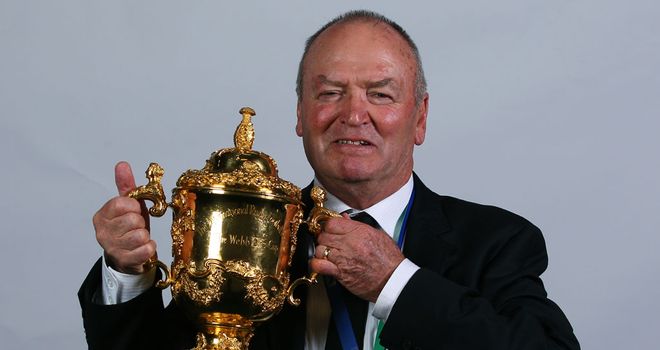 Press Release
A casual chat between rugby guys has led to an opportunity to bring former Rugby World Cup winning coach, Sir Graham Henry, to the United States in April.
The joint venture between Tiger Rugby, the Northern California RFU (NCRFU), Life West Rugby and The Rugby Site, sees the former All Black Coach travel to San Francisco, Chicago, Atlanta & Clemson on a 12-day tour.

The trip came about after Adriaan Ferris, Life West's Athletic Director & Head Coach; spoke to Tiger Rugby's James Walker about collaborative thoughts on Coach Development in USA. Ferris, who is also the NCRFU's Director of Coaching knows Sir Graham well, having worked with him previously when he coached Northland in the ITM Cup in New Zealand. Ferris believes Henry is perfect fit to help develop local coaches. This brief discussion led to Sir Graham Henry to America.

Ferris, uses his own experience with the former All Black Coach to testify what Sir Graham can offer US coaches. Ferris explains, "Sir Graham's knowledge of the game is unparalleled but I think it is his experience as an educator that really sets him apart. He was a teacher who went from coaching schoolboys in his early days, to the top of his craft winning the Rugby World Cup in 2011. Along the way having to deal with the good and bad elements of coaching. It is his journey that is fascinating… he knows what coaches go through because he has walked in their shoes."

To attract a world class coach has been a collaborative effort. The main objective for Sir Graham's trip is for him to further help coaches in USA develop their coaching. That is something Tiger Rugby, the NCRFU, Life West, and The Rugby Site are all passionate about.

Tiger has forged a name as being a true innovator in the US rugby community, with their specialized player academies and coaching clinics, so it is only natural that Tiger Rugby became involved with bringing one of the greatest coaches in the modern era to America.

"As coaches, we should always be looking for avenues to expand our knowledge of the game. Rugby is continually evolving, and we firmly believe that if you're not elevating yourself you are losing ground. What better person than Sir Graham Henry, who himself has been through many trials on his way to the pinnacle ofthe game to share his knowledge with aspiring coaches. We are truly honored to have this opportunity" said James Walker, Director of Tiger Rugby.
CHICAGO, IL
(Purchase tickets
HERE
for Chicago events)
Monday April 3th - An evening with Sir Graham Henry @7PM
The Ambassador Public House
310 S Halsted St, Chicago, IL 60661
Tuesday April 4th – Master Coaches Clinic @7PM
Morton West High School
2400 Home Ave, Berwyn, IL 60402
Wednesday April 5th – Master Coaches Clinic @7PM
Altgeld Park
515 S Washtenaw Ave, Chicago, IL 60612
ATLANTA, GA
(Purchase tickets
HERE
for Atlanta event)
Thursday April 6th - An evening with Sir Graham Henry @7PM
Keegan's Irish Pub
4401 Shallowford Rd
Northeast Suite 138
Roswell, GA, 30075
(770) 640-1100
CLEMSON, SC
(Purchase tickets
HERE
for Clemson University event)
Sunday April 9th – Master Coaches Clinic @ 2PM- 5PM
National Athletic Village Field
400 Edinburgh Way
Seneca, SC 29678