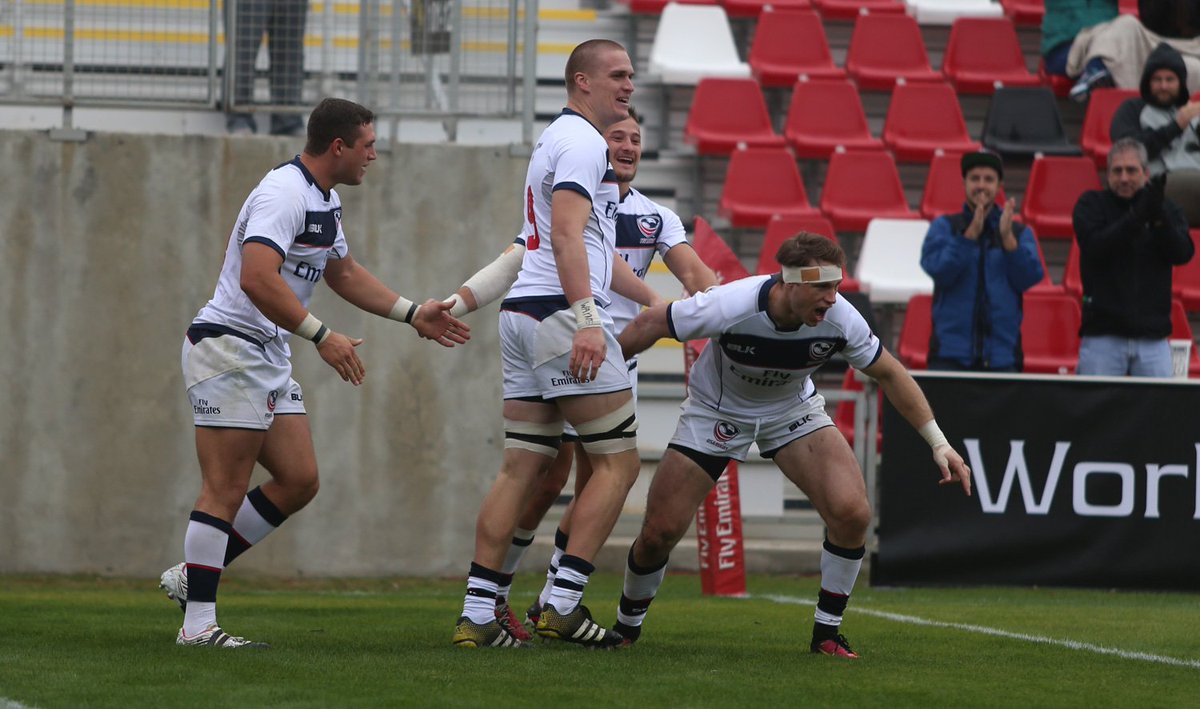 Our player grades are in for the Eagles after their match against Uruguay.
Tony Purpura, 60 minutes (6.5):
We'll admit, we had our doubts about Purpura before the match. It had been years since he'd been in the Eagles picture and Boston haven't had a good run the last few years. However, we thought that he did well both in the scrum and in the open field. He's definitely should get more playing time.
Peter Malcolm, 50 minutes (6):
Malcolm missed on a couple of his throws but he also nailed a few as well. He wasn't expected to start but in his 50 minutes he did well. He held his own in the scrum as well.
Chris Baumann, 50 minutes (6):
Considering that the U.S. scrum was expected to struggle somewhat against Uruguay Baumann and the rest of the forwards deserve credit for keeping things even and even coming away with some penalties.
Nate Brakeley, 60 minutes (7):
We thought that the locks had the best outing of any group for the Eagles on Saturday. Brakeley not only defended his own line out well but came up with some crucial steals that robbed Uruguay of opportunities.
Take the jump to read more.
Nick Civetta (7):
This was Civetta's best game as an Eagle. Like Brakeley he came up with some key line out steals but we also thought he was extremely active in the open field. With Brakeley and Civetta playing well it could cause selection headaches down the road.
John Quill (6.5):
Quill had a very solid game. His work at the breakdown was arguably the best on the team. A good return for Quill to the Eagles.
Todd Clever, 54 minutes (5):
Clever does so many things well. He has been a great servant to the Eagles and had a good game on Saturday. However, there should be legitimate questions of whether he should be starting anymore. He nearly cost the Eagles dearly with his reckless tackle that was only a yellow but could easily have been a red. He sets a tempo but he also needs to be less risky in his play.
Al McFarland (6.5):
Like Quill, we thought McFarland played well. It may not be enough to keep him in the starting line-up when the likes of Danny Barrett, Andrew Durutalo, and Samu Manoa are all available but he is giving the team depth.
Nate Augspurger, 70 minutes (6):
Augspurger mostly did well but there were times when he could have been more sharp at scrumhalf. He is sometimes too sloppy with his passing and telegraphs too often but he also gives the team an element on offense they haven't had for awhile. You can expect Shaun Davies to have his chance soon.
Ben Cima, 50 minutes (6):
Making your international debut is always tough, especially if you are a player with a lot of expectations like Cima. With that said, we felt that Cima showed a lot of bright spots. His kicking was excellent and he did help the offense move forward. It wasn't a perfect game by any stretch of the imagination but there was a lot of build on.
Zack Test, 40 minutes (6):
Let's hope that Test is okay after going down injured with an ankle ailment and a concussion check. He was okay when out there for the first half but didn't have too many touches.
AJ MacGinty (6.5):
The move to 12 had MacGinty not as involved in the match as we're accustomed to but as the match went on he was able to make a big impact. The Eagles first try came down to a great move by MacGinty.
Bryce Campbell (7):
Campbell continues to grow as a player and he was just rewarded with a try. If he continues to have a strong ARC he should start against Canada this summer.
Blaine Scully (7.5):
Another excellent match from Scully. As captain he helped set the right tone and developed a great relationship with referee Chris Assmuss. Once again he made a few great moves that completely changed the match. His try was a thing of beauty.
Mike Te'o (5):
It wasn't the most impactful match from Te'o who but he still did alright. He needs to find a way to make more noise in the match going forward.
Bench
JP Eloff, 40 minutes (5.5):
Eloff was pretty quiet after coming on for Test. He had a few good carries but was mostly silent.
Dino Waldren, 30 minutes (6.5):
Waldren also was mostly silent after coming on but the Eagles scrum did well. He also helped stop the Uruguayan maul at the end of the match.
Will Magie, 30 minutes (8):
Magie was huge in the match. When he came on he completely changed the tempo of the Eagles. They suddenly had more get-up on offense. He's such a smart player as evidenced by his cross-field kick to Scully. If you have to come off the bench for your debut you want to have a debut like Magie.
James Hilterbrand, 30 minutes (6.5):
Like Waldren and Maughan, Hilterbrand came on and settled the forwards down.
Tony Lamborn, 26 minutes (7):
Lamborn was another player that came off the bench and had a major impact. He was huge at the breakdown and showed exactly why he is going to be a big part of the team going forward.
Matt Jensen, 20 minutes (7):
Jensen was also excellent. He made some big wins at the line out and was active out on the pitch. Commentator Brian Vizard couldn't stop complimenting his performance and with just reason, it was excellent.
Alex Maughan, 20 minutes (6):
A steady appearance off the bench for Maughan.
Shaun Davies, 10 minutes (6):
Davies didn't see a lot of time but you can expect him to see big minutes as the tournament progresses.