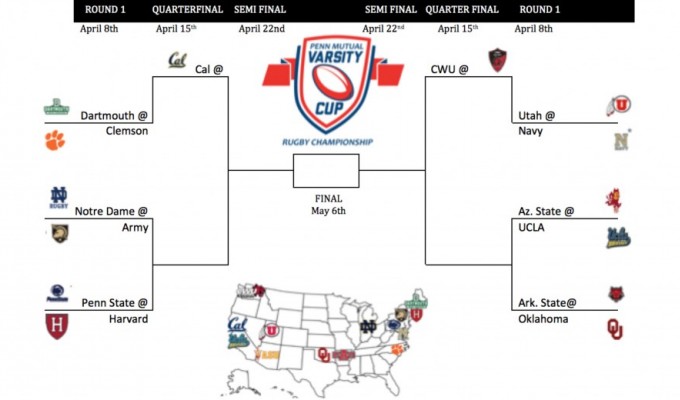 Press Release
The draw for the 2017 Penn Mutual Varsity Cup Rugby Championship has been announced, laying out pathways for the national postseason's 14 collegiate rugby programs to reach the final of the single-elimination championship tournament. Round One kicks off April 8 at six different universities across the nation, followed by the April 15 quarterfinals and April 22 semifinals before the May 6 Varsity Cup national championship final.
For Round One on April 8, No. 1 California and No. 2 seed Central Washington receive a bye and will travel to face their quarterfinal opponents. Among the other top seeds, Round One takes No. 3 Arkansas State to face Oklahoma University in Norman, Okla., while No. 4 Penn State visits Cambridge, Mass., where it will meet Harvard University. Army hosts Notre Dame in West Point, N.Y.; Arizona State visits Los Angeles to play UCLA; Utah travels to Annapolis, Md., to battle Navy; and Dartmouth goes to Clemson, S.C., where it faces the Tigers from Clemson University.
Take the jump to read more.
The winner between Clemson and Dartmouth's first-round matchup earns the right to host a quarterfinal on April 15, when the Tigers or Big Green take on top-seeded Cal, which will have learned of its opponent and booked travel plans from Berkeley to either Clemson or Hanover, N.H., on six days' notice. The No. 3 Wildcats also travel in the quarterfinal round to face the winner of the Utes/Midshipmen match, taking CWU to either Navy or Salt Lake City. The Sun Devils or Bruins will meet the Red Wolves/Sooners winner in another quarterfinal clash, and the Irish/Army winner takes on Penn State or Harvard in the fourth quarterfinal.
The Varsity Cup semifinals will send advancing teams with lower seeds to the homes of the higher seeds for the national-championship qualifiers on April 22. Then, on May 6, the two surviving teams will meet at a location to be announced for the Varsity Cup national championship final.