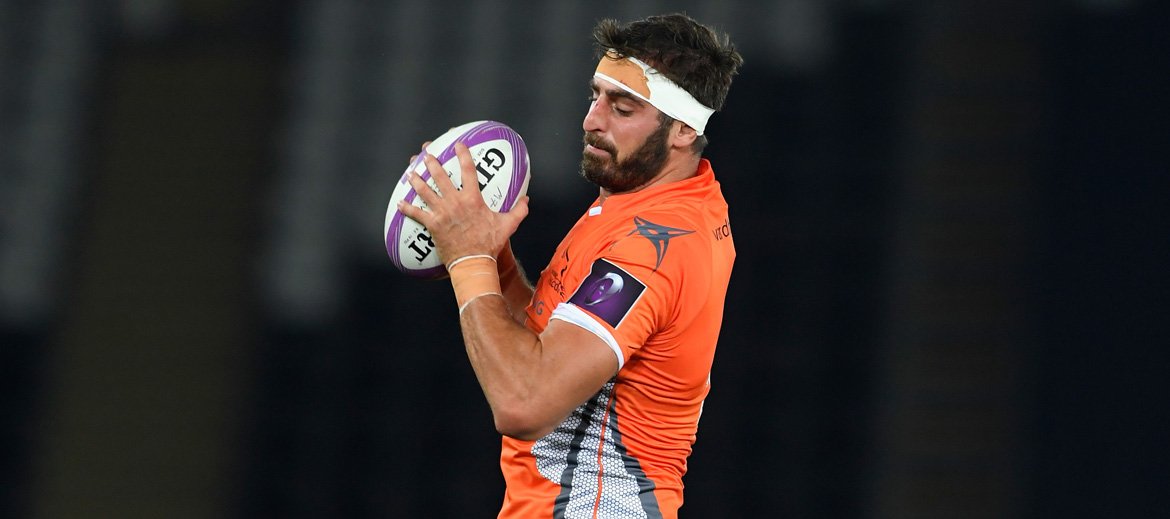 By Derek Sagehorn,
Last Saturday's 51-34 victory over Canada in British Columbia marked the end of the Eagles North American stretch of the Americas Rugby Championship. They are now preparing to play Chile and Argentina in South America. Several players will return home for professional commitments. Among them include the stand out players of the tournament so far for the Eagles: Nate Brakeley and Nick Civetta.
There are some similarities you can't help but notice in the two. Experience in undergraduate at high level programs, Dartmouth and Notre Dame. Overseas play with Cambridge and in the Italian pro league. The two locks were not capped until 2016 despite plying their trade at high levels for several years. But both have quickly acclimated to John Mitchell's set-up and staked out claims for possession of an Eagles jersey, for very different reasons.
Before we look at the specifics of Brakeley and Civetta's work so far in the ARC, it's key that we understand why their roles are so important. In the modern era of lineouts with lifting, second-rows need to win lineout ball in addition to providing power in the scrum.
Take the jump to read more.
Traditionally teams have distinguished between left locks (wearing number four) and right locks (wearing number five). Left locks are expected to cover more ground, add dynamism running and pass the ball as well as win line out balls. Right locks, by contrast, are expected to be a bit bigger, in height and weight, to provide support to the crucial tight-head side of the scrum. In addition, the right lock is expected to clean up the mess at the breakdown in a sort of an enforcer role. Think Victor Matfield versus Bakkies Botha. It's not imperative that second-rows occupy such rigid occupations; successful teams start players that don't necessarily meet these descriptions. But as we'll see below, specialization in these roles can prove very useful.
The Eagles have traditionally struggled to field players, including replacements that could occupy these roles at the same time. In the balance, the United States has produced more outstanding right locks than left locks. Think: Alec Parker, Luke Gross and Greg Peterson. Even so, the skill gap between the starter and replacement has typically been wide.
But they have struggled to produce left locks, with John van der Giessen being a shining exception. Oftentimes, this has led to coaches using blindside flankers or number eight's as left locks. This makes sense, since the Eagles have never been want for athletic loose forwards. Unfortunately, putting dynamic players such as Cam Dolan and Samu Manoa at left lock can reduce their overall impact around the park. The hard work in the scrum and elsewhere is incredibly draining. If the Eagles can reliably start specialist left locks that frees up Dolan to attack in space or Manoa to deliver bone-crunching tackles.
With that context, let's take a look at the work by Nate Brakeley and Nick Civetta that has proved so vital to the Eagles.
Ball in Hand
Last week
, I highlighted Nate Brakeley's play with ball-in-hand. The lock forward succeeded not only in the link play expected in a 2-4-2 offense but also in identifying and exploiting space in the midfield. This past Saturday Brakeley did not directly set-up a try with his distribution, however his link play was vital to unleashing attacks in the outside channels. Another example is his ease pulling the ball back below.
We've seen Brakeley occupy this link play role frequently in the last six months. His presence as a runner in the middle of the pitch can draw the defense in tight, while his pass-catch allows him to spring deep runners to exploit space out wide. If Civetta or another tight forward can grow into this a similar role, it will make the Eagles attack more versatile. Below we can see Civetta growing from his initial role as a battering ram. He takes the ball with some depth and throws a credible dummy to squeeze through a double tackle.
Graftin'
The job of a tight forward isn't always skip passes and sleight-of-hand tricks unfortunately. In fact most of the job is cleaning out rucks and tackling. This unglamorous, dirty work is fundamental to producing quick ball in attack. Destructive ball-carrying is worth very little if it cannot be recycled quickly. Below we see an Eagle forward side-step a defender and get in behind Canadian defense. Civetta is in support, but his line is obstructed by the body of the victim of the side-step.
A Canadian defender quickly positions himself over the ball-carrier to poach the ball. Civetta recognizes that this ball is at-risk: it will either be slowed or turned over. He gets on his bike to deliver a low, perfectly timed clean-out to produce clean ball for Shaun Davies and the Eagles attack.
Conversely, it's key that these tight-forwards not only stop runners but also to slow or turn over possession. Typically this is the primary duty of loose forwards. But below we can see Civetta and Brakeley double team a smaller runner to turn him in tackle. Civetta targets the body and Brakeley the ball. Together both turn the Canadian into a bad body-position producing a turnover
We see another great Brakeley turnover after a Canadian incursion. As the defender goes to ground Brakeley steps over and makes himself small over the ball. This is no easy feat for a man of his height. But he has rights to the ball and several Canadians looking to blast him off the breakdown. He persists, stays on his feet and wins a turnover for the Eagles.
Below we see a strong counter-attacking run from Canadian number 8 Admir Cejvanovic. The young loosie has busted a double tackle from Chris Baumann and Nick Civetta. He is brought down ten meters later. Brakeley moves to compete for the ball but cannot get into a strong body position quickly enough.
Note also, the defense in the next phase. Both prop forwards are on the blind side, with a large space between Anthony Purpura and the midfielder. As the ball comes out, the outside defender shoots up, midfielder closes in and the props start to cover. This is a poorly organized defense; playing three different coverages within a ten meter line. If Civetta can bring Cejvanovic down; if Brakeley can slow the production of the next phase: this defense has a chance to get organized.
Lineout defense
The Eagles defensive lineout terrorized Canada. A lot of this has to do with the Eagles calm, clear-eyed diagnosis of the opponent's lineout. Observe below as the Eagles match, prepare themselves for feints but hold their jump until they know exactly where the ball is going.
Figuring out where the ball is headed is half the battle. Getting up is the rest of the game. Below we see Civetta match his opposite, gather himself and go up to contest the ball. He doesn't get two clean mitts on it but is still able to turn over the ball.
Civetta also shows off smarts in defensive mauls. With ten meters between himself and the try line, Civetta waits to check for an end-around play and then commits himself to the maul. Dolan has already engaged inside of him. Rather than do the easy thing and join outside, adding very little and risking a penalty, Civetta steps back to bind onto Dolan. He's putting himself directly between the attack and their goal. His shunt blunts the momentum of the maul.
Lineout attack
At the beginning of this article, I argued that having specialist locks allows dynamic tweeners like Dolan and Manoa more opportunities to play with the ball in hand. Nick Civetta's consistent ability to win clean ball at the back gives more than good possession to the Eagles. Dolan typically jumps in the back of the lineout. But because Civetta can take that role, that leaves Dolan a chance to play with the ball-in-hand.
Nate Brakeley and Nick Civetta are by no means done in the growth of their game. But their collective performances over the past six months has created more depth and possibility at a position of paramount importance for the Eagles. The work they do may not be flashy but it's integral to the success of the team.