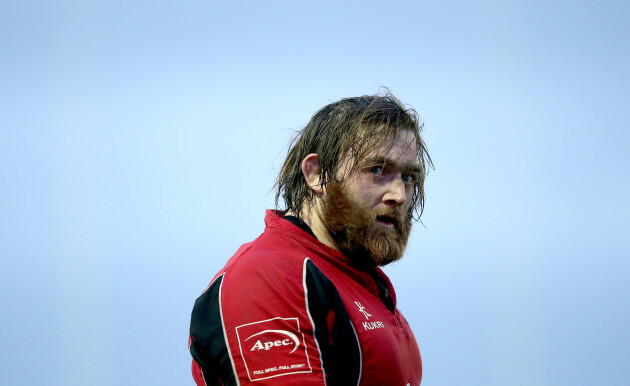 It's been awhile since we provided an update on U.S.-eligible players overseas. Since our last update players like Marcel Brache and James Hilterbrand have come into the fold to earn full caps. Hilterbrand is made himself the first choice hooker for the Eagles. That leaves only a handful of U.S.-eligible players (that we are aware of) left playing top flight rugby around the world. But before we dive into the update it is important to remind readers that our policy towards U.S.-eligible players is to track them until they lose their eligibility to play for the Eagles. That happened with Tommy Seymour, who now plays for Scotland, and Hanno Dirksen, who lost his residency eligibility.
We begin with several props available for selection. Paddy Ryan is a young prop at Newcastle who has only made a handful of appearances this years in various competitions. He has yet to consistently crack into the first team for the Falcons and you have to wonder if his contract will be renewed for next season. That said, he has shown himself capable and maybe he would be a target to bring over to PRO Rugby with an eye on eventually capping him. His older brother is Dave Ryan who plays for Agen. Ryan was invited to camp under then head coach Mike Tolkin but had to withdraw from camp after earning a contract in Italy. Now he is in France and a consistent part of the Agen team. If the Eagles could cap him he would be almost an instant starter. However, he is getting older.
Take the jump to read more.
The same could be said for Ulster prop Callum Black. He's not over 30 years old and while that is a prime time for a prop it doesn't look like he's had much interest in playing for the Eagles. It is important to remember that for a lot of U.S.-eligible players they could lose their professional contracts if they turned out for the States. In Ireland there are restrictions on how many foreign players can be in a position among the four Irish teams. Black, who would no longer qualify for Ireland, would almost certainly be pushed out. At this point in his life playing consistent rugby for Ulster is better than a chance at the World Cup with the Eagles.
Gagi Badzadze is a former All-American camp invitee who has been playing with Montpellier. He signed with the team has a medical joker after spending last year with La Rochelle. He's an intriguing prospect but another long shot to see if he plays for the Eagles. It's unclear (maybe someone can help with the comment) if he qualifies for the U.S. through citizenship or if he was invited to the All-Americans while living here. He is a Georgian citizen. Again, he would be a good addition to the team and is in a similar spot to Titi Lamositele.
We're not going to spend a lot of time talking about Sam Underhill. The Ospreys back-row player is being sought by both Wales and England. He is going to get capped by one of them even though he is also U.S.-eligible. The only way he plays for the Eagles is if the bottom falls out on his career.
Toni Pulu is eligible to play for the Eagles through the 7s loophole. Like Underhill, he's unlikely to play for the Eagles at this point. It would require him spending time on the 7s series and then waiting to be eligible for the 15s team. He previously played a 7s tournament with Niue. There is no question that he is on form at the moment but it's unlikely he puts on a U.S. jersey.