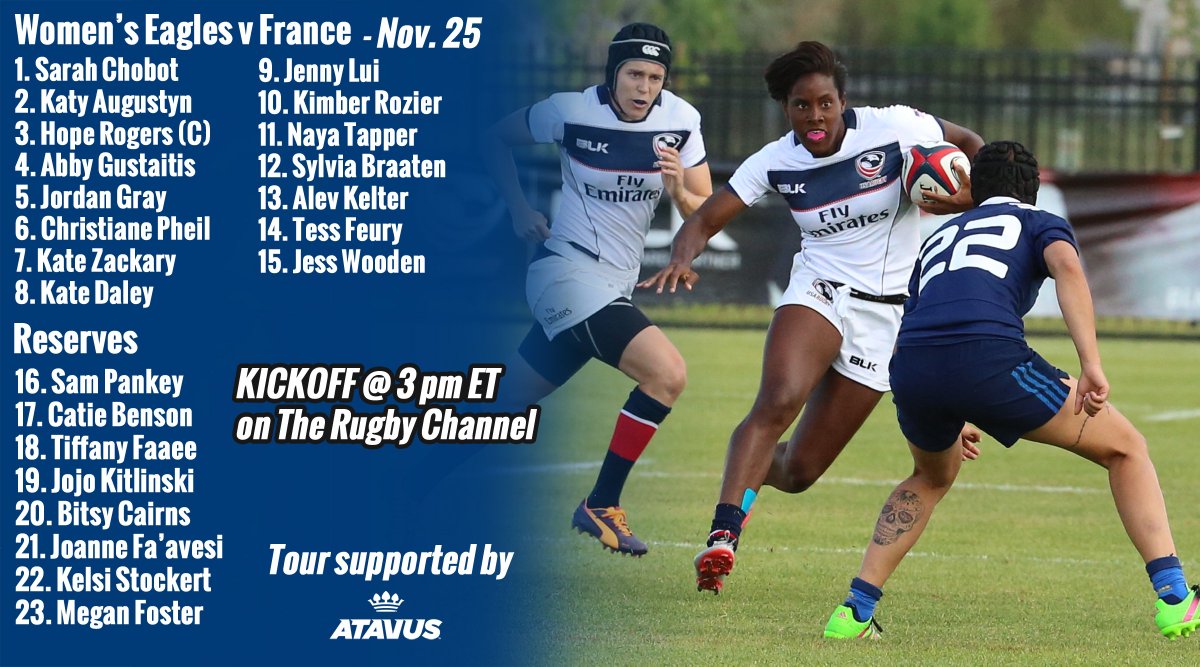 The Eagles have not made many changes to their line-up as they face France for the second time in just a few days. Hope Rogers once again will captain the team and will pair with Sarah Chobot and Katy Augstyn in the front-row. Abby Gustaitis and Jordan Gray will be the locks with Christiane Pheill, Kate Zackary, and Kate Daley in the back-row.
The halfback pairing of Jen Lui and Kimber Rozier remains intact. Alev Kelter will pick up her second cap at the 15a level. She was a spark plug for the team in the first match. The other center will be Sylvia Braaten. Tess Feury and Naya Tapper are the wings with Jess Wooden as the full back.
Forwards:
Sarah Chobot, Katy Augustyn, Hope Rogers, Abby Guistaitis, Jordan Gray, Christiane Pheill, Kate Zackary, Kate Daley
Take the jump to read more.
Backs:
Jenny Lui, Kimber Rozier, Naya Tapper, Sylvia Braaten, Alev Kelter, Tess Feury, Jess Wooden
Bench:
Sam Pankey, Catie Benson, Tiffany Faaee, Jojo Kitlinski, Bitsy Cairns, Nana Fa'avesi, Kelsi Stockert, Megan Foster
The match starts at 3:00 p.m. et/12:00 p.m. pt and can be seen on The Rugby Channel.
Dubai Squad
7s head coach Richie Walker has named a mixed veteran and youth side as the team gets ready for the Dubai 7s. Olympians Ryan Carlyle, Alev Kelter, Lauren Doyle, and Nana Fa'avesi all return while players with Series experience in Nicole Heavirland, Kate Zackary, and Cheta Emba are back. Outside of that it's a relatively new squad but one that should be familiar to many fans. Nicole Strasko seems primed for a breakout year while the likes of Naya Tapper and Kristine Sommer have been buzzed about for awhile.
The U.S. takes on Russia, South Africa, and Australia in pool play beginning on December 1st.
Team:
Cheta Emba, Ryan Carlyle, Kate Zackary, Alev Kelter, Nicole Heavirland, Lauren Doyle, Naya Tapper, Nana Fa'avesi, Nicole Strasko, Kayla Canett, Kristine Sommer, Bulou Mataitoga