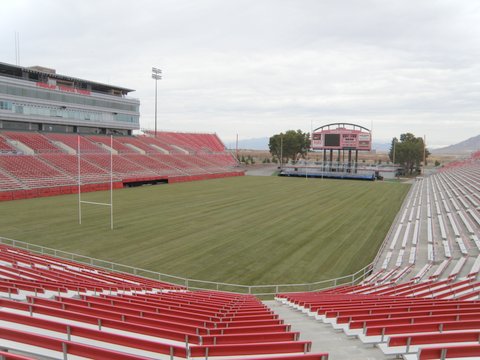 When World Rugby announced the Women's Sevens Series stops this year a stop in the U.S., which had been a feature since the start of the Series, was absent. However, it looks like the U.S. is going to host a stop after all and it will be in a location familiar to fans. According to excellent reporting from Doug Coil (everyone needs to follow him for great updates) the Las Vegas 7s will host both men's and women's stops this year. Coil reported the news after talking with United World Sports honcho Jon Prusmack at the dedication of a new rugby facility at the Naval Academy. Here is what Doug dug up:
In talking with Jon after the ceremony, I learned that United World Sports had finalized with World Rugby and USA Rugby to include a stop for the HSBC World Rugby Women's Sevens Series at the USA Sevens on March 3-4, 2016. The Women will play all day on Friday, March 3rd beginning at 9am with the Finals on Saturday, March 4th. There will also be broadcast coverage on Saturday for the Women's Series.

The timing makes a lot of sense given that there was a big gap between a stop in February and one in April. There are now six stops on the Series, and increase of two from last year.