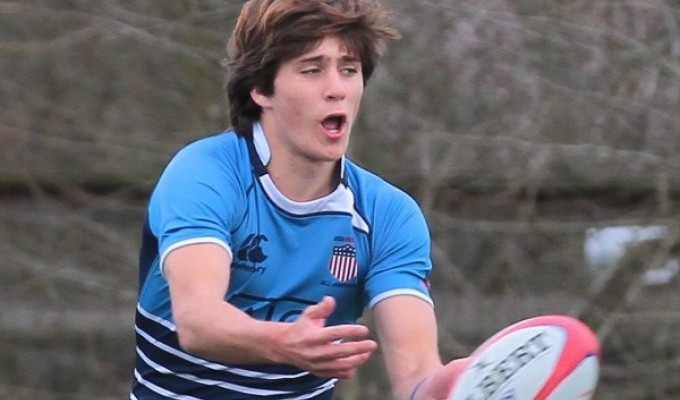 The USA Selects have been named to take on Canada 'A' tomorrow in their second match of the Americas Pacific Challenge. Mikey Te'o takes over as captain for Ray Egan's side as a number of changes have been made, as expected. One of the most noticeable changes is Hanco Germishuys coming into the line-up not at his usual flanker spot but at hooker, a position coaching staffs have eyed him at for awhile.
Other players to find themselves in the starting line-up include Christian Ostberg, Cecil Garber, Ben Cima, and Nick Boyer. Ostberg, Cima, and Boyer all came off the bench against Fiji and made a big impact even if it didn't impact the final result. Cima has long been mentioned as a player that could be on the 2019 World Cup squad and this is his opportunity to make an impact at something more than the Junior All-American level.
Take the jump to read more.
Along with Germishuys in the front-row Jake Turnbull and Demecus Beach will also start. Turnbull gets his first chance to start while Beach started against Fiji. Ostberg and Harry Higgins are the locks. Malon Al-Jiboori, Garber, and Sione Tuihalamaka are the back-row.
In the backs Boyer and Cima are the halfbacks. Matai Leuta keeps his place on the wing while Ahmad Harajly will start on the other wing in place of Brett Thompson. Bryce Campbell and Martin Iosefo return as the starting centers. Te'o is the fullback.
On the bench are all starters from last week. Joe Taufete'e, Chance Wenglewski, and Alex Maughan are in the front row while Siaosi Mahoni and Pat Blair round out the forwards. Steve Tomasin, JP Eloff, and Brett Thompson are the backs reserves.
Canada's line-up features players the U.S. will be familiar with, including Sacramento's Ray Barkwill.
Forwards:
Jake Turnbull, Hanco Germishuys, Demecus Beach, Christian Ostberg, Harry Higgins, Malon Al-Jiboori, Cecil Garber, Sione Tuihalamaka
Backs:
Nick Boyer, Ben Cima, Matai Leuta, Bryce Campbell, Martin Iosefo, Ahmad Harajly, Mike Te'o
Bench:
Joe Taufete'e, Chance Wenglewski, Alex Maughan, Siaosi Mahoni, Pat Blair, Steve Tomasin, JP Eloff, Brett Thompson
Canada
Forwards:
Rob Brouwer, Ray Barkwill, Ryan Kotlewski, Lucas Albornoz, Conor Keys, Lucas Rumball, Matt Heaton, Admir Cejvanovic
Backs:
Gord McRorie, Robbie Povey, Anton Ngongo, Doug Fraser, Ben Lesage, Kainoa Lloyd, Rory McDonell
Bench:
Martial Lagain, Peter Houlihan, Ryan Ackerman, Adrian Wadden, Sheppart, Andrew Ferguson, Pat Parfrey, Guiseppe du Toit