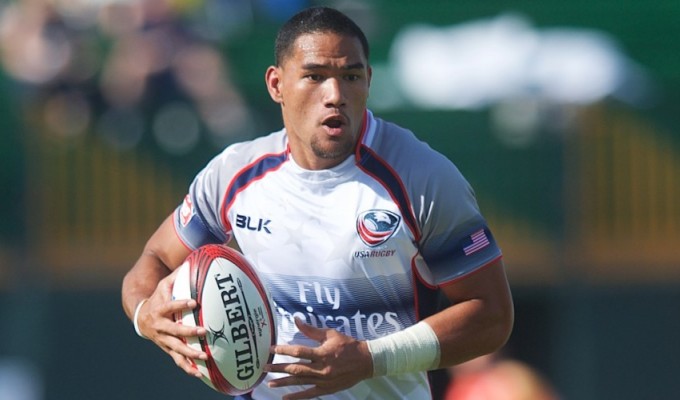 By Derek Sagehorn
Both the USA Selects and Canada A were mauled on Saturday in the first match of the Americas Pacific Challenge at the hands of the Fiji Warriors and Argentina XV. How each team bounces back in the old border rivalry is the question for Wednesday's match in Montevideo at 1:15pm ET/10:15am PT.
Coach Ray Egan has made eight changes from the Fiji side. Mikey Te'o takes over the captain armband from Joe Taufete'e, with the first-choice hooker rested in favor of young Hanco Germishuys. Jake Turnbull takes over for an injured Mason Pederson. Christian Ostberg will start in the engine room with Harry Higgins, who has slid in from flanker. Malon Al-Jiboori and Cecil Garber take over the six and seven shirts. Watch for Garber—the leading tackler in PRO Rugby—to shore up some of the defensive lapses of the Selects.
Nick Boyer will partner with Ben Cima at halfback—the duo provided more shape to the USA attack in the latter half of the Fiji match. Centers Bryce Campbell and Martin Iosefo have swapped shirts but remain on the field. While Campbell impressed with his effort in attack and kick-chase, he will need to take charge of organizing the Selects heretofore porous defense. In the wings, Ahmad Harajly starts over Brett Thompson, coach Egan swapping size for size.
Take the jump to read more.
Canada A makes six changes from their match with Argentina XV. The northerners will start former U-20 flyhalf Rob Povey. Déjà vu: Povey and the USA's Cima both lined up against one another in the USA u-20's last-minute victory from February in Austin, Texas. The rematch between these two promising, young flyhalfs promises to give North Americans a good luck at the future.
The Canadians will start an experienced front-row led by former Sacramento Express hooker Ray Barkwill. After being humiliated in both halves of the Fiji match, it will be imperative that the Selects progress in the scrum.
Both teams let in 50+ points in the first match. The target for both sides will be to tighten up their defensive systems. Surely any USA/Canada match will be physical. If both teams do right the ship defensively, it's likely to come down to the boots of Cima and Canada scrumhalf Gordon McRorie.
USA
Forwards:
Jake Turnbull, Hanco Germishuys, Demecus Beach, Christian Ostberg, Harry Higgins, Malon Al-Jiboori, Cecil Garber, Sione Tuihalamaka
Backs:
Nick Boyer, Ben Cima, Matai Leuta, Bryce Campbell, Martin Iosefo, Ahmad Harajly, Mike Te'o
Bench:
Joe Taufete'e, Chance Wenglewski, Alex Maughan, Siaosi Mahoni, Pat Blair, Steve Tomasin, JP Eloff, Brett Thompson
Canada
Forwards:
Rob Brouwer, Ray Barkwill, Ryan Kotlewski, Lucas Albornoz, Conor Keys, Lucas Rumball, Matt Heaton, Admir Cejvanovic
Backs:
Gord McRorie, Robbie Povey, Anton Ngongo, Doug Fraser, Ben Lesage, Kainoa Lloyd, Rory McDonell

Bench:
Martial Lagain, Peter Houlihan, Ryan Ackerman, Adrian Wadden, Sheppart, Andrew Ferguson, Pat Parfrey, Guiseppe du Toit