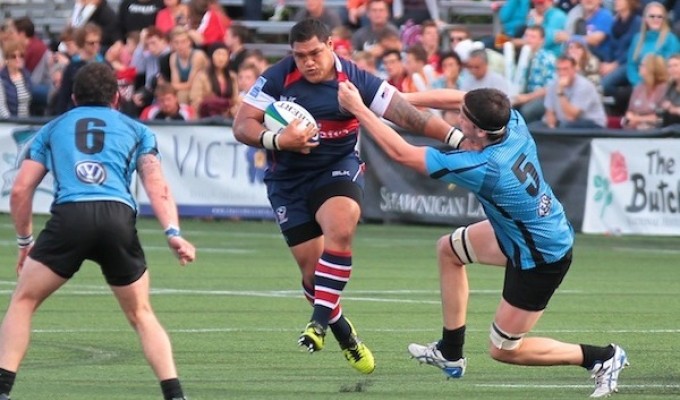 By Derek Sagehorn
In announcements only a day apart, USA Rugby has set its calendar for the upcoming six months. Tuesday, the Americas Rugby Cup (ARC) schedule for 2017 was announced; highlights include the United States traveling to British Columbia to face Canada and playing Argentina XV in South America. On Wednesday, World Rugby revealed the dates for the Americas Pacific Challenge in early October. The USA Selects will play development sides from Fiji, Canada and Uruguay.
The short interval between the announcements naturally leads to speculation as to what players will be selected for each side. The second iteration of the late winter ARC tournament is aimed at creating meaningful tests for developing nations in the Western Hemisphere. Save for Argentina, the rest of the participants awarded caps in March. Last year, the United States used a mix of experience, with overseas professionals flying in and out for tests, while a core group of young amateurs braving the entire tour. These young Eagles struggled at times, especially in South America. Some ARC tourists have been dropped from the squad and others dropped from the Elite Eagles Training Squad altogether. But players like Mike Te'o, Joe Taufete'e and Nate Brakeley have built on these early performances and solidified themselves in the squad.
Take the jump to read more.
The Americas Pacific Challenge appears to be an imitation of the old ARC, focusing exclusively on developments sides as a fall tournament. Before the ARC was used by Mike Tolkin to identify young or project players for upcoming Eagles duty. That is likely the case again. World Rugby doesn't seem to think this will be a moneymaker, hence the games scheduled within 10 days of one another in one location. Regardless it is a great opportunity for the Eagles and other countries to identify and incubate talent.
The return of a fall side A-side competition and the early, emphatic announcement of a return of the ARC suggests that the latter has greater ambitions. The prospect of an annual tournament of competitive rugby on ESPN works for all parties, even the cap-preserving Argentinians. The upsets, like that of Brazil and Uruguay over the US, were compelling--if painful. It's likely that John Mitchell and Alex Magleby will be better positioned to pick a more experience and cohesive side come March. In that spirit, the ARC will likely trend towards ambitions of something like the Six Nations, or more modestly, the European Nations Cup. In due time, even Argentina may compete fully.
If that is the direction, it is a priority that the Americas Pacific Challenge become a true development opportunity. With few exceptions, this is a roster that should have no Eagles. The aim of development is not to beat the Fiji Warriors or Uruguay A but to expose young, promising player to faster, more intense rugby. Fortunately Magleby and the USA Selects coach (is it Mitchell? Or perhaps Justin Fitzpatrick of Seattle?) have plenty of players in stateside professional and premiership rugby to consider—many of whom are veterans of American age-grade set-ups.
There are some deserving players that will be unavailable, unfortunately. Nick Civetta has yet to earn an American cap, despite grafting as an overseas professional for several years, but will be working hard in Newcastle. And it's unclear whether mercurial Ohio pivot JP Eloff will be healthy in time. Hopefully, Spike Davis sticks with Tasman and is unavailable as well. But on the balance there are many candidates, especially in the mid-ranks of Pro Rugby rosters. With all of this in mind, below is a speculative USA Selects match day 23.
Ben Tarr
Cameron Falcon
Dino Waldren
Malon Al-Jiboori
Mike Ruther
Kevin O'Connor
Aladdin Schirmer
Kyle Sumsion
Shaun Davies
Will Magie
Jihad Khabir
Ahmad Harajly
Dylan Audsley
Dewon Reed
Garrett Brewer
James Del Bosque
Mason Pederson
Patrick Latu
Brendan Daly
Hanco Germishuys
Ben Cima
Calvin Whiting
Cooper Maloney