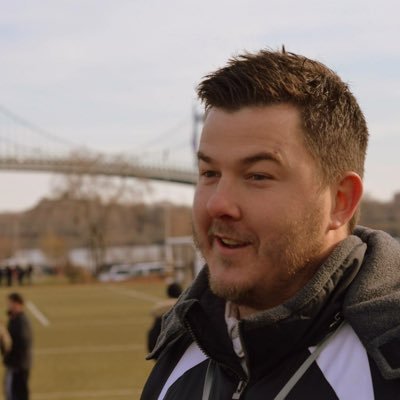 Josh Macy took over as the new head coach at Lindenwood this summer and already led them to a third place finish at the Red Bull Uni 7s. We caught up with him to see how he's settling in at Lindenwood, why he made the move, and what he'd do if he had one wish for college rugby.
TIAR:
You've essentially been with AIC since the start of their rise to one of the best college teams in the country. How hard was it to leave a program you built?
Josh Macy:
Starting and developing the program at AIC was one of the most rewarding experiences of my life. Leaving wasn't an easy decision, but a shakeup was necessary for me to keep growing as a person. There's a lot of great people at the college, and in the Springfield community. My family will miss everyone; I already do.
TIAR
: What attracted you to the Lindenwood opportunity?
JM:
Lindenwood is in a sort of higher education goldilocks zone. There's a ton of energy on campus, yet it's small enough for guys not to be lost. There are challenging academic programs, but it's not impossible to get into. The facilities are beautiful, but it is a very affordable place to go to school. The program has achieved a lot of success, but there's so much on the table. It's a great spot to be in as a coach, and I am at a point where I know what I have to offer the team. They've been receptive thus far.
Take the jump to read more.
TIAR:
The Lions went through a summer of some turmoil in which they were accused of violating the spirit of the game. What's your take on those accusations and how does that approach your mindset heading into the job?
JM:
I have the luxury of absence in this case. Having not yet joined the team, I felt no turmoil. I have, however, been consistent in giving everyone a clean slate and helping the guys move forward in identifying the kind of team, players, and people they'd like to be.
TIAR:
Lindenwood play in one of the toughest conferences in the country. What is the team's goal for conference play?
JM:
Succeeding in the Mid-South means applying consistency to the talent we have here amongst us. It means being efficient with our preparation and steadfast in our values. Our goals have to revolve around what we can control here on campus not necessarily what that means in regards to Davenport or the Running Eagles.
TIAR:
They have also similarly fallen short in the semi-finals the last few years in DI-A. What do you have to do to get over the hump and into the final?
JM:
Like I said above, he only hump that matters is in St. Charles, MO. As we continue to refine our motivation and preparation, we'll leave the hump home as we board the bus to the playoffs.
TIAR:
You've been around college rugby for a while. If you could have a magic wand and fix one thing what would it be?
JM:
More full-time coaches. We always mention how players need to be full-time to increase the quality of play, the same is true with coaches. The ROI on a full-time player is miniscule compared to that of a full-time coach. If we're ever going to start speaking the same language as the rest of American sports, we need people who have the time.