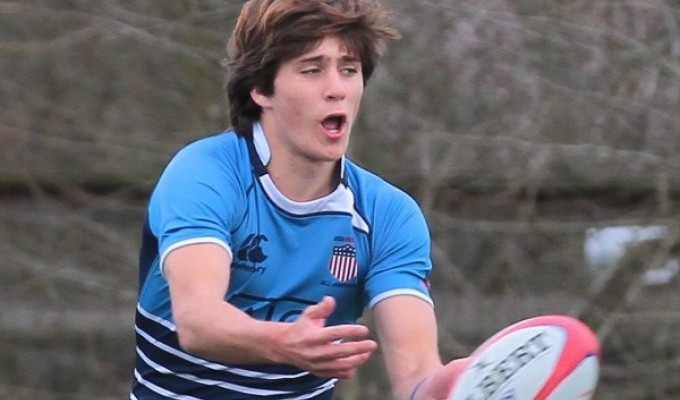 As expected a young team has been named for the Eagles Selects as they head to the Americas Pacific Challenge. The squad is young but full of players that have recently been on tour with the College All-Americans or who have spent the season playing in PRO Rugby. Because this is the start of the next World Cup cycle the tournament is being used to help identify players that can contribute in the short-term as well as potentially at the World Cup. The only overseas player in the squad is Christian Ostberg from Aurillac. He's been on the Eagles radar for awhile and this is his chance to shine.
Other players on the roster include a number of Eagles 7s players. Martin Iosefo has been a name linked to a potential impact on the 15s team as a center and this will be his opportunity. The same goes for Pat Blair who is making the move to hooker. Matai Leuta will also get to show what he can do in 15s.
As expected with a young side there are also a number of college players on the team. Matt Jensen comes from BYU, Alex Maughan from Life, and Malon Al-Jiboori and Chance Wenglewski from Lindenwood.
Take the jump to read more.
Eagles head coach John Mitchell will not be leading the team into the tournament and instead that duty will fall to San Diego coach Ray Egan.
In a U.S.A. Rugby press release Director of Rugby Alex Magleby noted "In years past, because of our amateur domestic landscape, the Selects really had to focus solely on the near-term garnering much-needed competitive repetitions, no matter the stage of their careers to prepare for near-term tet matches. With the emergence of the nascent professional daily training environments for 100-plus U.S.-eligible athletes through PRO Rugby, the Selects can no serve as a true missing link between our best age-grade players from the Junior and Collegiate All-Americans, as well as transitioning players from sevens, into future core Eagles."
"We anticipate many of these players will challenge for Eagles spots in the near-term, but the hope is, with better investments in their growth today, we can help shape the Eagle leaders of the next Rugby World Cup quadrennial (2023) with an eye on improved return on investments in the medium and long term."
Prop:
Demecus Beach (Ohio), Alex Maughan (Life), Mason Pedersen (San Diego), Jake Turnbull (Denver), Chance Wenglewski (Lindenwood)
Hooker:
Pat Blair (Eagles 7s), Joe Taufete'e (San Diego)
Lock:
Harry Higgins (Old Blue), Matt Jensen (BYU), Siaosi Mahoni (San Francisco), Christian Ostberg (Aurillac)
Back-row:
Malon Al-Jiboori (Lindenwood), Cecil Garber (San Diego), Hanco Germishuys (Denver), Aladdin Schirmer (Seattle Saracens), Sione Tuihalamaka (San Diego)
Scrumhalf:
Nick Boyer (at-large), Steve Tomasin (Eagles 7s)
Flyhalf:
Ben Cima (Rocky Gorge), JP Eloff (Ohio)
Center:
Bryce Campbell (Indiana), Martin Iosefo (Eagles 7s)
Wing:
Matai Leuta (Eagles 7s), Brett Thompson (Eagles 7s)
Fullback:
Ahmad Harajly (Ohio), Mike Te'o (San Diego)