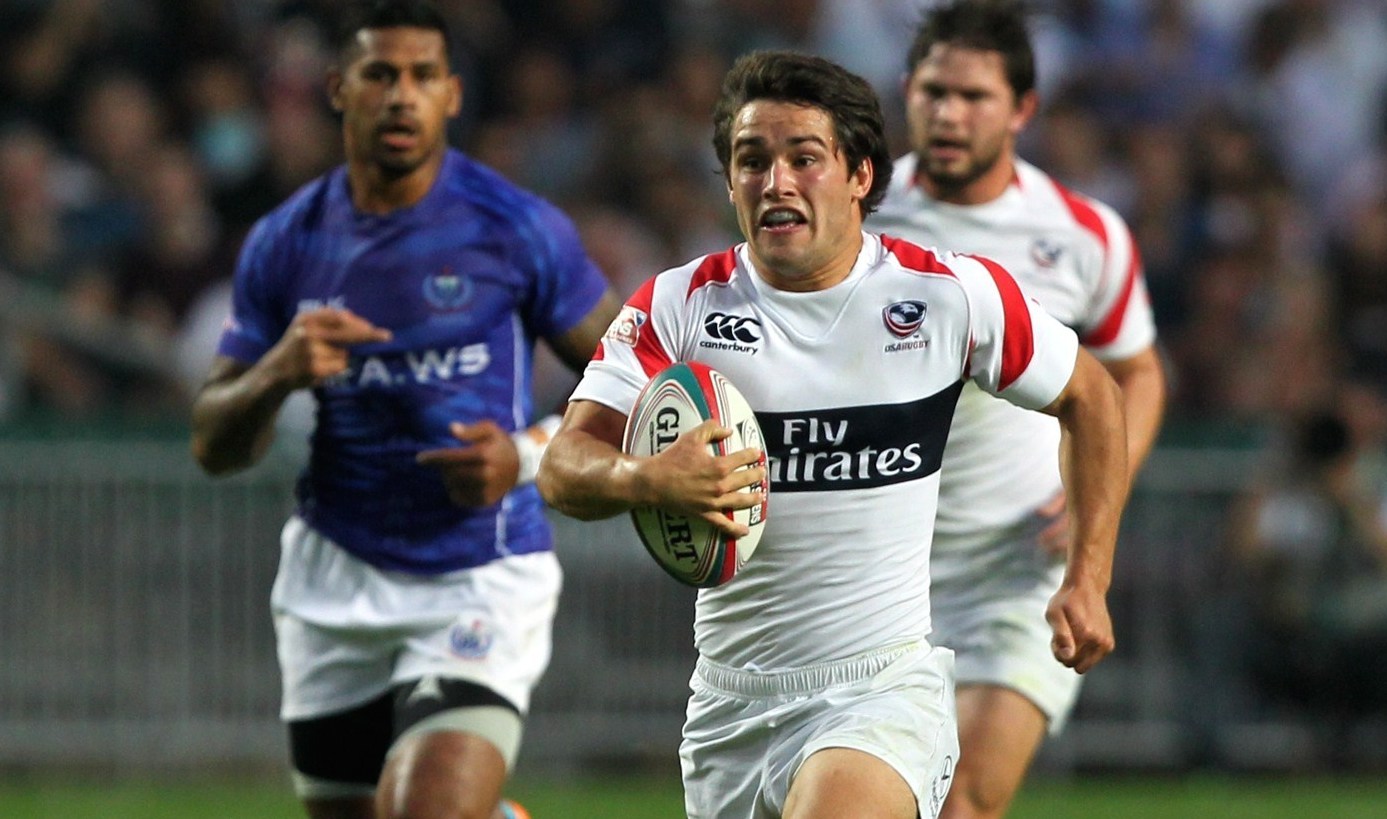 The legacies of the 1920 and 1924 gold medal winning U.S. rugby teams has loomed large over the current group of Eagles ever since rugby was re-introduced as an Olympic sport. For seven years the team has had to deal with the fact that at least through history they will have a target on their backs as defending champions this week. While the team has endured many ups and downs over the last seven years--gaining back a permanent spot on the Series, nearly being relegated, to winning the London 7s--it's hard to argue that the current version of the team isn't the best that could be produced for this moment.
From top to bottom the Eagles have it all. They have experience, they have power, they have speed, and they have rugby savvy. They may not be medal favorites this weekend, that mantle goes to New Zealand, South Africa, and Fiji, they certainly have the capability of fighting for one. The Olympics have made a big impression on this group and their eye has been trained to this target for years. You can expect nothing less than a full effort from the team in what should be a fantastic weekend of rugby.
So what exactly are the chances of the U.S. medalling? If you look at last year's results on the Series they finished third twice and made the third place playoff one other time out of ten total tournaments. That may not be as consistent as a New Zealand, South Africa, or Fiji but the talent is definitely there are all it's going to take this tournament is making it to the quarterfinals and then anything can happen.
Take the jump to read more.
The Team
There are a few surprises from Mike Friday heading into Rio, namely the inclusions of Chris Wyles and Nate Ebner. Wyles hasn't played on the Series in years but he worked hard to get himself ready for Rio and his experience and savvy is going to be huge for a player that will likely come off the bench. Ebner has improved his 7s game by leaps and bounds after debuting in Singapore. Both players are one hundred percent on the team on merit and it's foolish to question otherwise. As much exposure is gained by having an NFL player in the team they are going to get so much more exposure if they win so you might as well take a team that can win!
Another key inclusion in the team is Andrew Durutalo. Before missing last Series to join the Sunwolves in Super Rugby Durutalo was an absolute beast. There were few players, if any, that were better than him at the breakdown on the Series. Several times he single-handedly one matches for the U.S. with key defense plays. Having him back and possibly starting is a massive game changer for the Eagles. Think about it, the Eagles finished with a chance to medal on the Series three times without Durutalo. How much better are they going to be with him in the line-up.
Carlin Isles is also back healthy and ready to go. It's difficult to overstate how important it is to have both he and Perry Baker available. They can play with each other but even better you can start the likes of Baker and then bring on Isles in the second half. For teams already tired seeing Isles out there is heartbreaking. These two players are also born for the Olympics. You watch, they are going to be lights out.
We haven't even gotten to the core of the team that has delivered success over the last year. The team has legitimate stars in the likes of Danny Barrett, Madison Hughes, Folau Niua (who is the most underrate player on the Series on our opinion), Zack Test, Garrett Bender, and Maka Unufe. Unufe in particular when on is phenomenal. They you have Ben Pinkelman who came on to the Series this year and won a starting spot.
Overall this team has everything you could ask for and it's going to be a pleasure to watch them play.
Squad:
Perry Baker, Danny Barrett, Garrett Bender, Andrew Durutalo, Nate Ebner, Madison Hughes, Carlin Isles, Folau Niua, Ben Pinkelman, Zack Test, Maka Unufe, Chris Wyles
Reserves:
Nate Augspurger, Martin Iosefo, Shalom Suniula
The Opponents
Argentina (12:00 p.m. et/9:00 a.m. pt, Tuesday):
This is going to be the key match for the Eagles. With the U.S. expected to beat Brazil handily and then Fiji representing a more difficult test if the U.S. wants to assure themselves a spot in the quarterfinals and not risk it as one of the top two third place teams they need a win against Argentina. That's not always easily done. The U.S. and Argentina have two of the more equally matched teams over the last few years with each having an advantage at times. The U.S. won in pool play in Wellington while they were then beaten handily in pool play in Paris. It's going to be important to keep the ball out of the hands of Argentina. They have weapons that can score but they don't always have the pace to keep up with the likes of Isles or Baker.
Brazil (5:00 p.m. et/2:00 p.m. pt, Tuesday):
Despite being the hosts Brazil are the weakest team in the tournament. They aren't going to be pushovers by any means and the U.S. can't take this match lightly but it should be a win. It also needs to be a win by a big margin. Even if they beat Argentina and qualify for the quarterfinals with a win over Brazil they could still use a big point differential in case something happens.
Fiji (12:30 p.m. et/9:30 a.m. pt, Wednesday):
Fiji will be their toughest opponents in the pool and it's expected that the Fijians will be right there in the end with a chance to medal. The U.S. and Fiji have played five times on the Series this year with Fiji winning all hut on, the third place match in London. However, none of them were blowouts and on most occasions the U.S. lost within a try. They probably should have won a majority of those games as well. This is not going to be a Fijian blowout. This is going to be close and the Eagles will have to think they have a shot a winning.
Should the U.S. win their pool they would play the second best third place team which would likely be either France, Kenya, or Argentina. Second place in Pool A would put them almost certainly against New Zealand in the quarterfinals.
Keys to the Tournament
Find Isles & Baker:
As we saw in the women's tournament there are few things that beat speed. Having Isles and Baker fully healthy is a major plus for the team. Finding them in the right spots and having them go to work is going to score a lot of tries. At the same time both Isles and Baker need to make sure they don't try to do too much when cornered and instead make the smart play.
Stay Smart:
As just talked about, one of the tendencies of the U.S. over the last few tournaments has been trying to do too much when trapped. Either they try to make an ill-advised pass or they are penalized at the breakdown. With things expected to be very tight they can't afford this little slip ups.
Possession:
7s is all about possession and it seems like we talk about it all the time but it's so important. If the U.S. is going to beat any of the top ranked sides it's going to come from keeping possession by not committing silly errors and winning your restarts. If they can do those two things they will have success.
Kicking:
Finally we have kicking, another item we always include because of its importance. We've seen time and time again matches come down to conversions. The U.S. must make theirs.
The Takeaway
To be frank a medal would be a mild surprise for the Eagles. They have shown they can do it on the Series but there are also some phenomenal teams like Fiji and South Africa in the competition. Fans should recognize that going into the tournament and if they are beaten by one of these teams to respect their performance. That said, we expect the U.S. to be in the medal round. 7s is such a crazy game and upsets can happen all the time. The U.S. is perfectly positioned to claim one of those upsets and at the end of the day we think they walk away with a medal.