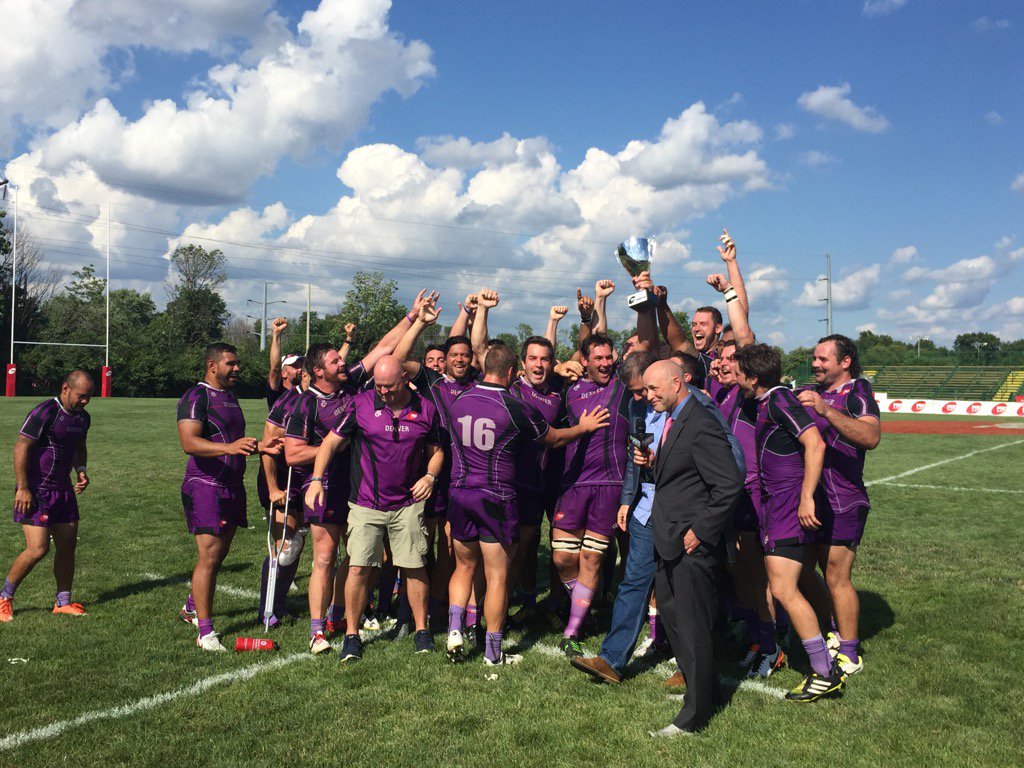 The Denver Stampede are the inaugural PRO Rugby champions despite falling to the Ohio Aviators 32-25 on a last second try by Rickert Hattingh. Thanks to their two bonus points, one for four tries and one for losing by 7 or less, the Stampede finish on 47 points to 46 for Ohio. It was only fitting that it came down to Denver and Ohio in the final match of the season. The two teams opened up the competition back in April in snowy conditions in a match that went into extra time. They finished up the season in nearly an identical scenario with this time Ohio taking it at the end. In the end it was the consistency of Denver throughout the year that saw them take home the championship.
Perhaps showing the pressure of the championship match, the first half wasn't the cleanest half of rugby played this season. At times each team was guilty of a number of knock-ons. Still, throughout that there were some great glimpses of play and a lot of passion. Straight from the opening whistle both teams were extremely physical and even exchanged a few handbags early.
In a typical match each team would have likely gone for the posts early on several penalty attempts, but with bonus points playing a major factor, both teams most often went for a try. Ohio had the first chance, but Denver did well to earn a turnover at the breakdown as they put Ohio scrumhalf Shaun Davies under pressure.
Take the jump to read more.
The first points in the match came just after ten minutes played when from a line out Ohio went through several phases before big Jamie Mackintosh crossed over for the score. It all came from silly discipline issues on Denver's part that allowed Ohio to put themselves in a great position. Denver also didn't help themselves by looking a bit disorganized in their attempt to stop a potential maul on the line out. Still, despite the missing conversion Ohio led 5-0.
It took about ten minutes for Denver to respond. They looked like they had a shout for a try in around the 20th minute when Will Magie put in a chip to Dustin Croy. However, Spike Davis swatted both Croy and the ball halting the opportunity. It was a bit controversial, but no card or penalty was handed out. Instead, it was Ryan McTiernan that would get yellow for an early infraction. From that Denver would swing the ball out wide where Chad London powered over for the score. Magie would miss on the conversion, and it would be all knotted up at 5-5.
Each team had chances to finish off the half with Ohio in particular having opportunities only to see their final pass let them down. But out of all of that only Davies would add a penalty for Ohio putting the score at 8-5 at the break.
The second half started with Shaun Davies putting up a penalty to leave Ohio up 11-5. That was soon matched by Magie with an effort himself. Still, the advantage lay with Ohio early on as they put a bunch of pressure on Denver. Using their strong maul Ohio earned a penalty try to push their lead to 18-8.
Even though Ohio had more of the possession it was Denver that would score next. Getting an opportunity near their line in a scrum, the ball went from Mose Timoteo to Magie, who put in a great pass to Dustin Croy who ran a great angle for the try. The conversion was off, but Denver were back in it at 18-13. If the match had ended at this point Denver would have finished as champions.
Ohio didn't help themselves soon after the try when Jamie Mackintosh was shown a yellow. It was poor discipline throughout the second half that continued to let Ohio down. Had they been able to keep 15 players on the pitch it might have been a different story. Instead, with the man advantage it was Denver that would score a couple of tries to take control of the match. First it was Zach Fenoglio finishing off a great Timana Tahu break and offload. That put Denver in front 20-18. Just a few minutes later a mistake from Davis to make a pass attempt when he shouldn't have led to Hanco Germishuy's powering over for the try. With the try Denver would have their bonus point.
Needing tries Ohio did put together a solid set of plays and even had a great opportunity when Davis made a great intercept. It was only topped by a fantastic tackle from Chad London to stop the try in what was the play of the match.
Ohio would use their maul to get a try from Dylan Fawsitt to tie things up at 25-25. They continued to put pressure and scored a last second try from Riekert Hattingh, but it was too little too late as Denver won the championship on bonus points.
Denver
Tries:
London, Croy, Fenoglio, Germishuys
Conversion:
Magie
Penalties:
Magie
Ohio
Tries:
Mackintosh, Penalty, Fawsitt, Hattingh
Conversion:
Davies, Shaw (2)
Penalties:
Davies (2)