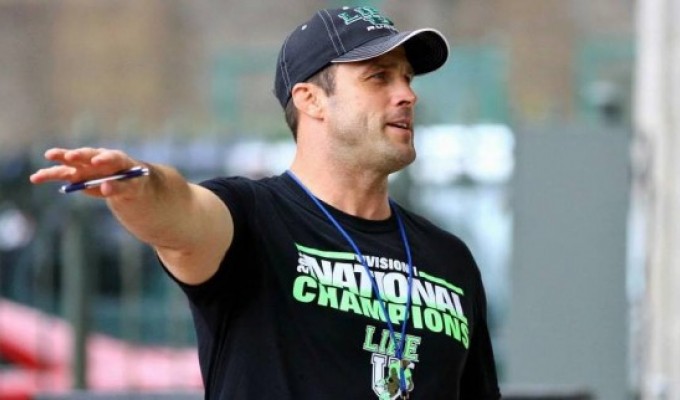 Photo: Dennis Hawk
For the first time in a decade U.S.A. Rugby is going to have a new CEO. Dan Payne, a former Eagle and administrator with experience at nearly every level of rugby in this country, is set to replace former CEO Nigel Melville. Payne currently leads the Life University athletic department where he previously served as Director of Rugby before being promoted. While at Life Payne helped bring men's and women's rugby into varsity status and helped build the Running Eagles into a powerhouse on both the men's and women's side and in 15s and 7s. Prior to Life Payne coached at San Diego State.
Payne is also a former Eagle having played at the 2007 World Cup. He was also an assistant coach under former head coach Eddie O'Sullivan at the 2011 World Cup. He's played club rugby for Old Blue and OMBAC. He also comes from a non-rugby background having wrestled in college.
Take the jump to read more.
Payne's hiring should come has good news to the ears of American rugby fans. Payne has an intimate knowledge of the game at all levels in this country. He's one of only a handful of people that can say they've been a player, coach, and administrator. With many issues still unresolved in American rugby Payne stand in a good position to survey the landscape and get buy in from large parts of the rugby community.
"These are exciting times for our great game, in our great country," said Payne in a U.S.A. Rugby press release. "I'm honored and privileged for the opportunity that has been presented. That being said, I'm eager to get to work and shoulder the responsibility that this position requires and our membership, fans and supporters deserve. I want to thank [former USA Rugby CEO] Nigel Melville for the service and leadership he provided over the past nine years and the USA Rugby board for this opportunity. There's a strong group of individuals in Lafayette, CO that I'm looking forward to working alongside as there is plenty to be done. As the game expands and evolves in our country, it's important we continue to work to unify our efforts amongst all groups and stakeholders in our country.
"I've had a tremendous seven years and made many lifelong friendships and relationships during my time at Life University. It's important that I thank our executive leadership, our great coaches, staff and the 300+ student-athletes that have all been a part of our amazing growth."
Payne starts August 1st.