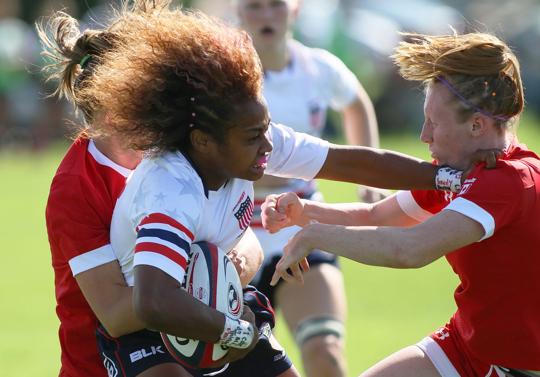 Head coach Pete Steinberg has picked his team as they get ready for next month's Super Series in Salt Lake. With the World Cup just a year away this will be one of the last major opportunities for the team to get playing time together.
It should come as no surprise that the bulk of the team played in last year's Super Series in Canada. Veterans like Jen Lui, Deven Owsiany, Jane Paar, Sam Pankey, Hope Rogers, Kimber Rozier, and others will all be on the roster. At the same time there is some new blood into the team. Asinate Serevi and Nicole Strasko have been standouts at Central Washington and Life respectively and they both come into the team.
With matches against Canada, England, and France you can expect the squad to be rotated to allow Steinberg to get a good look at his whole team.
Take the jump to read more.
Squad:
Kathryn Augustyn (Berkeley All Blues), Catherine Benson (Life West), Stacey Bridges (Scion Sirens), Elizabeth Cairns (Penn State), Cheta Emba (Eagles 7s), Tiffany Faaee (New York Rugby Club), Megan Foster (Life West), Jordan Gray (BYU), Nicole Heavirland (Eagles 7s), Molly Kinsella (Glendale Raptors), Joanna Kitlinski (Glendale Raptors), Jen Lui (Glendale Raptors), Saskia Morgan (Brown), Deven Owsiany (San Diego Surfers), Jane Paar (Eagles 7s), Sam Pankey (Washington Furies), Christiane Pheil (Chicago North Shore), Jamila Reinhardt (Augusta), Hope Rogers (Penn State), Kimber Rozier (Washington Furies), Asinate Serevi (CWU), Jennifer Sever (Life West), Nicole Strasko (Life), Naya Tapper (UNC), Alycia Washington, Hartford Wild Roses), Jessica Wooden (ARPTC)
Reserves:
Baylee Annis (Burlington), Sylvia Braaten (Twin Cities), Nick James (HARC), Sara Parsons (Austin Valkyries), Lauren Rhode (New York Rugby Club), Nicole Snyder (Bloomsburg), Kate Zackary (Eagles 7s)