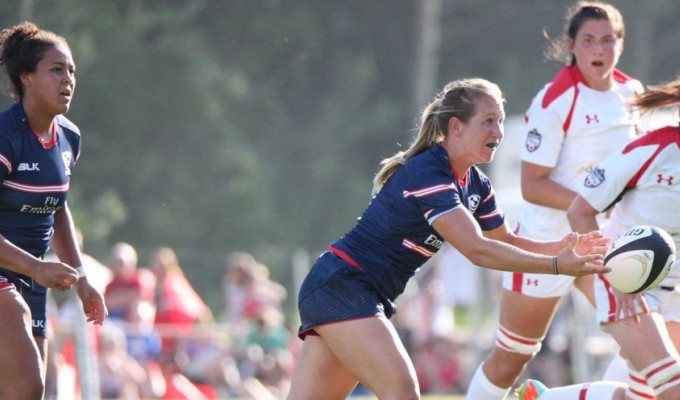 The Women Eagles kick off their Super Series tomorrow in Salt Lake City against France and head coach Pete Steinberg has named his starters. The team includes a number of World Cup veterans, including Hope Rogers, Deven Owsiany, and Kimber Rozier. At the same time it includes some young players as well, including BYU standout Jordan Gray and Cheta Emba. This is the first big chance the team has had to gather with the World Cup a year out and the tournament is going to be a big chance to show Steinberg that they should be on the team.
The match starts at 7:00 p.m. et/5:00 p.m. mt/4:00 p.m. pt and can be seen live on The Rugby Channel but under the premium section.
Forwards:
Tiffany Faaee, Kathryn Augustyn, Hope Rogers, Stacey Bridge, Alycia Washington, Christiane Pheil, Joanna Kitlinski, Jordan Gray
Take the jump to read more.
Backs:
Deven Owsiany, Kimber Rozier, Cheta Emba, Sylvia Braaten, Jane Paar, Saskia Morgan, Jessica Wooden
Bench:
Sam Pankey, Catie Benson, Jamila Reinhardt, Molly Kinsella, Bitsy Cairns, Jen Lui, Megan Foster, Naya Tapper
Boys High School All-Americans Win
The Boys HSAA's have opened up their tour of Ontario with win beating the Ontario Blues U-19s 27-14. Center Jayden Demmy, scrumhalf Ruben de Haas, win Luke Bienstock, and fly-half Brandon Boon all had tries. The two teams will face off again on Sunday.