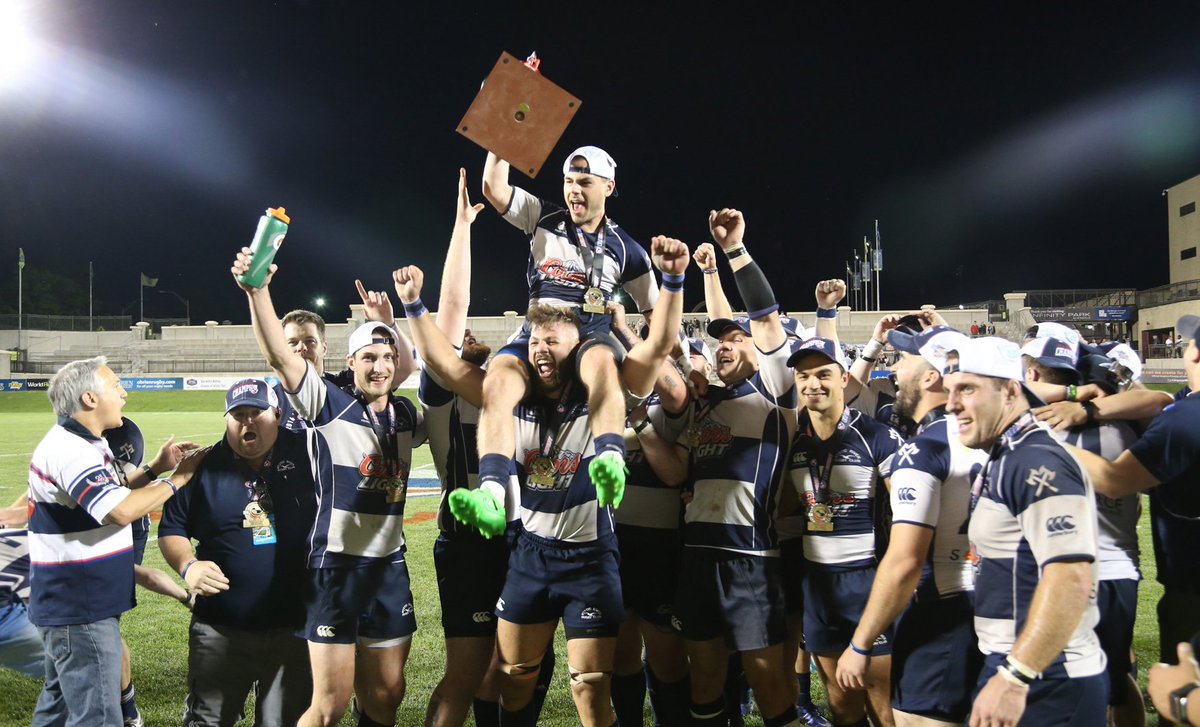 Mystic River are the DI champions after defeating the Austin Blacks 45-33 in a very entertaining match at Infinity Park. Both teams came into the match loving to get out a run and they didn't shy away from any of that as each team had a number of great chances and played expansive rugby. The match see-sawed back and forth with Austin holding a halftime lead but in the end it was four tries from Evin O'Driscoll that helped push Mystic River to the title.
Straight for the start the teams got out and ran. Mystic River were on the front foot early and quickly saw Alatasi Tupou push down the pitch. He eventually found a gap, shook off defenders, and went in for the opening try. He'd miss the conversion but Mystic River led 5-0.
Austin weren't going to go out quietly and they came right back with a run from wing Pierce Reed. He was caught but Mystic River committed a penalty on the play. Former Newcastle Falcon Stephen Jones stepped up to hit the conversion and Austin were right back in it.
Take the jump to read more.
Still, Mystic River came out flying once again. A lot of the team plays together with the Northeast Academy and their 7s skills were on full display as Jared Collinson ran a great line and found O'Driscoll for his first try. Tupou made the conversion and Mystic River were up 12-3.
Austin showed they can play champagne rugby of their own that saw Reed go in at the corner. The conversion was off but once again Austin were back within a try. A few minutes later Austin had a scrum five meters out. Out of that scrum they quickly put the ball into the middle of the pitch and into the hands of Matthew Radzavich. Mystic River thought there might have been crossing but the try counted and Austin took their lead at 15-12.
Tupou and Jones traded penalties as the match moved toward the half. A second try from Radzavich, thanks to a looping pass from Jones, gave Austin a 23-15 advantage. Jones and Tupou then traded penalties again to push the match to 26-18 at halftime.
Like in the first half Mystic River came out strong in the second. Stephen Dazzo had a shout for a try but it was ruled to be a knock-on. Still, they continued to put on the pressure and eventually that patience created a gap that prop Luke Schlotmann used to score. With the conversion Mystic River were within one.
The match then took a decisive turn when Jones was shown a yellow card for a high tackle on Vinny Daley after the Mystic winger had made a break. With the advantage O'Driscoll added another try, thanks largely to a no-look pass from Robbie Malneek, and then another off a line out, Mystic River led 37-26.
Things could have gotten away from Austin at that point but when Conor Bertrand scored and Jones converted they were within four at 37-33. A penalty from Tupou made it a converted try difference at 40-33 with seven minutes left. O'Driscoll then added a fourth try to finish off the match.
Mystic River
Tries:
Tupou, O'Driscoll (4), Schlotmann,
Conversions:
Tupou (3)
Penalties:
Tupou (2)
Austin Blacks
Tries:
Reed, Radzavich (2), Bertrand
Conversions:
Jones (2)
Penalties:
Jones (3)
Austin
Forwards:
Troy Mussey, John Clery, Sam Rooke, Tyler Terrazone, Tim Howard, Conor Bertrand, Paul Benade, Ngwako Ralepelle;
Backs:
Zak Triplett, Stephen Jones, Pierce Reed, Austin Byrne, Levi Kereti, Matthew Radzavich, Antonio Winn;
Bench:
Paul Nieuwoudt, Joseph Taute, Eric Martinez, David Goss, Chris Parker, Diego Sotelo, David Comerford, Rickey Johnson
Mystic River
Forwards:
Chris O'Donnell, Michael Bozza, Luke Schlotman, David Mckenna, Joe Hastry, Jon Kokinda, Joseph Shurmaitis, Sean Rafferty;
Backs:
Gabe Perrone, Robbie Malneek, Stephen Dazzo, Evin O'Driscoll, Alatai Tupou, Vinny Daley, Jared Collinson;
Bench:
Todd Theodat, Diego Maquieira, Andrew Burns, Gianni Miceli, Michael Armstrong, Franco Liebenberg, Nathan Fox, Chris Frazier