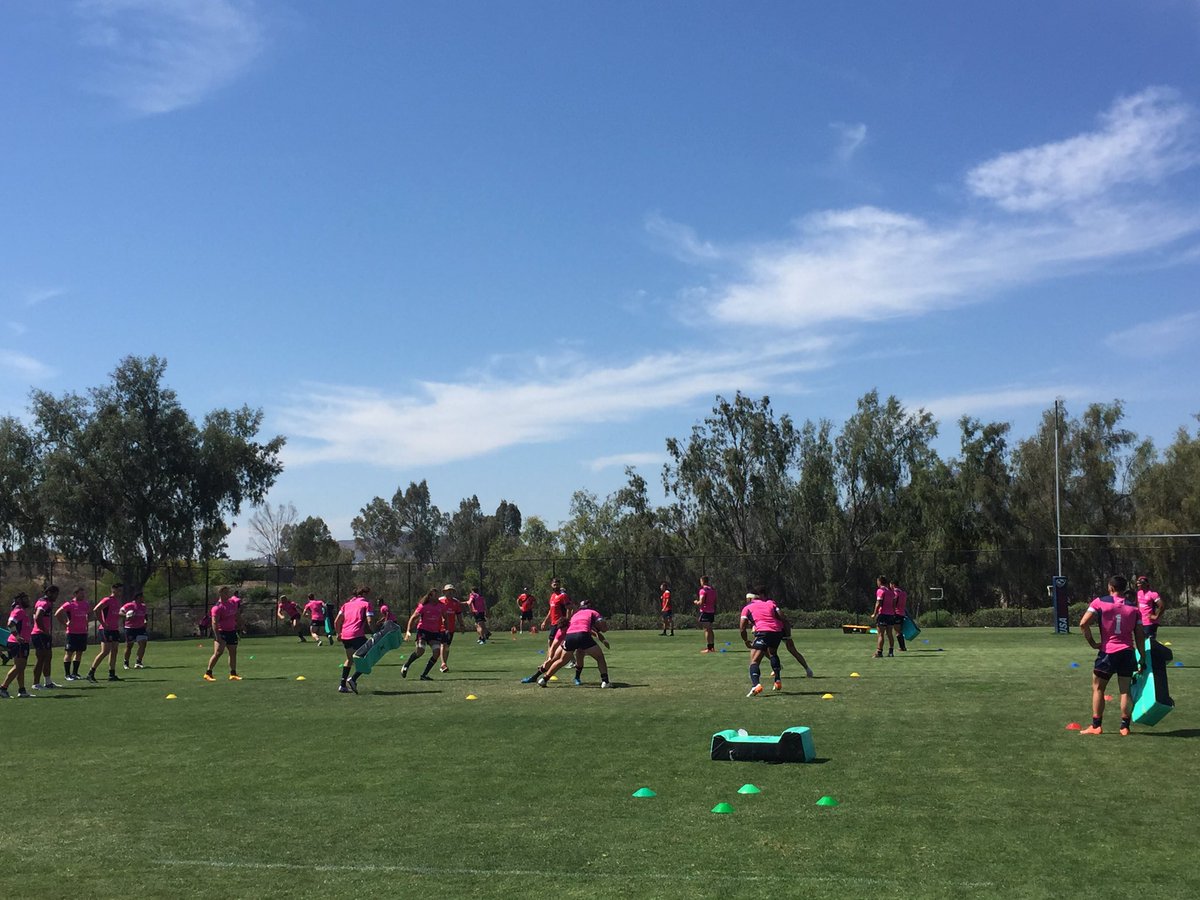 The Eagles are in camp in San Diego busy getting ready for their matches against Italy and Russia later in the month. Head coach John Mitchell is now about a half a year into his tenure with the team and during that time has had the ARC as well as time to scout out the American rugby landscape. Now he and the team face a step up with their first summer series and match against a Tier I nation. So what should be the goals and what are some key questions for the team heading into the summer?
How Deep Are The Eagles?
If you look at the ARC in the two matches in which the Eagles had what is close to their full squad (Blaine Scully, Todd Clever, Cam Dolan all in but no AJ MacGinty or Samu Manoa) they did well against Argentina and Canada. Against Chile in which they kept many of those players but took a step down in competition they still did well. However, it was when they lost most of the "known" quantities on the team that they struggled to do much against either Brazil or Uruguay in a pair of losses.
Take the jump to read more.
While it's certainly embarrassing to lose to Brazil these kind of struggles aren't that unexpected at the start of a new World Cup cycle. Think back to the original ARC in 2012. The U.S. finished winless in that tournament and didn't look that great. However, when you look at the roster for that tournament you see names like Nick Wallace, Zach Fenoglio, John Quill, Cam Dolan, and Shaun Davies getting their first major opportunity to show what they can do. The who team may have struggled but at lead then head coach Mike Tolkin found some players that were capable of stepping up.
That's what the ARC has done for John Mitchell and what this summer series could also help to do. The ARC did a good job of seeing which players were cut out for international rugby period and now the summer is going to see if the likes of Aladdin Schirmer, Brodie Orth, Mikey Te'o, and others who did well in the ARC can hold up against better opposition. If the U.S. can gain more clarity in regards to depth this early in the cycle that is a goal accomplished.
Who Is Going To Step Up For Key Players?
Samu Manoa is taking a break this summer to play in the Top 14 playoffs as well as to rest up after an injury riddled season. Eric Fry simply wasn't picked for the team for whatever reason. Those are two big holes that the Eagles need to figure out who is going to step up. Titi Lamositele is firmly entrenched in one of the starting prop positions but who is going to be next to him is a big question. Chris Baumann and Ollie Kilifi made it to the World Cup and should be the prime candidates but don't count out Angus MacLellan.
For Manoa, Tony Lamborn looks like a natural fill-in but it's safe to say that the competition for positions in the locks and the back-row is going to be incredibly fierce. The same goes for scrumhalf and back-up fly-half, both positions that need players to take a step up. At scrumahalf Nate Augspurger, Shaun Davies, Mikey Te'o, and Shalom Suniula are all options. It's interesting that Tom Bliss wasn't picked even though he later picked up a concussion. At back-up fly-half you have Suniula, Will Holder, and James Bird all fighting it out.
What Would Be An Acceptable Record?
The U.S. is expected to lose to Italy and expected to beat Russia. Does that mean that a 1-1 record would be acceptable? If you are being realistic the answer is probably yes. While Italy is undergoing a bit of a transition themselves and have been one of the weaker, if not the weakest, Tier I nation in recent times they still have a solid team full of professionals. Players like Luke McLean, Edoardo Gori, Quintin Geldenhuys, and Leonardo Ghirarldini have 50 caps or more. Sergio Parisse and Martin Castrogiovanni may not be around but they are still a Tier I nation and will not be wanting a loss to the Eagles. Aan upset win over Italy would be nice but it's not expected.
Russia on the other hand should be much easier to beat. They missed out on the World Cup last year and have a squad of nearly all domestic players. With only two games it's unlikely that the U.S. puts out a fairly green team against Russia but you can expect some of the newer players to see good time. A loss to Russia should sent up red flags all over the place, especially considering that the team lost to Brazil and Uruguay as well. Being competitive against Italy with a chance to win and then a solid victory over Russia would constitute a good summer.