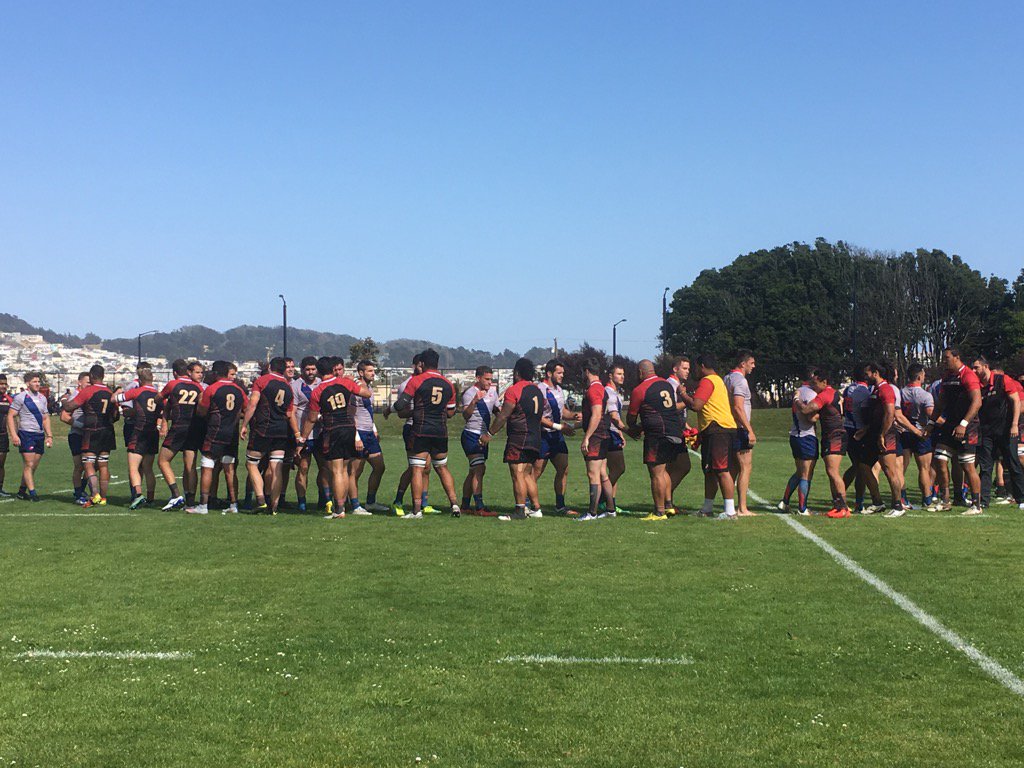 By Derek Sagehorn
After a five losses to start, San Francisco overcame a strong Ohio side on Sunday afternoon at Boxer Stadium 35-20. Captain Volney Rouse lifted San Francisco with 18 points from the tee in spite of the wind. He was afforded opportunities at goal due to a complete, if still unsheened, performance from San Francisco's attack and defense.
The home team took possession early and quickly went to work running at Ohio. San Francisco has played with pace before, but not with the requisite patience. They ran through several promising phases with well-executed passing and found several half-gaps but couldn't break Ohio's line clean. Ohio disrupted this attack by stealing two of San Francisco's line outs. Inside San Francisco's 22, Ohio turned the screws on the scrum a few times but were denied a push over or clean 8 man pick. Unable to pick right or left off a ruck, Sebastian Kalm went over the ruck and scored. Shaun Davies conversion bounced off the upright, Ohio leading 5-0.
Take the jump to read more.
Several minutes later, San Francisco was awarded a penalty for Ohio's failure to roll away. Rather than kick to touch, where converted hooker Patrick Latu was struggling, Rouse opted for the scrum. An odd choice for a team consistently on the back foot. But San Francisco won clean ball and Rouse challenged Ohio's midfield. In the tackle, Rouse offloaded to a streaking Mils Muliaina for a try underneath the posts.
The teams settled in over the next 20 minutes playing with width between the 22s but unable to score more than a pair of exchanged penalty goals. San Francisco struggled to win their own ball in the lineout, and did not seriously contest Ohio on offense. The ball San Francisco did win was significantly slowed by Ohio's consistent failure to roll away.
An Ohio mishandling in San Francisco's half was collected, and the home team moved the ball over ten phases down the field. After a Patrick Latu rumble, an Ohio backrower failed to release in the tackle and was pinged for it. Michael Reid quick tapped and off the ensuing ruck David Tameilau forced his way over the chalk. Rouse converted his second, SF up 14-10. On the restart, Shaun Davies was found cynically lying on the tackler and was sent off; San Francisco kicked for touch, began a drive and Jay Finau scooted through a gap in the undermanned Ohio line for a score. Rouse added a conversion to bring the score 21-8 at half.

In the second half, San Francisco began to display more concern for territory—as they were protecting a lead for the first time this season. Rouse and Ohio's Robbie Shaw kept the score ticking over with penalty goals, but San Francisco's failure to collect the restart opened way for Fillipo Ferrarini to bash over for a try. Ohio had several promising phases in the middle portion of the half, but couldn't find space for its finishers. In one moment of brilliance, Allan Hanson threw a long pass to Spike Davis who rounded San Francisco's kick chase and looked a lock for the white line. A desperate, shoe-string tackle from replacement hooker Jay Finau kept him from scoring.

Rouse kicked two more penalties, putting distance between the teams as San Francisco played a conservative, territorial game. When the shots were available, however, they took them. Off of a scrum, Rouse threw a cut out to Muliaina, who, in-turn, triggered Martini Talapusi. The fullback bent his line back in, drew Davis and unleashed Pila Iongi. The wing stepped back in on Hanson to score. Ohio responded with a catch and drive try, courtesy of Kalm, several minutes later. But the comeback effort was for naught as the clock wound down for San Francisco's first victory in Pro Rugby.

Ohio played well in spurts, but struggled to move and exploit good quality secondary phase ball. JP Eloff's absence looms large. But credit to San Francisco for putting in a complete effort. They played patiently in attack, improved their exits from their own 22, and played organized, alert defense.