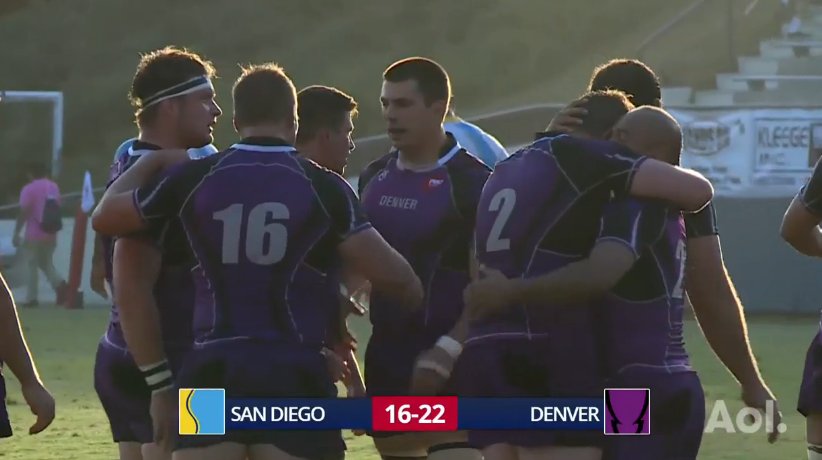 Denver survived a late push by San Diego to leave California with a table topping 3-0 record. The result wasn't always certain, especially at the end when San Diego were only inches from scoring a try with only second left, but now after three matches Denver can lay claim to the best team in the competition. For their part San Diego had positive phases as well but left too many opportunities on the board and did seem to get a sense of urgency until it was too late.
The first part of the match was control mainly by San Diego. They had the run on the first several scrums and were able to camp down in their attacking zone for a long time. However, the Denver defense stayed tough and it took about ten minutes for Kurt Morath to kick the first points for San Diego.
Take the jump to read more.
Denver had their first opportunity when Chad London put in a big hit to cause San Diego to spill the ball but Denver weren't able to recover. Still, Denver kept coming and using their forwards off the line out were able to find Zach Fenoglio for the try. Will Magie would add the extras and Denver would lead 7-3 with 17 minutes gone.
Both teams then began to settle into the match. The defense was solid from both teams as they were able to shut down each other. There were mistakes but compared to earlier matches in the season it was arguably the cleanest match played yet. If there was element that wasn't clean it was the number of high tackles from each team that creeped into the action. San Diego did have a nice stretch in which they put together 15 phases and came away with another Morath penalty. Magie would have a penalty himself and the match would go into the half at 10-6.
Denver nearly were able to connect a few minutes later even with a drifting pass that was almost picked off. But credit to San Diego as they were able to clear. Still, the pressure kept coming and when London made a great offload to Max De Achaval he was able to run down the pitch before offloading to Timana Tahu. He was nearly caught into touch but was able to find the supporting Niku Kruger for the try. The conversion missed but Denver led 15-6.
Magie had a change to extend the lead a few minutes later but his penalty attempt was off. Morath had better success on his attempt and San Diego crawled back within a try at 15-9. He would miss on an attempt a moment later, however.
The next ten minutes would prove crucial to Denver's eventual win. They had a couple of shouts for tries but were denied each time. They finally were able to break through on what would be the moment of the match. Magie put in a great cross field kick that was taken in the air by wing Martin Knoetze. Before landing on the ground he passed the ball back to the open Chad London for the try. With the conversion Denver led 22-9.
San Diego did have an opportunity when Denver lock Christian Wiessing was sent to the bin for hitting Tim Stanfill in the air. San Diego had some time deep in the Denver end after that but couldn't convert the opportunity into points.
Seemingly set for a loss after Wiessing came back on the pitch San Diego finally found life led by the energy of Mikey Te'o. The fullback was able to get a breakaway with about five minutes left. He unselfishly made the smart pass to Phil Mackenzie who went in closer to the posts. The conversion was good and San Diego were now within a try. They had even more opportunities with only a minute left and were nearly over but they knocked it on and Denver were able to clear with no time left.
Both teams showed arguably the most fluidity in the competition so far but Denver proved themselves to be a step ahead with veteran plays. Man of the Match Pedrie Wannenburg had a lot to do with that but other players like Magie, London, and Fenoglio all had big matches. Denver have next week off while San Diego head to San Francisco.
Denver
Tries:
Fenoglio, Kruger, London
Conversions:
Magie (2)
San Diego
Tries:
Mackenzie
Conversions:
Konrad
Penalties:
Morath (3)