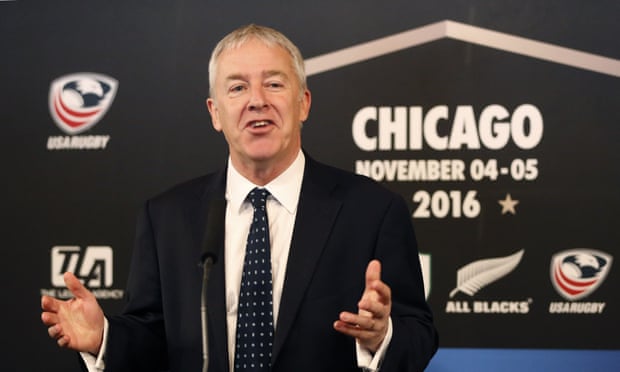 When the news game down last week that Nigel Melville was leaving his post at both U.S.A. Rugby and Rugby International Marketing it set off reactions both positive and negatives from those here in the U.S. and overseas. Putting aside those opinions the main question for fans going forward is what is going to happen to both the leadership posts he's vacating?
Melville already announced that he was leaving the U.S.A. Rugby CEO post to focus on RIM. From what TIAR understands the time to submit an application has already come to a close, however, it's unclear if now that Melville is leaving the U.S. altogether it will see the position open up again. Even though Melville was leaving the CEO post for RIM it was understood that it would be a sort of Putin-Medvedev situation where whoever succeeded Melville as CEO would share many of the same philosophies if not be under the control of Melville. Now it's unclear how that is going to work.
Take the jump to read more.
Why that might be a potential problem is that now that Melville has left entirely U.S.A. Rugby is going to need a strong leader to help carry them through. That could still very well happen with whoever comes in but there is no question the whole process has been different than it would have been before the assumption Melville would stay at RIM. A weak leader and potentially someone unfamiliar with U.S.A. Rugby is not what we need at the moment.
Where Melville's absence would really hurt is at RIM. The new for-profit arm of U.S.A. Rugby is still in its infancy and it needs guidance or it's going to fall flat. To be sure, it's a risk for all involved. Right now the major things RIM has going for it are The Rugby Channel and the promotion of the All Blacks-Ireland match. The match should be successful but The Rugby Channel is at a critical point that could see it either take off or become a burden on fans.
Currently, The Rugby Channel is struggling to deliver anything unique. It will air the Eagles matches in the summer but that seems more like a money grab (basically fans now have to pay what is the equivalent to a ticket to watch the Eagles if they can't make it to a match) than a long-term strategy to expose rugby to more fans. It's possible that without the direction that Melville intended to give the channel that it could wither. The Rugby Channel is a great idea but without much transparency on who is involved in the channel other than Melville it seems that it will now be a channel abandoned by the person that birthed it.
Additionally, the major idea behind RIM was that it could do some of the things that U.S.A. Rugby could not do as a non-profit. As an example of what was somewhat of the aim look at the relationship between Canada Sevens and Rugby Canada. Canada Sevens made money off the Vancouver 7s and even though it is technically separate from Rugby Canada the profits will be funneled to help Rugby Canada. That's the idea behind RIM. It could do things like The Rugby Channel, promote big matches, etc., that would bring in money for U.S.A. Rugby. However, as anyone who runs a business will tell you, unless you have strong leadership in the beginning of the company it's very hard to grow that business.
Hopefully there is a plan in place for someone to take both the U.S.A. Rugby and RIM roles quickly. Even though neither company is public in a Wall Street sense they are public in that they are accountable to those that support them--the fans. In order to keep the shareholders (fans) happy a transition plan should be made public soon before rumors, questions, and more begin to get out of hand. Chaos is the last thing American rugby needs and unfortunately Melville leaving his important position at RIM without a known back-up for the company could bring that chaos.