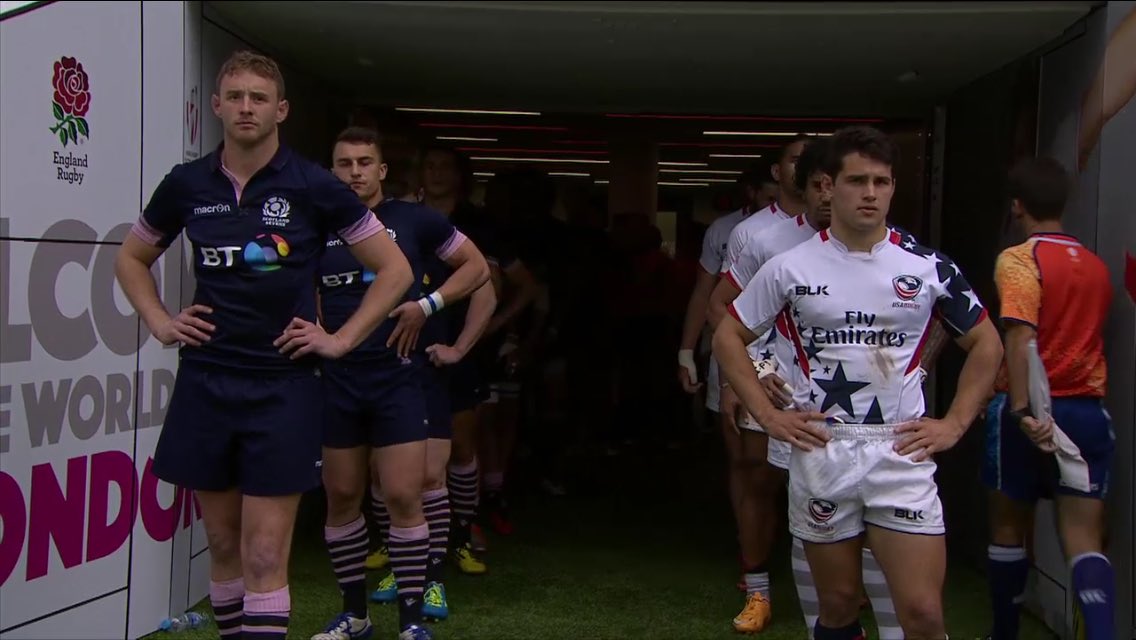 The Eagles won't be defending their London 7s title after falling short to Scotland 24-17 in the semi-finals. The match was there for the taking for the Eagles as they held a late lead. However, more heads up play from Scotland a few crucial mistakes from the Eagles were enough to see them come out on the losing end. Still, despite the loss the team will still play in the third place match against Fiji at 12:32 p.m. et/9:32 a.m. pt. The goal heading into the tournament was to gain momentum and after their big win over New Zealand and a semi-finals appearance it's hard to argue they haven't accomplished the goal.
Scotland were on the front foot early and nearly scored just a minute into the match. However, a great try saving play from Martin Iosefo would force the ball loose. Throughout the match Scotland were patient and rather than going for the "home run" try they took their time and found the gaps or waited for the U.S. to make mistakes. Had the U.S. played a cleaner game they would have come away with the win.
Take the jump to read more.
The pressure from Scotland continued and when Folau Niua's kick was charged down Damien Hoyland was there for the easy score. With the conversion Scotland led 7-0. However, the U.S. came right back and with patient play of their own a great cutout pass from Niua found Danny Barrett who rumbled in for the score. The conversion was off and with three minutes left in the half the Eagles were down 7-5.
That's wen the Eagles went on a run. Iosefo did very well to claim the restart and a one handed offload found Zack Test for a try in the corner. However, just as the half was ending Test went down with an injury and wouldn't return. As the second half started it only took a couple of phases before Thretton Palamo, who had come in for Test, scored to push the lead to 17-7.
At that point it looked like the Eagles were in control. Unfortunately Scotland simply had too much possession and through patient play were able to first grab a try from Glenn Bryce and then one from Dougie Fife to take a 19-17 lead. The U.S. pushed for a late try but when Garrett blindly through the ball behind his back rather than see it go into touch with seconds left Scotland was there to pounce for the final try.
Starters:
Pinkelman, Barrett, Test, Niua, Hughes, Baker, Iosefo