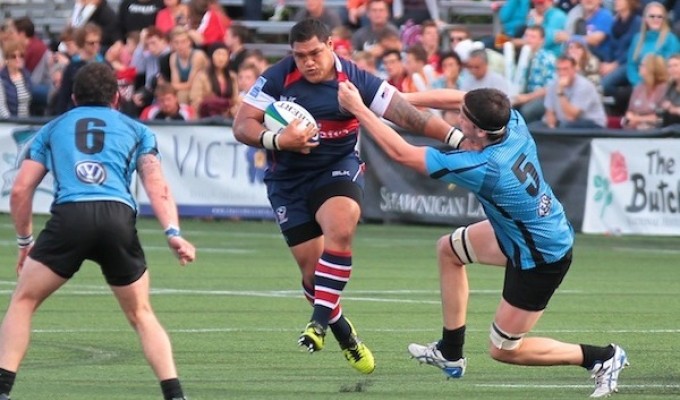 The kickoff to the PRO Rugby season is just a little more than a week and a half away. According to Steve Lewis at PRO Rugby rosters are 95% complete with just a few players to fit in here and there. A full list of official rosters will be released a couple of days before the first match. However, based on what is out there we've been able to collect a list of players that will be in the competition. Bearing in mind that a few names might be added from now until opening day we still thought it would be a good idea to look at each position and the corresponding players on each beginning with the props and hookers.
Before we breakdown each team the first thing that stands out when you look at the prop core in general is the depth. No, it's not the level of one of the top European leagues but it's a solid level, especially for a group of players that are turning professional for the first time. Among the group you have a former All Black, you have four players that have earned caps for the Eagles, including two regulars, and you have what is arguably Canada's front-row give or take a player or two. Given that the competition is intended to be domestic this is an area in which the competition should see a lot of solid head to head battle.
Take the jump to read more.
Denver should have one of the most solid front-rows in the competition. Chris Baumann has had a solid year and has really seemed to take off given more time with the Eagles. If that short time in a professional environment can excel in PRO Rugby he's going to benefit. Australians Jake Turnbull and Luke White have been a staple on the front-row for Glendale. Brendan Rams was set to play for the team but injured his knee and will miss the season. Ben Tarr, an Eagles prospect, and Soane Leger from the Barbarians round out the group.
At hooker most of the duties are going to fall to Zach Fenoglio who's now recovered from injuries that cost him time over the last year. Word also has it that the team is going to try and move Hanco Germishuys to hooker as well.
Prop:
Chris Baumann, Soane Leger, Ben Tarr, Jake Turnbull, Luke White, Brendan Rams (injured)
Hooker:
Zach Fenoglio, (possibly) Hanco Germishuys
Ohio has arguably the most experienced prop in the competition with one-time All Black Jamie Mackintosh anchoring the team. He's going to be joined by either Angus MacLellan or Demecus Beach in the starting line-up. MacLellan is also young and could either sink or swim when given rigorous competition week in and week out. With only three props we can see the team is going to have to add depth and it's likely that one or more of their hookers shifts as well.
Cam Falcon got a taste with the Eagles during the ARC and could be the starting hooker from day one but he's going to have to ward off solid competition from Dylan Fawsitt who has been a staple at Life. Whoever doesn't start could find themselves at prop. Local Columbus player Chris Schade is also on the squad.
Prop:
Demecus Beach, Jamie Mackintosh, Angus MacLellan
Hooker:
Cam Falcon, Dylan Fawsitt, Chris Schade
Sacramento also look to have a solid group to start out. Ollie Kilifi is the most experienced U.S. prop in the competition. He's had his ups and downs but has mostly grown as a player. Also coming down form Seattle but back to home is Val Lee-Lo. Former Eagles forwards coach and Seattle Saracens coach Justin Fitzpatrick has always been high on Lee-Lo and this will be his first opportunity outside of age-grade play to show what he can do. Toke Kefu played high school rugby in San Mateo, went on an LDS mission, and then played college football at Eastern Washington before coming back to rugby with the EPA Razorbacks. Look for the team to also add one or two local players.
Canadian international Ray Barkwill is likely the starting hooker. He's a scrappy player that may be the best hooker in the competition. Josh Inong from Santa Rosa is on the squad as well. He's overcome a lot to get to this point.
Prop:
Toke Kefu, Ollie Kilifi, Val Lee-Lo
Hooker:
Ray Barkwill, Josh Inong
San Diego are going to try and use their Canadian connection to get things going. Hubert Buydens has played in the ITM Cup and been a staple for Canada for awhile. Jake Ilnicki played in the NRC in Australia. Together they have over 50 caps to their name although 43 of them do belong to Buydens. Jeffrey Kalemani, Sam Taungakava, and Sione Tuihalamaka are all local players that have proven reputations.
Cousins Mike Sosene-Feagai and Joe Taufete'e are the options at hooker. They were pretty much the one-two punch for the Eagles at the ARC and it looks like it will remain that way in San Diego. Taufete'e can also slide into one of the prop positions.
Prop:
Hubert Buydens, Jake Ilnicki, Jeffrey Kalemani, Sam Taungakava, Sione Tuihalamaka
Hooker:
Mike Sosene-Feagai, Joe Taufete'e
San Francisco are going to use a lot of local talent but anyone who knows about rugby in the Bay Area knows the amount of depth that exists. Patrick Latu has played with Metropolis and SFGG as well as a stint in Australia with a local Canberra team. Niko Lolohead comes from Life West as does Maka Tameilau.
Tom Coolican is going to bring experience at hooker. He's played a couple of seasons as a professional in Australia. Jacob Finau and Codi Jones are also options.
Prop:
Patrick Latu, Niko Lolohea, Maka Tameilau
Hooker:
Tom Coolican, Jacob Finau, Codi Jones