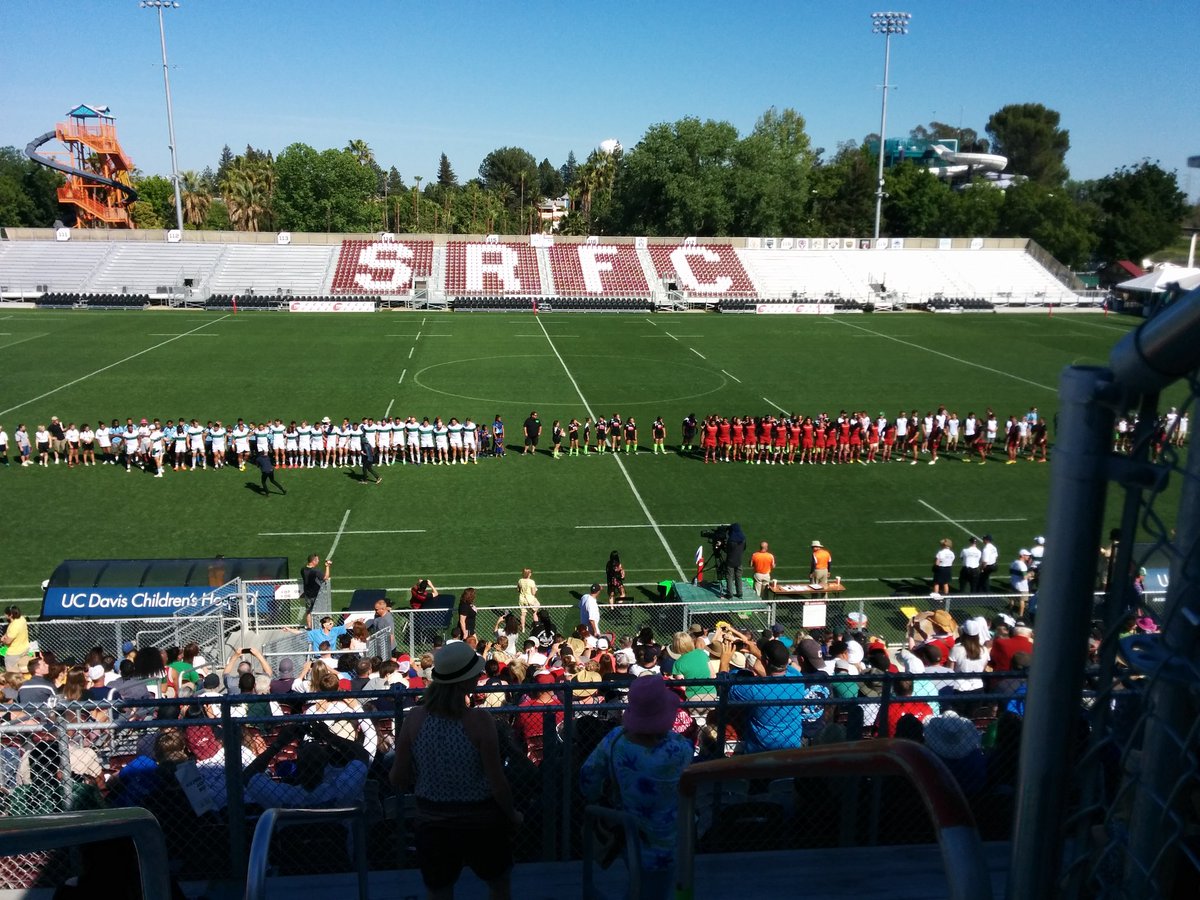 REFRESH FOR UPDATES
The match is being shown live on
aol.com
and on cable on One World Sports
Sacramento Line-up
Forwards:
Val Lee-Lo, Ray Barkwill, Ollie Kilifi, Robert Meeson, Sione Sina, Kyle Sumsion, John Quill (C), Sione Latu;
Backs:
Jope Motokana, Harry Bennett, Ryan Thompson, Alipate Takiveikata, Mirco Bergamasco, Rashad Harbor, Garrett Brewer;
Bench:
Josh Inong, Toke Kefu, Kali Tavaki, Rich Knight, Langilangi Haupeakui, Chris Saint, Nemia Qoro, Ryan Keowler
San Francisco Line-up
Forwards:
Make Tameilau, Tom Coolican, Pat Latu, Nick Grass, Siaosi Latu, Sam Finau, Alec Gletzer, Siupeli Sakalia;
Bench:
Michael Reid, Volney Rouse, Jack O'Hara, Martini Talapusi, Nick Blevins, Michael Haley, Jake Anderson;
Bench:
Jacob Finau, Niko Lolohea, Fancy Namulauulu, Isaac Helu, Junior Helu, Devereaux Ferris, Orene Ai'i, Charles Mateo
Take the jump to read more.
Pre-game:
Anthems up right now. A good crowd has filtered in and it's a beautiful day.
Pre-game:
It's going to be hard to top the Denver-Ohio game but both teams should be physical and play expansive rugby.
1:
And we're underway!
2: San Francisco called for not releasing and Mirco Bergamasco will have an early kick at goal. It's up and good. 3-0 to Sacramento.
4: 2,300 in Denver and at least that if not more here in Sacramento. They've closed off parts of the stadium. Camera side mostly full.
6: Val Lee-lo comes off for blood. Toke Kefu on as replacement.
7: Try San Francisco! Alec Gletzer has the honors of nabbing their first. Forwards powering through there. Rouse's conversion is good. 7-3.
11: Penalty on Sacramento for not releasing and San Francisco will have a shot at goal. The kick is up and good. San Francisco now up 10-3.
15: Sacramento with a solid push into SF territory. SF defense is coming up with timely plays to stop them. Attacking, attractive rugby so far.
18: teams trading posession at the moment. Sacramento with a maul that puts them meters short.
22: Sacramento get the ball out of the scrum but Rouse comes up with a timely steal. Anderson's clearance doesn't go far and stays in. Jope Motokana try! He finds the gap on the outside and is in for the score. Fitting as he's been very active so far. Bergamasco's conversion is off the post and no good. 10-8 with 25 played.
27: San Francisco almost respond with a try of their own right away but it's ruled to be off. 22 meter drop.
29: Sacramento try! They turn it over, Bennett kicks down field, and Brewer comes up with the one handed grab before diving over. Bergamasco is off again on the conversion. Sacramento 13-10 San Francisco. 10 minutes left in the half.
33: San Francisco pushing again but it's knocked on. Back and forth stuff this half.
35: Off a lineout SF find space. Volney Rouse try! Back play once again. San Francisco retake the lead. Conversion is good from Rouse. 17-13.
40: That's halftime! Lots of rugby played with both teams attacking. 17-13 to San Francisco.
Halftime: Exciting game between youth girls sides at halftime. Involving youth teams is going to be critical to PRO Rugby's success in every market.
41: Second half underway!
42: Try San Francisco just a minute into the half! That's the way to start. Siupeli Sakalia with the score. Conversion off. 22-13.
46: After the try Sacramento has had some time with the ball. They are using their maul once again.
49: Subs coming in for both teams.
53: Sacramento using their forwards to get within feet. They go out to their backs, earn a penalty, but then spill it on.Another penalty on San Francisco. Sacramento choosing scrum. Big moment in the match right here.
55: Sacramento using their forwards religiously now but it's intercepted by Anderson when they go out to the backs. Knocked-on by SF.
58: Sacramento have an attacking lineout but it's not straight. They are killing themselves with small errors in this game.
59: Nick Grass shown a yellow for extra on the ground. Big opportunity upcoming for Sacramento with 20 minutes to go.
61: Sacramento with a shout in the corner from Brewer but he's judged to have knocked on. One extra pass and it would have been a try.
63: It was a penalty try. Coolican had been sent to the bin just before. SF down two players. Sacramento used their maul to push over for the try!!! Now we have a game! Easy conversion from Bergamasco is good. 22-20.
65: San Francisco with an opportunity for a penalty right after the try but it's no good.
66: San Francisco back to 14 players and they are doing a good job taking time off the clock. Another penalty on Sacramento. Martini Talapusi hits the penalty to put San Francisco up 25-20.
71: Try Sacramento and the crowd is going crazy!! We're all knotted up with an easy conversion coming. Bergamasco's conversion gives Sacramento a 27-25 lead with less than 10 to play. Ollie Kilifi scored that try.
75: A couple of knock-ons from San Francisco are costing them valuable opportunities for scores.
78: Harry Bennett with the drop goal! All set up out of the lineout. It's now 30-25.
79: San Francisco are almost away but it's knocked on once again.
80: Sacramento with a try in the corner to seal the match!!!!!! What a game.Local boy Ryan Koewler with the try. Bergamasco's conversion is good. Sacramento win 37-25. What a fantastic day for rugby in America.

That's full-time. Thanks for following along!