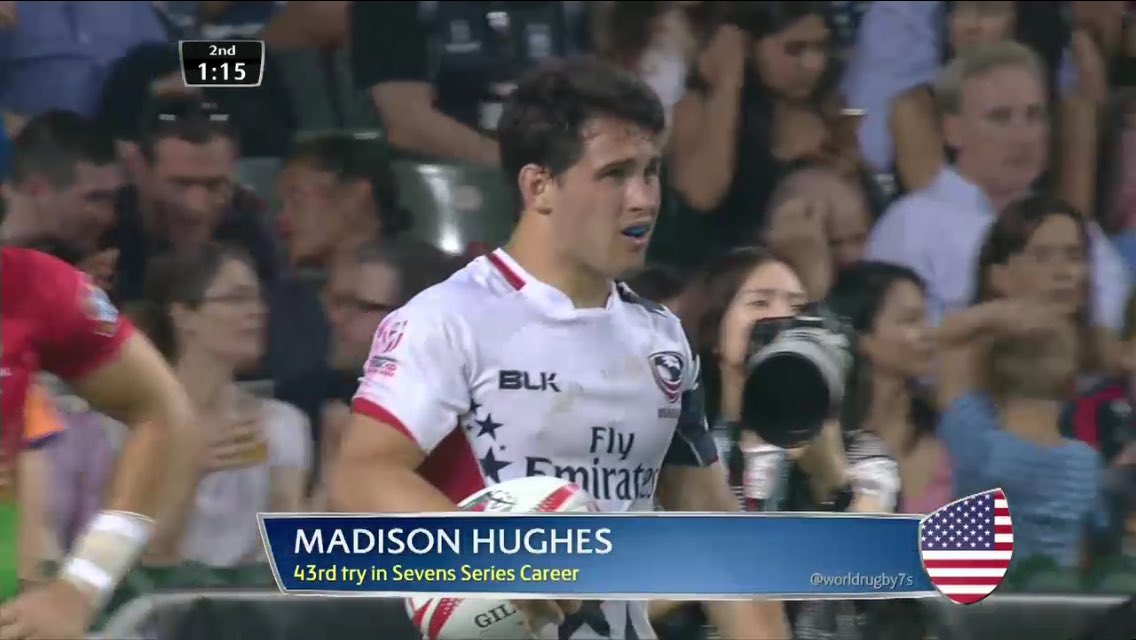 With tough fixtures against Argentina and Australia awaiting them on day two the Eagles needed to come out and beat Portugal to give themselves a shot at the Cup quarterfinals. They were able to do just that in a 21-5 win that was at the same time encouraging and worrying. The U.S. dominated the possession in the match and at one point were able to put together 22 straight passes. However, they also let several opportunities go missing through simple execution mistakes that has to have head coach Mike Friday furious. If the U.S. want to have success against Argentina and Australia they are going to have to play a cleaner game.
As mentioned, the Eagles enjoyed long spells of possession, including the opening stretch of the match. That put Portugal defending deep in their own end and forced them to commit a couple of penalties. It was off a penalty that the Eagles would gain their first try. From a set play the ball was worked until it was inches from the line. There Martin Iosefo took the ball out of the ruck, dummied, and dived over for the opening score. Madison Hughes would hit the conversion and the Eagles would lead 7-0.
Take the jump to read more.
The Eagles could have had a couple of more tries afterward but more mistakes gave Portugal the ball. The good news was that the U.S. defense was solid throughout and anytime Portugal had the ball they had a difficult time getting out of their own end and the Eagles quickly won the ball back.
Off strong defense the U.S. were able to turn the ball over and send it out to Perry Baker who rounded the defender and went nearly the length of the pitch for the try. The easy conversion put the U.S. up 14-0. However, Portugal would end the half on a lovely sequence that put them closer at 14-5.
In the second half the U.S. once again maintained significant possession. They did well to win the restart and their defense was outstanding. Still, more poor execution, especially in the passing department, meant that it took nearly the entire half for them to find a third try. It came as Madison Hughes found the gap in the defense with a minute to go. The U.S. was able to hold on after for the win.
It wasn't always pretty and there are things to work on but overall the Eagles came away with the win and now will look to Argentina at 12:48 a.m. et (Saturday)/9:48 p.m. pt (Friday).
Starters:
Barrett, Bender, Test, Niua, Hughes, Baker, Iosefo