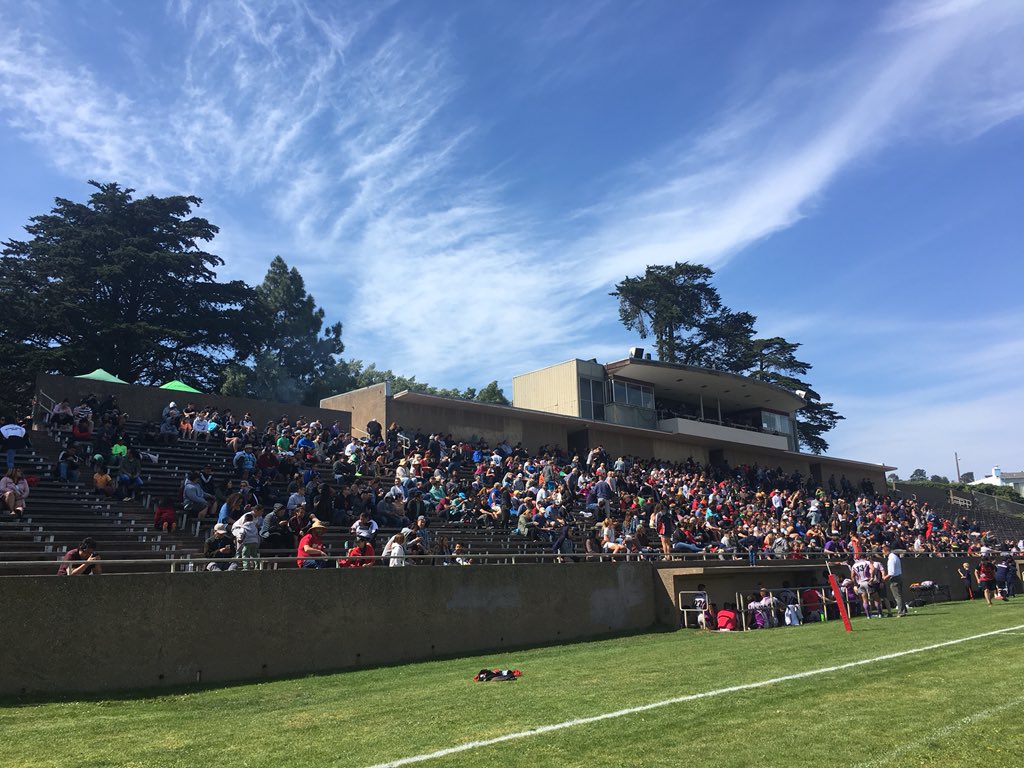 By Derek Sagehorn
Behind a dominant scrum, Denver came out in top of their clash with San Francisco 35-18. Denver proved they could play rugby in non-Siberian temperatures by turning the screw on San Francisco.
The game started with in fits and spurts as errors and penalties slowed down the proceedings. Referee Leah Berard established her tight boundaries at the tackle area quickly and played little advantage for much of the game. After trading penalty goals, San Francisco openside Alec Gletzer took a Denver turnover on a long run. Volney Rouse picked up from the base and dished the ball to steaming Sam Finau who scored the first try of the game. Rouse missed the conversion in swirling winds and SF went up 8-3.
San Francisco collected the restart and Gletzer took an offload off of Nick Blevins line break. SF moved the ball left down the line and sprung Jack O'Hara. The lanky wing rounded his opposite and headed for the corner to score SF's second try. Rouse missed a second conversion, SF up 13-3.
Take the jump to read more.
Around the 20 minute mark, things began to click for Denver. Ben Tarr and the Denver pack took the first of many tightheads from San Francisco's scrum. A few minutes later, another SF put-in was stolen—this time on the SF's five meter. Pedrie Wanneburg picked left and went over for Denver's first try. Denver kept up the pressure and bossed another SF scrum underneath the homeside's posts. Wanneburg peeled off left again and passed inside to Logan Collins for yet another try. Half ended with Denver up 18-13.
At half, San Francisco replaced the struggling Maka Tameilau and Jacob Finau with Cody Jones and Tom Coolican. Although the San Francisco retained some of their own scrum possession with a new look front row, Denver worked additional tries from their own put-in. Ata Malifa took a ball off a stable attacking scrum and stepped back in to score. And Zach Fenoglio picked up a try from a free kick after one too many resets underneath the sticks.
To give fair credit to Denver's backs, Ata Malifa and Will Magie combined well all over the field. Coach Sean O'Leary praised Malifa's ability to act as a second distributor while also tackling effectively. San Francisco's midfield struggled to make much traction in the second half because of stout defense from Malifa and Chad London.
San Francisco's changes at the front row helped them gain more possession in second stanza, but not much of it was clean. Replacement scrumhalf Michael Reid was harassed much of the time and several promising exchanges ended with mishandled ball. San Francisco began to string quality phases together near the end of regulation. Volney Rouse made a neat break that set up a David Tameilau close-yardage try at the death, 35-18.
Denver picked up their second win of the season and look ahead to their match against the blistering San Diego backline. San Francisco will likely spend a lot of the upcoming week on the scrum paddock after giving up half-a-dozen scrum-related tries in two weeks.
San Francisco
1 Maka Tameilau (Cody Jones) 2 Jacob Finau (Tom Coolican) 3 Patrick Latu (c) 4 Siupeli Sakalia 5 Siaosi Mahoni 6 Sam Finau 7 Alec Gletzer (Isaac Helu) 8 David Tameilau 9 Devereaux Ferris (Michael Reid) 10 Orene Ai'i 11 Jack O'Hara (Michael Haley) 12 Martini Talapusi (Charles Mateo) 13 Nick Blevins 14 Volney Rouse 15 Jake Anderson
Denver
1 Luke White (Jake Turnbull) 2 Zach Fenoglio (Gannon Moore) 3 Ben Tarr (Soane Leger) 4 Christian Wiessing 5 Casey Rock 6 Logan Collins 7 Peter Dahl 8 Pedrie Wanneburg (c) (Nick Wallace) 9 Niku Kruger (Mose Timoteo) 10 Will Magie 11 Michael Al-Jiboori (Timana Tahu) 12 Ata Malifa 13 Chad London (Mike Garrity) 14 Dustin Croy (Bobby Impson) 15 Maximo de Achaval
Attendance: 1700 (est.)